Levenhuk Skyline Travel 80 Telescope
Refractor. Objective lens diameter: 80mm. Focal length: 400mm
Levenhuk Skyline Travel 80 Telescope is a small and lightweight refractor with coated optics that is perfect for both beginner and experienced space explorers. Beginners will love the easy operation, while more experienced users will appreciate its mobility. Everyone will love the quality of the transmitted image. The telescope is designed for lunar and planetary observations and is great for exploring terrestrial landscapes. You will be able to observe the brightest deep space celestial objects – nebulae, galaxies and star clusters.
Levenhuk Skyline Travel 80 Telescope transmits the best image far away from city lights. It is designed especially for those who are used to traveling with an optical tool. Its design is lightweight; the optical tube is shortened. The kit contains a convenient and durable bag for storage and transportation. It is large enough for a tube, a mount, a tripod and all optical accessories. You can carry the bag on a shoulder or in a hand.
Maximum magnification is up to 132x with accessories included in the kit. You can observe the lunar craters, Mars, Saturn and Jupiter in detail. You can perform terrestrial observations if you install a diagonal prism on a telescope – the image will be upright (undistorted).
You can install the telescope on a classic altazimuth mount and an aluminum tripod. Its height is widely adjustable. There is an accessory tray. The optical tube contains a built-in compass that will assist you in navigating the viewfinder on the spot of the sky you need, and will become an indispensable accessory during out-of-town observations.
Features:
Small and lightweight refractor
Perfect for exploring near space and terrestrial objects
A perfect choice for out-of-town observations
Designed for teenagers and beginner astronomers
Simple altazimuth mount
Magnification "out of the box": 132x
A bag for transportation comes in the kit
The kit includes:
Telescope
Mount
5x20 optical finder
K9 eyepiece, 1.25"
K25 eyepiece, 1.25"
Diagonal prism
3x Barlow lens
Aluminum tripod
Bag for storage and transportation
User manual and lifetime warranty
Levenhuk Skyline Travel 80 Telescope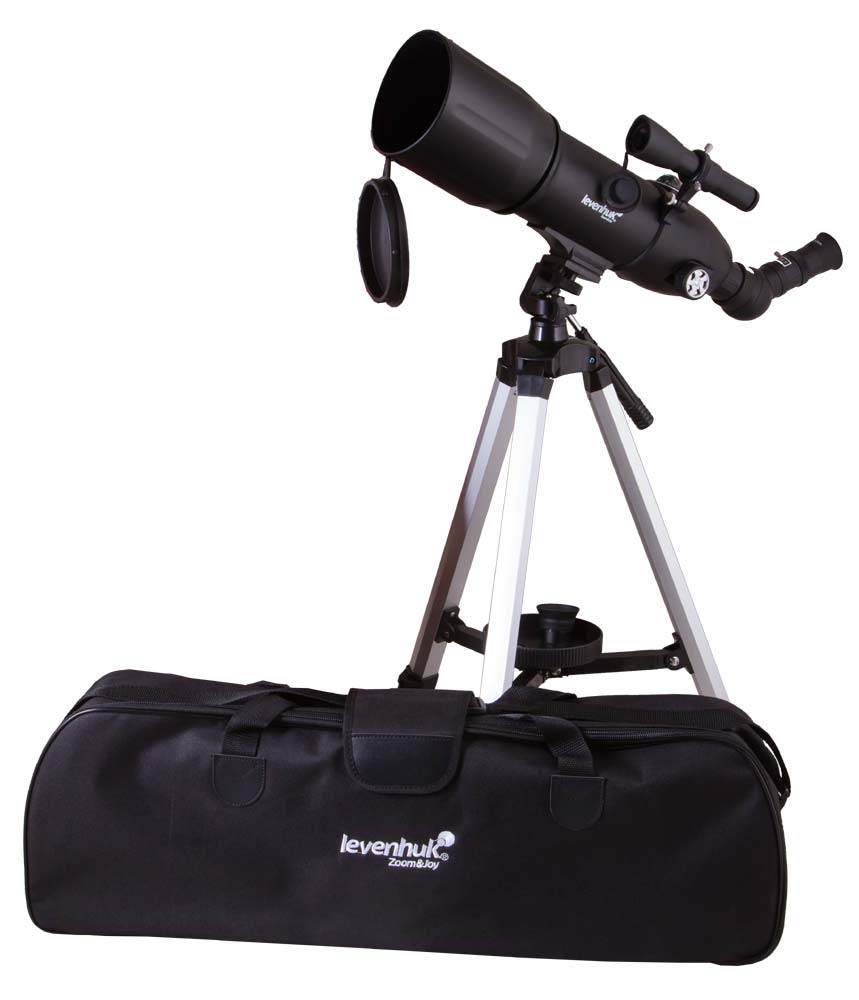 Levenhuk Skyline Travel 80 Telescope is a small and lightweight refractor with coated optics that is perfect for both beginner and experienced space explorers. Beginners will love the easy operation, while more experienced users will appreciate its mobility. Everyone will love the quality of the transmitted image. The telescope is designed for lunar and planetary observations and is great for exploring terrestrial landscapes. You will be able to observe the brightest deep space celestial objects – nebulae, galaxies and star clusters.Levenhuk Skyline Travel 80 Telescope transmits the best image far away from city lights. It is designed especially for those who are used to traveling with an optical tool. Its design is lightweight; the optical tube is shortened. The kit contains a convenient and durable bag for storage and transportation. It is large enough for a tube, a mount, a tripod and all optical accessories. You can carry the bag on a shoulder or in a hand.Maximum magnification is up to 132x with accessories included in the kit. You can observe the lunar craters, Mars, Saturn and Jupiter in detail. You can perform terrestrial observations if you install a diagonal prism on a telescope – the image will be upright (undistorted).You can install the telescope on a classic altazimuth mount and an aluminum tripod. Its height is widely adjustable. There is an accessory tray. The optical tube contains a built-in compass that will assist you in navigating the viewfinder on the spot of the sky you need, and will become an indispensable accessory during out-of-town observations.Features:Small and lightweight refractorPerfect for exploring near space and terrestrial objectsA perfect choice for out-of-town observationsDesigned for teenagers and beginner astronomersSimple altazimuth mountMagnification "out of the box": 132x A bag for transportation comes in the kit The kit includes:TelescopeMount5x20 optical finderK9 eyepiece, 1.25"K25 eyepiece, 1.25"Diagonal prism3x Barlow lensAluminum tripodBag for storage and transportationUser manual and lifetime warranty