Levenhuk Skyline BASE 80T Telescope
Refractor. Aperture: 80mm. Focal length: 500mm
Levenhuk Skyline BASE 80T is a classic refractor highly estimated by beginner astronomers. It creates detailed and clear images of the outer space objects. You can observe lunar craters with a diameter larger than 5km, study seas and polar ice caps on Mars, observe phases of Mercury, Saturn's moons, and distant Jupiter. The telescope is not as powerful for deep-sky observations, but you can still observe some nebulae, bright star clusters, and galaxies. Levenhuk Skyline BASE 80T is an excellent choice as your first telescope and will help you learn the basics of astronomy observations and many space mysteries.
All of the optical elements are made of coated glass. They do not fog up over time, transmit an image of a high brightness and contrast, and, what's more, they transmit a detailed image even at the highest practical power. Two eyepieces are included in the kit for achieving the best image quality. One eyepiece is useful for studying groups of objects (for example, moons of the planets), and the other one is suitable for exploring planets and the Moon. A diagonal mirror will help you study terrestrial landscapes as it corrects the image flipped upside down that is common for modern telescopes.
Levenhuk Skyline BASE 80T is designed especially for beginners and comes mounted on a classic alt-azimuth mount. This simple-to-operate mount requires no special skills or knowledge to operate. A mount is easily fixed on an aluminum tripod. You can fix an accessory tray (included in the kit) on a tripod with adjustable legs.
Features:
Refractor on an alt-azimuth mount is a simple and reliable telescope for beginners
Fully coated lenses made of optical glass provide a sharp image even at the ultimate magnification
An extended set of optical accessories in the kit: everything necessary for observations is already included
An optimal choice for lunar, planetary, and terrestrial observations
The kit includes:
Telescope optical tube
Alt-azimuth mount
Aluminum tripod with an accessory tray
6x24 optical finderscope
SR4mm (125x) eyepiece
H20mm (25x) eyepiece
Diagonal mirror
User manual and lifetime warranty
Levenhuk Skyline BASE 80T Telescope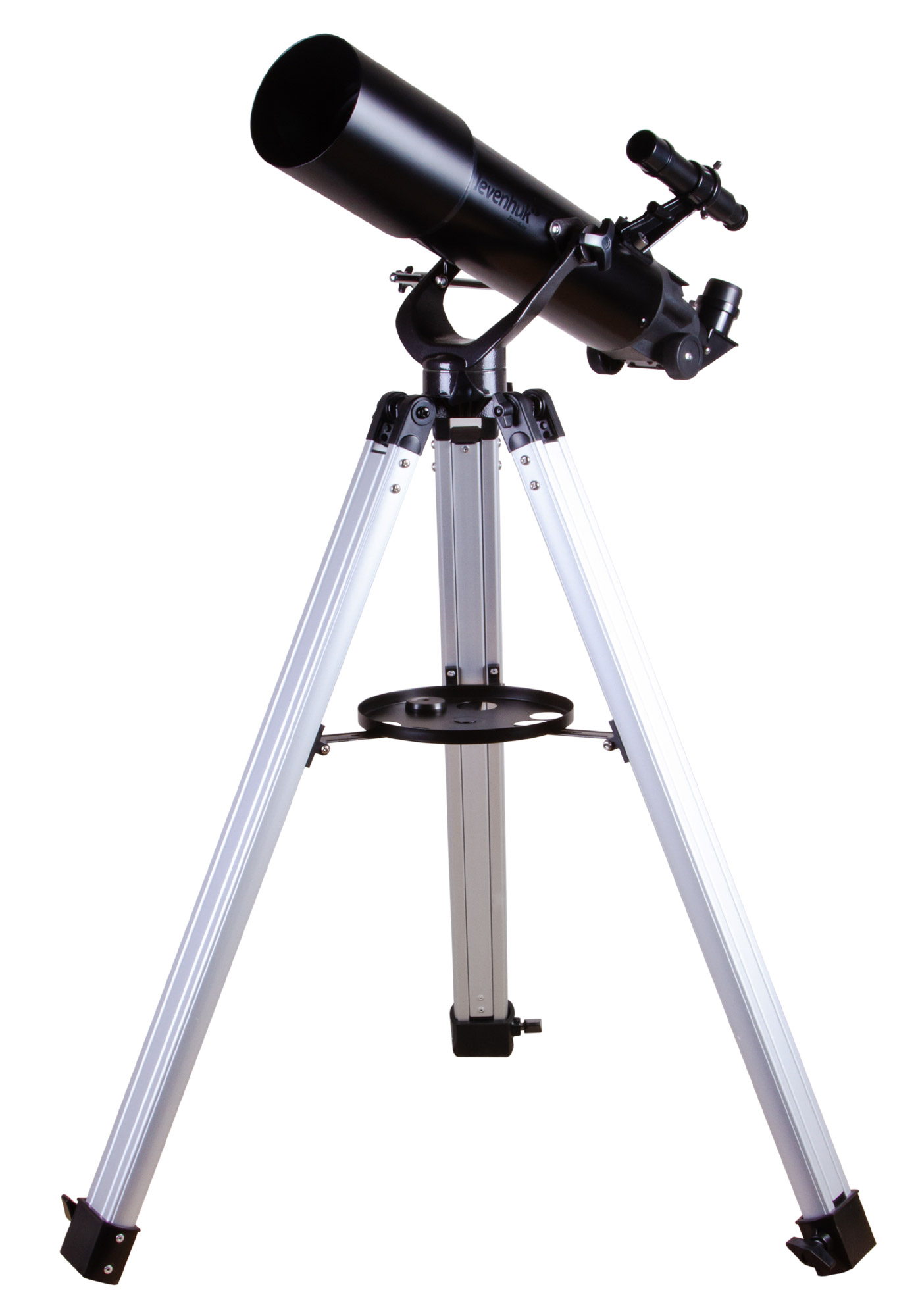 Levenhuk Skyline BASE 80T is a classic refractor highly estimated by beginner astronomers. It creates detailed and clear images of the outer space objects. You can observe lunar craters with a diameter larger than 5km, study seas and polar ice caps on Mars, observe phases of Mercury, Saturn's moons, and distant Jupiter. The telescope is not as powerful for deep-sky observations, but you can still observe some nebulae, bright star clusters, and galaxies. Levenhuk Skyline BASE 80T is an excellent choice as your first telescope and will help you learn the basics of astronomy observations and many space mysteries.All of the optical elements are made of coated glass. They do not fog up over time, transmit an image of a high brightness and contrast, and, what's more, they transmit a detailed image even at the highest practical power. Two eyepieces are included in the kit for achieving the best image quality. One eyepiece is useful for studying groups of objects (for example, moons of the planets), and the other one is suitable for exploring planets and the Moon. A diagonal mirror will help you study terrestrial landscapes as it corrects the image flipped upside down that is common for modern telescopes.Levenhuk Skyline BASE 80T is designed especially for beginners and comes mounted on a classic alt-azimuth mount. This simple-to-operate mount requires no special skills or knowledge to operate. A mount is easily fixed on an aluminum tripod. You can fix an accessory tray (included in the kit) on a tripod with adjustable legs.Features:Refractor on an alt-azimuth mount is a simple and reliable telescope for beginnersFully coated lenses made of optical glass provide a sharp image even at the ultimate magnificationAn extended set of optical accessories in the kit: everything necessary for observations is already includedAn optimal choice for lunar, planetary, and terrestrial observationsThe kit includes:Telescope optical tubeAlt-azimuth mountAluminum tripod with an accessory tray6x24 optical finderscopeSR4mm (125x) eyepieceH20mm (25x) eyepieceDiagonal mirrorUser manual and lifetime warranty