Levenhuk Skyline BASE 50T Telescope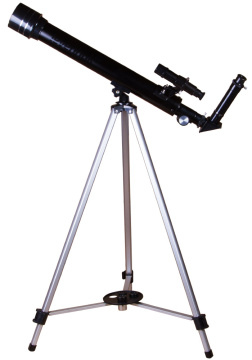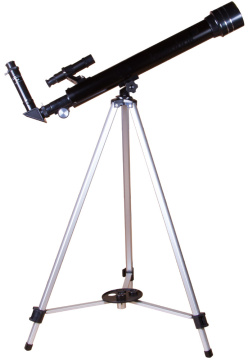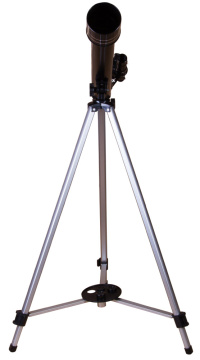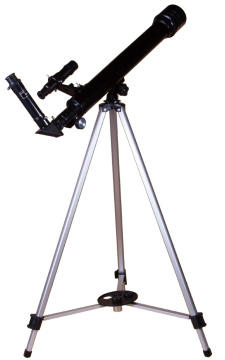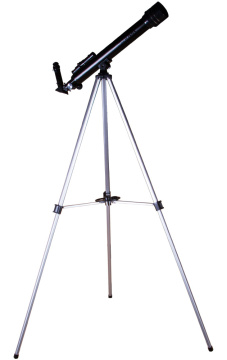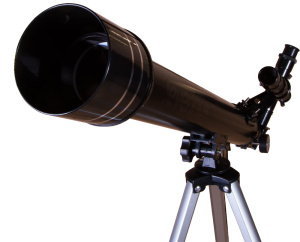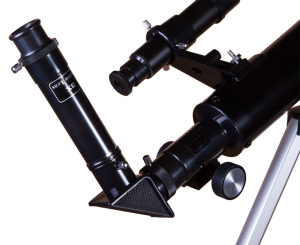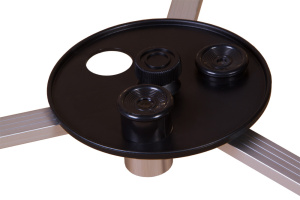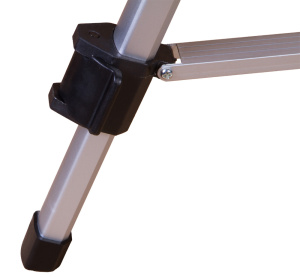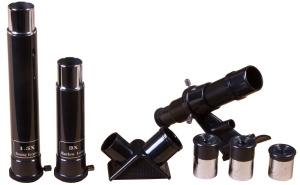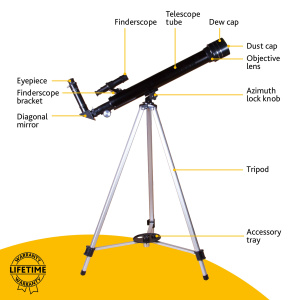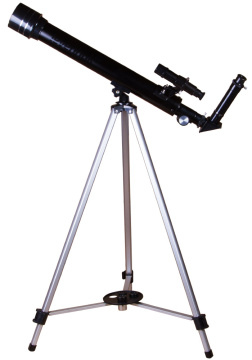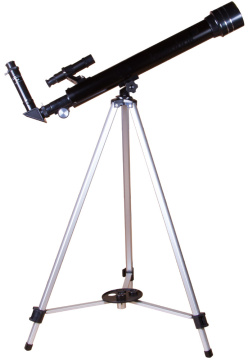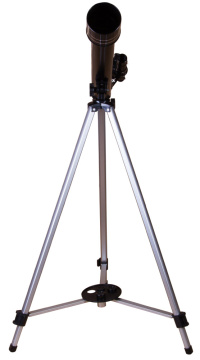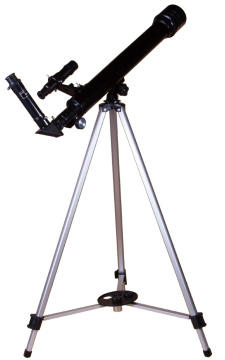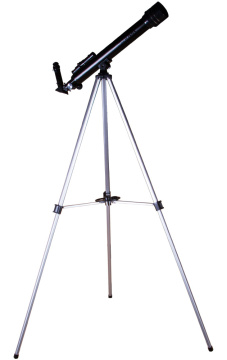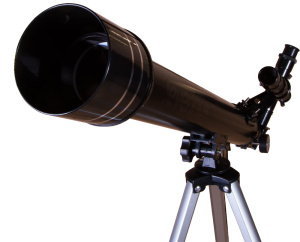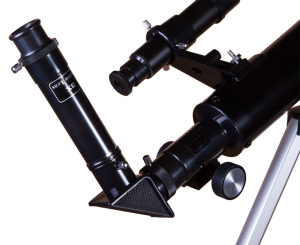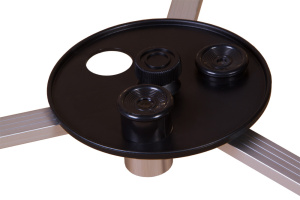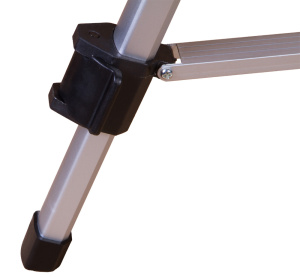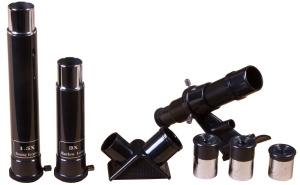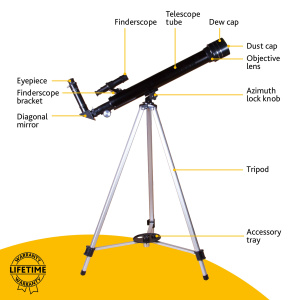 Refractor. Aperture: 50mm. Focal length: 600mm
Levenhuk Skyline BASE 50T Telescope is a "junior" model in the Levenhuk Skyline BASE product line, which is designed for beginner astronomers. This refractor is ideal for the first steps in astronomy: It is easy to assemble, the basic accessories are included in the kit and, moreover, even a kid can easily learn to use this telescope. With Levenhuk Skyline BASE 50T, you can observe terrestrial objects, the Moon, and the planets of the solar system.
The lenses in the refractor are made of glass and are fully coated. Due to that, the telescope provides a sharp and high-contrast image even at maximum magnification. To locate celestial objects, the telescope uses a classical optical finderscope with 5x magnification. An alt-azimuth mount requires no special operating skills and allows for quick pointing at an astronomical object of interest.
The kit includes several eyepieces and a Barlow lens. A diagonal mirror is another accessory that is necessary for terrestrial observations. It allows for observing the objects as usual (upright), i.e. when telescopes flip the image upside down, the diagonal mirror compensates for that.
The telescope is mounted on a lightweight aluminum tripod. The tripod legs height is adjustable, which allows for adapting the telescope to the observer's height. An accessory tray can be easily fixed onto a tripod. You can put additional eyepieces, a star chart, compass, and any small items on it.
Features:
Lightweight, compact, and simple-to-assemble telescope
Ideal choice for terrestrial observations and exploring outer space
Suitable for kids and beginner astronomers
Main optical accessories are already included in the kit
The kit includes:
Telescope optical tube
Alt-azimuth mount
Aluminum tripod with an accessory tray
5x24 optical finderscope
4mm (150x) eyepiece
12.5mm (48x) eyepiece
20mm (30x) eyepiece
1.5x erecting eyepiece
3x Barlow lens
Diagonal mirror
User manual and lifetime warranty
Levenhuk Skyline BASE 50T Telescope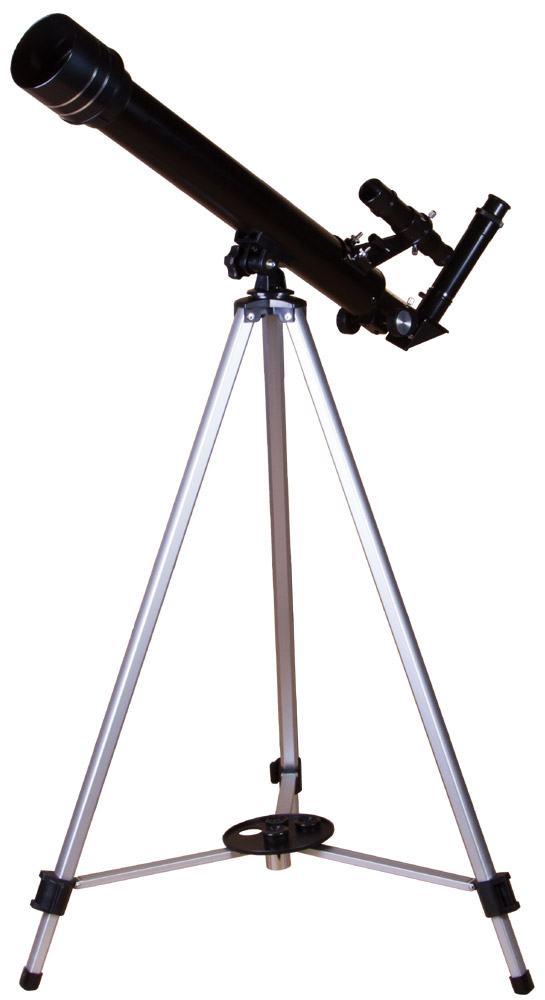 Levenhuk Skyline BASE 50T Telescope is a "junior" model in the Levenhuk Skyline BASE product line, which is designed for beginner astronomers. This refractor is ideal for the first steps in astronomy: It is easy to assemble, the basic accessories are included in the kit and, moreover, even a kid can easily learn to use this telescope. With Levenhuk Skyline BASE 50T, you can observe terrestrial objects, the Moon, and the planets of the solar system. The lenses in the refractor are made of glass and are fully coated. Due to that, the telescope provides a sharp and high-contrast image even at maximum magnification. To locate celestial objects, the telescope uses a classical optical finderscope with 5x magnification. An alt-azimuth mount requires no special operating skills and allows for quick pointing at an astronomical object of interest. The kit includes several eyepieces and a Barlow lens. A diagonal mirror is another accessory that is necessary for terrestrial observations. It allows for observing the objects as usual (upright), i.e. when telescopes flip the image upside down, the diagonal mirror compensates for that. The telescope is mounted on a lightweight aluminum tripod. The tripod legs height is adjustable, which allows for adapting the telescope to the observer's height. An accessory tray can be easily fixed onto a tripod. You can put additional eyepieces, a star chart, compass, and any small items on it. Features: Lightweight, compact, and simple-to-assemble telescope Ideal choice for terrestrial observations and exploring outer space Suitable for kids and beginner astronomersMain optical accessories are already included in the kit The kit includes: Telescope optical tube Alt-azimuth mount Aluminum tripod with an accessory tray 5x24 optical finderscope 4mm (150x) eyepiece 12.5mm (48x) eyepiece 20mm (30x) eyepiece 1.5x erecting eyepiece 3x Barlow lens Diagonal mirror User manual and lifetime warranty