Levenhuk Skyline BASE 120S Telescope
Newtonian reflector. Aperture: 114mm. Focal length: 500mm
Levenhuk Skyline BASE 120S Telescope is an ideal reflector for a beginner astronomer who dreams about incredible space discoveries. The optics will show you beauties of deep space: you will be able to observe nebulae, double stars, globular and open clusters, galaxies, and more. Due to its wonderful optical capabilities, Levenhuk Skyline BASE 120S allows observing all Messier objects and some NGC objects.
An alt-azimuth mount allows to quickly learn how to operate the telescope and start observing immediately. It is simple-to-operate, which is why even a kid can use this telescope. The mount moves smoothly and evenly. A 5x optical finderscope also helps in pointing to astronomy objects.
The telescope is stable, reliable, and durable. Due to an aluminum tripod with adjustable legs, you can put Levenhuk Skyline BASE 120S on a rough surface. If you observe outside, the telescope will not swing even in a strong wind. An accessory tray is easily fixed on a tripod (included in the kit). Use it for keeping additional eyepieces, a compass, a star chart, and more. Note that two eyepieces are already included in the kit.
Features:
Classic Newtonian reflector on an alt-azimuth mount
Primary mirror diameter is 114mm
Suitable for beginners
Ideal choice for deep-sky exploring: nebulae, galaxies, and star clusters
You can observe all Messier objects and the brightest NGC objects
The kit includes:
Telescope optical tube
Alt-azimuth mount
Aluminum tripod with an accessory tray
5x24 optical finder scope
SR4mm (125x) eyepiece
H20mm (25x) eyepiece
User manual and lifetime warranty
Levenhuk Skyline BASE 120S Telescope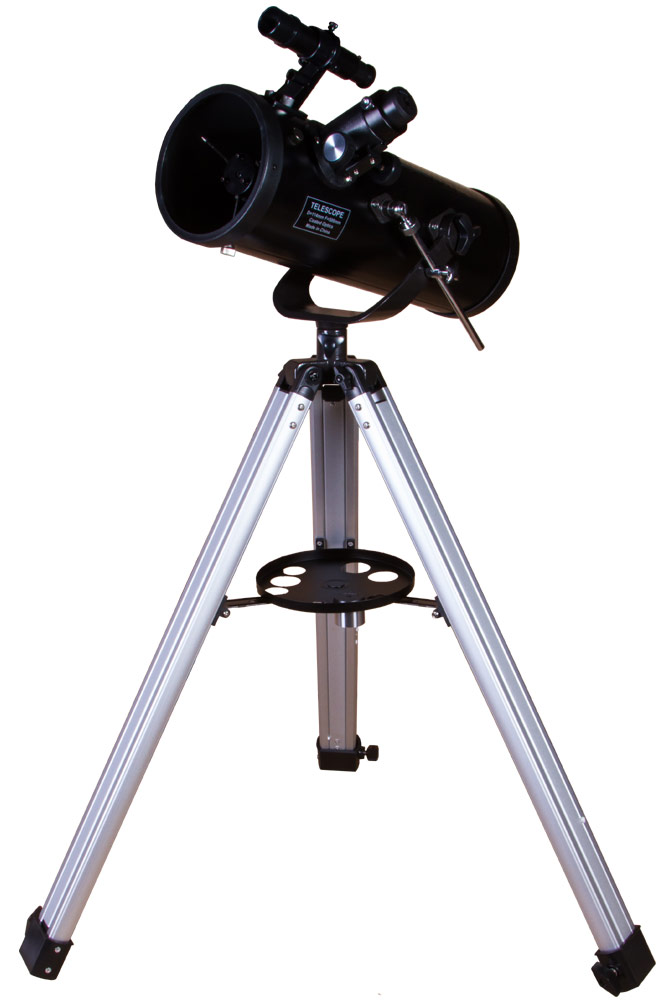 Levenhuk Skyline BASE 120S Telescope is an ideal reflector for a beginner astronomer who dreams about incredible space discoveries. The optics will show you beauties of deep space: you will be able to observe nebulae, double stars, globular and open clusters, galaxies, and more. Due to its wonderful optical capabilities, Levenhuk Skyline BASE 120S allows observing all Messier objects and some NGC objects.An alt-azimuth mount allows to quickly learn how to operate the telescope and start observing immediately. It is simple-to-operate, which is why even a kid can use this telescope. The mount moves smoothly and evenly. A 5x optical finderscope also helps in pointing to astronomy objects.The telescope is stable, reliable, and durable. Due to an aluminum tripod with adjustable legs, you can put Levenhuk Skyline BASE 120S on a rough surface. If you observe outside, the telescope will not swing even in a strong wind. An accessory tray is easily fixed on a tripod (included in the kit). Use it for keeping additional eyepieces, a compass, a star chart, and more. Note that two eyepieces are already included in the kit.Features:Classic Newtonian reflector on an alt-azimuth mountPrimary mirror diameter is 114mmSuitable for beginnersIdeal choice for deep-sky exploring: nebulae, galaxies, and star clustersYou can observe all Messier objects and the brightest NGC objectsThe kit includes:Telescope optical tubeAlt-azimuth mountAluminum tripod with an accessory tray5x24 optical finder scopeSR4mm (125x) eyepieceH20mm (25x) eyepieceUser manual and lifetime warranty