Levenhuk Skyline BASE 110S Telescope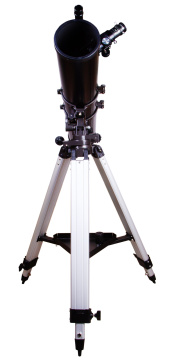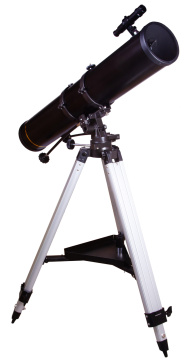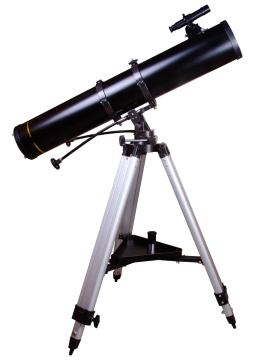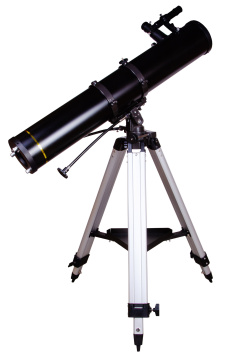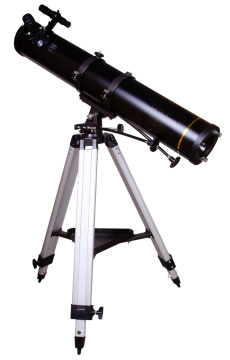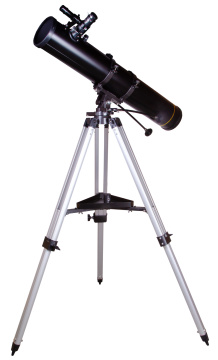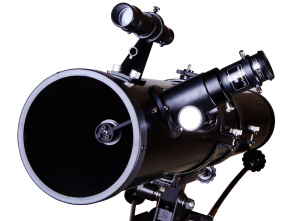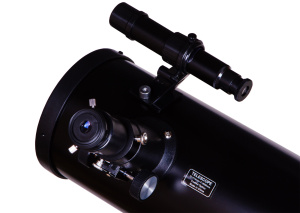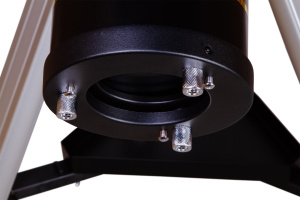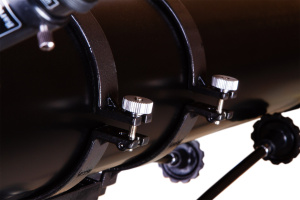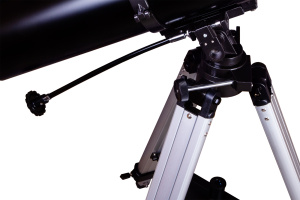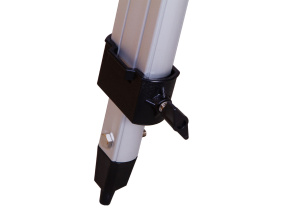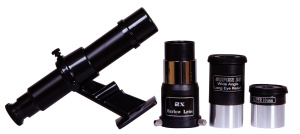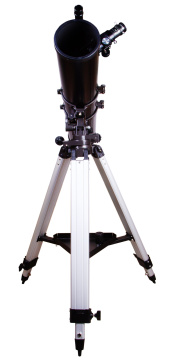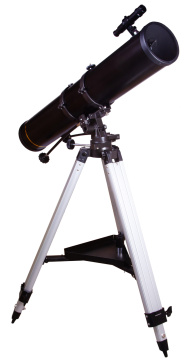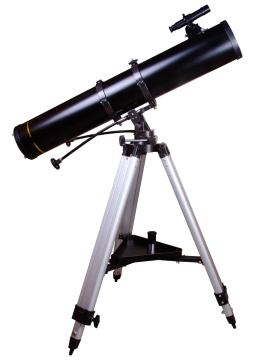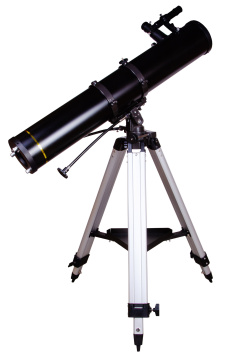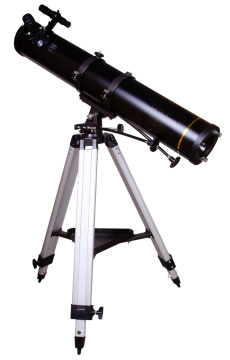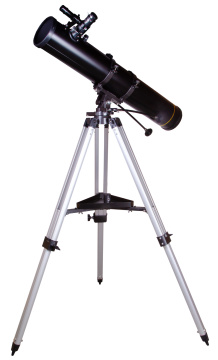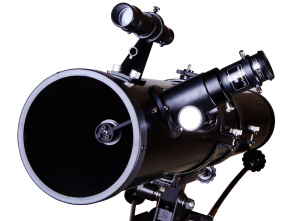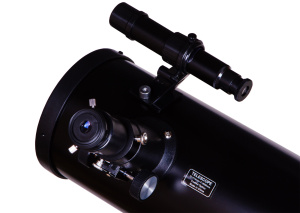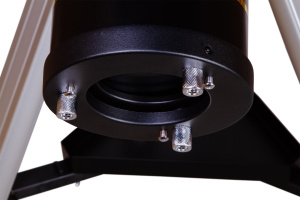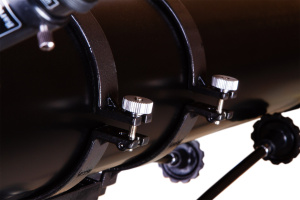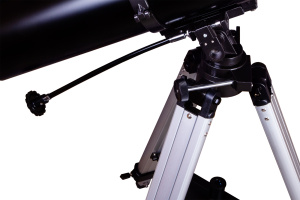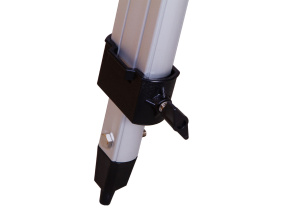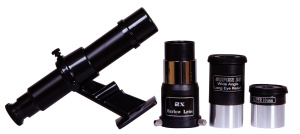 Newtonian reflector. Aperture: 114mm. Focal length: 900mm
The Levenhuk Skyline BASE 110S Telescope is a Newtonian reflector with an extensive kit. Accessories in the kit are chosen in such a way as to discover all of the capabilities of the optics. This telescope allows for observing lunar craters up to 5km in diameter, the rings of Saturn, phases of Mercury, and even the atmospheric phenomena on Jupiter. The optics are excellent for observing double stars, globular clusters as well as diffuse and planetary nebulae. Levenhuk Skyline BASE 110S is a great choice for exploring deep and outer space.
This telescope comes with an alt-azimuth mount. It only takes one turn of an optical tube in order to point it at an object. Due to its simple operation, Levenhuk Skyline BASE 110S is a great choice for customers who are taking their first steps in exploring space and are looking for an easy-to-operate telescope. The mount is attached to an aluminum tripod; the tripod legs feature adjustable height. There is also an accessory tray.
One of the main features of this model is a balanced accessory kit. Two eyepieces with various focal length and a Barlow lens allow for obtaining optimal magnifications, which are suitable for studying various space objects. It is recommended to observe extended deep-sky objects at low magnification and to examine planets at high magnification. An optical finderscope with 6x magnification is included in order to simplify pointing an optical tube at an object.
Features:
Newtonian reflector with a spherical primary mirror
Simple-to-operate alt-azimuth mount
Works great for observing deep-sky objects: star clusters, galaxies, double stars
A good choice for observing the planets of the solar system
Suitable for entry-level astronomy enthusiasts
The kit includes:
Telescope optical tube
Alt-azimuth mount
Aluminum tripod with an accessory tray
6x24 optical finderscope
SUPER 10mm eyepiece
SUPER 25mm eyepiece
2x Barlow lens
User manual and lifetime warranty
Levenhuk Skyline BASE 110S Telescope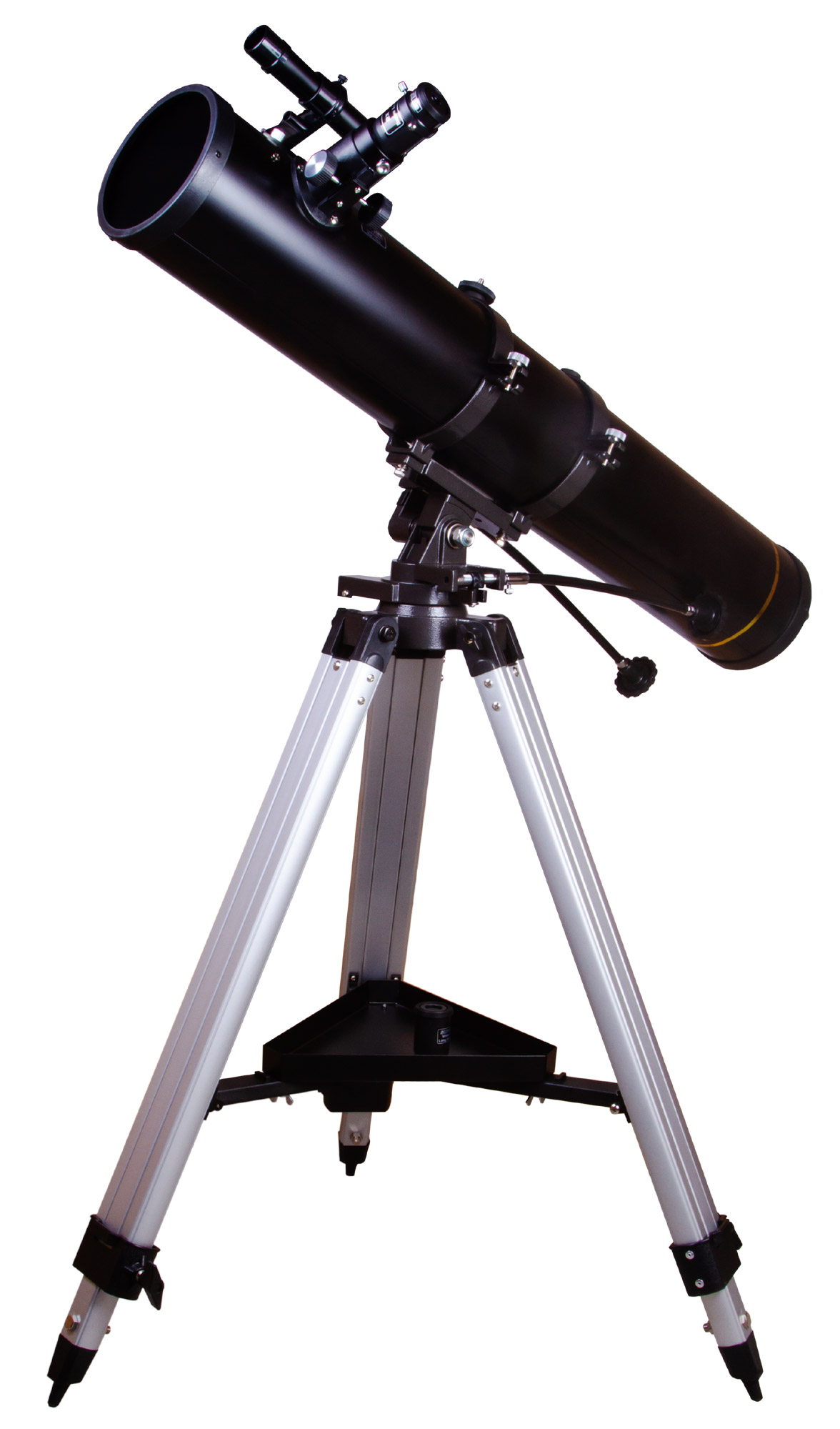 The Levenhuk Skyline BASE 110S Telescope is a Newtonian reflector with an extensive kit. Accessories in the kit are chosen in such a way as to discover all of the capabilities of the optics. This telescope allows for observing lunar craters up to 5km in diameter, the rings of Saturn, phases of Mercury, and even the atmospheric phenomena on Jupiter. The optics are excellent for observing double stars, globular clusters as well as diffuse and planetary nebulae. Levenhuk Skyline BASE 110S is a great choice for exploring deep and outer space. This telescope comes with an alt-azimuth mount. It only takes one turn of an optical tube in order to point it at an object. Due to its simple operation, Levenhuk Skyline BASE 110S is a great choice for customers who are taking their first steps in exploring space and are looking for an easy-to-operate telescope. The mount is attached to an aluminum tripod; the tripod legs feature adjustable height. There is also an accessory tray. One of the main features of this model is a balanced accessory kit. Two eyepieces with various focal length and a Barlow lens allow for obtaining optimal magnifications, which are suitable for studying various space objects. It is recommended to observe extended deep-sky objects at low magnification and to examine planets at high magnification. An optical finderscope with 6x magnification is included in order to simplify pointing an optical tube at an object. Features: Newtonian reflector with a spherical primary mirror Simple-to-operate alt-azimuth mount Works great for observing deep-sky objects: star clusters, galaxies, double stars A good choice for observing the planets of the solar system Suitable for entry-level astronomy enthusiasts The kit includes: Telescope optical tube Alt-azimuth mount Aluminum tripod with an accessory tray 6x24 optical finderscope SUPER 10mm eyepiece SUPER 25mm eyepiece 2x Barlow lens User manual and lifetime warranty