Levenhuk Ra R66 ED Doublet Black OTA
Two-lens apochromatic refractor with extra-low dispersion optics. Aperture: 66mm. Focal length: 400mm
The Levenhuk Ra R66 ED Doublet Black OTA apochromatic refractor is a short-focus optical tube that allows for getting an idea of the objects from the Messier and NGC catalogues as well as observe the relief of the lunar surface in detail. You can carry out planetary observations as well as deep sky observations. However, the primary use of this Optical Tube Assembly (OTA) is astrophotography. The pictures taken by this telescope are high contrast and very clear detail.
The lenses are made of extra-low dispersion glass that effectively suppresses chromatic aberrations, especially secondary and spherochromatism. The wide field of view makes it comfortable to study extended areas of the sky. The telescope features a dual-speed Crayford focuser that provides smooth and highly accurate focusing under all conditions.
The optical tube is made of anodized aluminum and can be installed on most modern mounts. As the OTA is quite lightweight and compact, it is a great choice for countryside trips. The kit also includes a convenient aluminum case for transporting and storing the telescope.
Please note: Mount, tripod, and optical accessories are not included.
Features:
Compact and lightweight apochromatic refractor
Fully multi-coated glass lenses made of ED glass
Dual-speed Crayford focuser for precise focus adjustments
Excellent image clarity and contrast, minimal chromatism
Excellent choice for astrophotography, good for visual observations
The kit includes:
Telescope optical tube
Cleaning wipe
Aluminum case
Protective caps
User manual and lifetime warranty
Levenhuk Ra R66 ED Doublet Black OTA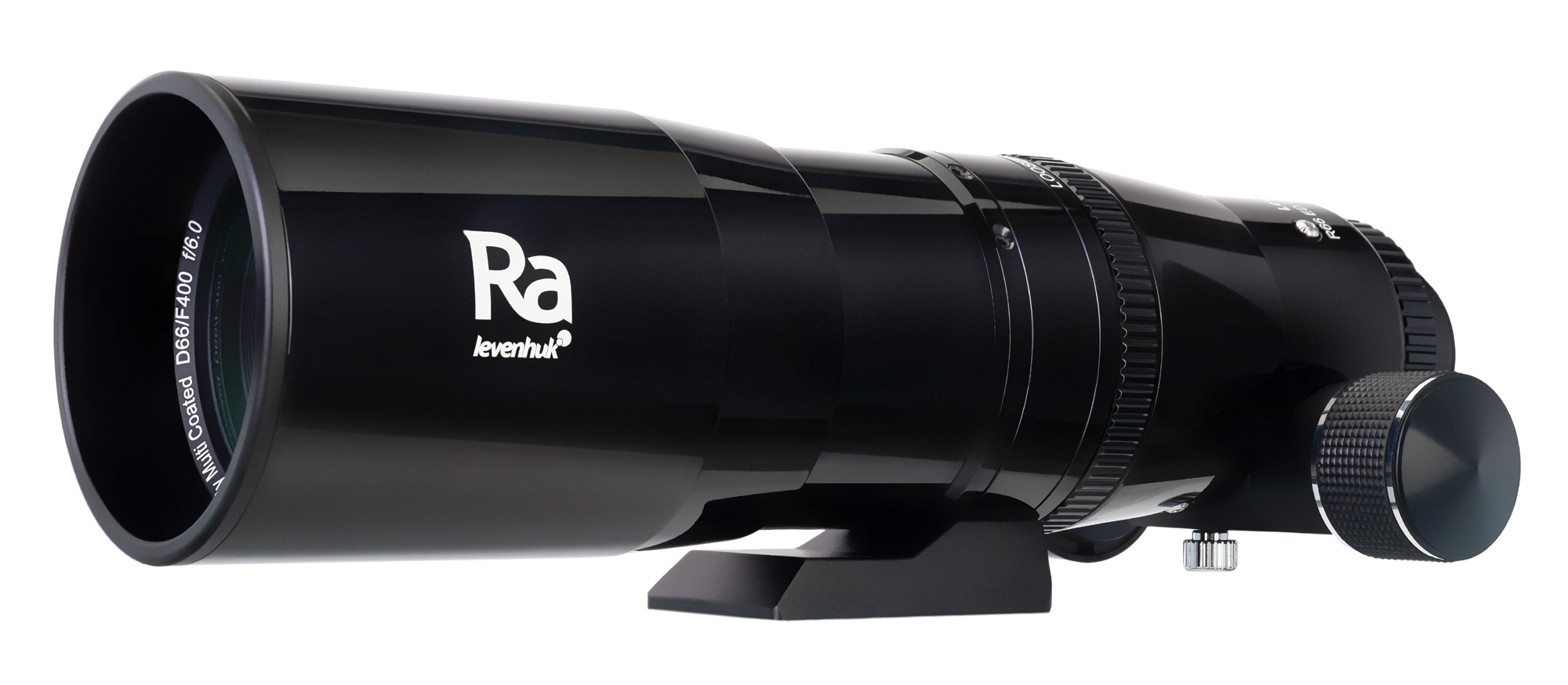 The Levenhuk Ra R66 ED Doublet Black OTA apochromatic refractor is a short-focus optical tube that allows for getting an idea of the objects from the Messier and NGC catalogues as well as observe the relief of the lunar surface in detail. You can carry out planetary observations as well as deep sky observations. However, the primary use of this Optical Tube Assembly (OTA) is astrophotography. The pictures taken by this telescope are high contrast and very clear detail. The lenses are made of extra-low dispersion glass that effectively suppresses chromatic aberrations, especially secondary and spherochromatism. The wide field of view makes it comfortable to study extended areas of the sky. The telescope features a dual-speed Crayford focuser that provides smooth and highly accurate focusing under all conditions. The optical tube is made of anodized aluminum and can be installed on most modern mounts. As the OTA is quite lightweight and compact, it is a great choice for countryside trips. The kit also includes a convenient aluminum case for transporting and storing the telescope. Please note: Mount, tripod, and optical accessories are not included. Features: Compact and lightweight apochromatic refractor Fully multi-coated glass lenses made of ED glass Dual-speed Crayford focuser for precise focus adjustments Excellent image clarity and contrast, minimal chromatism Excellent choice for astrophotography, good for visual observations The kit includes: Telescope optical tube Cleaning wipe Aluminum case Protective caps User manual and lifetime warranty