Levenhuk LabZZ T2 Telescope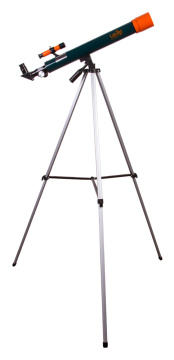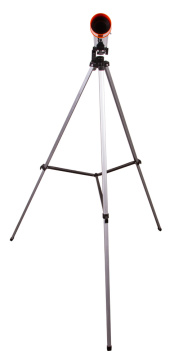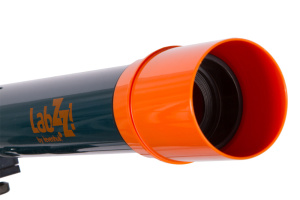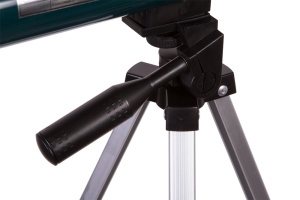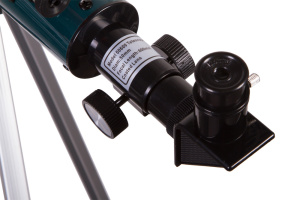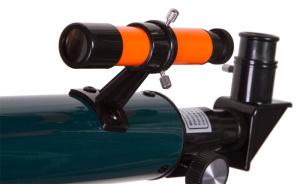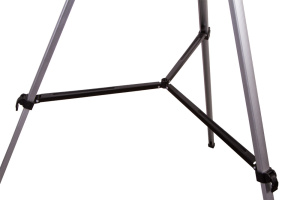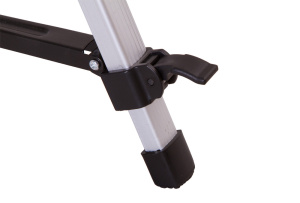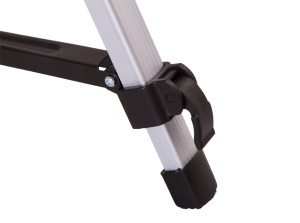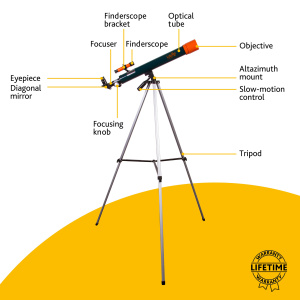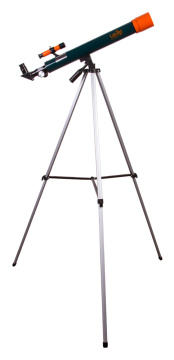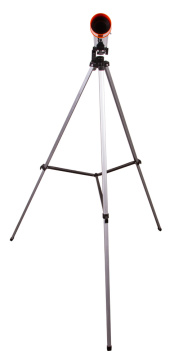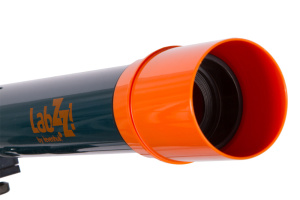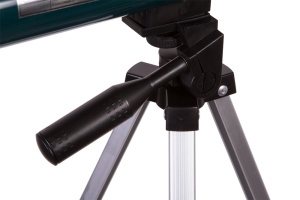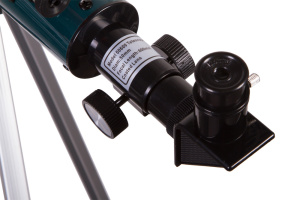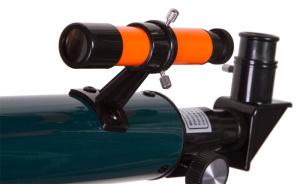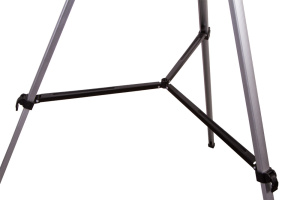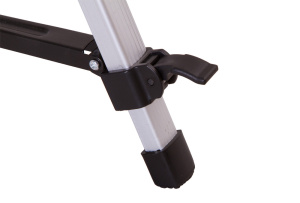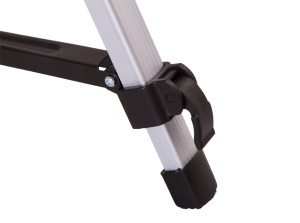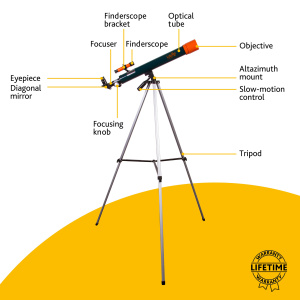 Refractor. Objective lens diameter: 50mm. Focal length: 600mm
It's so easy to take your first steps in astronomy with Levenhuk LabZZ T2 Telescope! This telescope is a perfect choice for a beginning amateur astronomer or a child interested in exploring the Cosmos. The maximum magnification of the telescope is 100x, which allows for observing a great number of large astronomical objects. With Levenhuk LabZZ T2 your kid will be able to explore all corners of the Solar System and even see the fascinating panoramic views of deep space bright objects. The kit includes everything required to start a fascinating space adventure! Levenhuk LabZZ T2 Telescope comes with a diagonal mirror and erecting eyepiece. Both accessories form correctly oriented images, and the eyepiece additionally increases the telescope's power 1.5 times. These accessories make terrestrial observations with Levenhuk LabZZ T2 comfortable, easy and fun.
The telescope is set up on a simple alt-azimuth mount. The mount is very easy to control – even a child can manage it without any problems. The tripod supporting the telescope is made of aluminum, and its legs are adjustable in length.
Features:
Children's telescope
The ability to observe terrestrial objects
Great choice for first observations
Up to 100x magnification power
All required accessories are included
The kit includes:
Telescope
6mm eyepiece
12.5mm eyepiece
1.5x erecting eyepiece
2x optical finder
Diagonal mirror
Aluminum tripod
---
Tommas Mann (2018.02.15)
I already had a chance to take a glance at the Moon in this telescope. But I don't think that it is suitable for planetary viewing. I tried but did not succeed.
Customer service:
Levenhuk LabZZ T2 Telescope allows you to observe the Moon in great detail. Solar System planets will be seen as small peas, without details.
---
Paul Pelsko (2018.02.04)
Hi! The telescope is recommended for observations of the Moon. Will I need any additional filters for this kind of observations? Could you pls specify the telescope's barrel diameter? Maybe I could buy something additional on Ali…
Customer service:
You can observe the Moon without using a special lunar filter. Barrel diameter - 0.96 mm. We don't have additional accessories for Levenhuk LabZZ T2 Telescope in our product range.
---
Ury Mee (2017.11.13)
Hi! I'm choosing between LabZZ T3 and LabZZ T2 models… is there any difference in image quality? I'm planning to observe Solar system planets, constellations
Customer service:
Levenhuk LabZZ T2 and T3 models provide comparable image quality. Levenhuk LabZZ T3 model is preferable due to larger lens diameter. These telescopes allow for observations of the Moon and terrestrial objects. For detailed planetary observations we recommend telescopes with 90 mm and more aperture. For example, Levenhuk Skyline 90x900 EQ
---
Serg (2017.09.17)
Good afternoon. Could you tell me please which is the optimal temperature for these binoculars? Thanks
Customer service:
The optimal temperature regime for Levenhuk Atom 10x50 binoculars is -15/+40 °C.
---
Mary Sweet (2017.09.14)
Hello! Can I buy some extra objectives for this telescope so that I could see other planets?
Customer service:
Levenhuk LabZZ T2 telescope has a non-standard barrel diameter, so only accessories from the set will do.
---
Alan Bates (2017.02.14)
Is it possible to see planets with good quality?
Customer service:
Levenhuk LabZZ T2 telescope allows you to see the Moon in details, though other planets will be seen as big as peas.
---
Sally Gould (2016.12.14)
can a child (8 yo) handle this telescope? He really wants a telescope, but doesn't have any experience at all. What things can be seen through it?
Customer service:
Yes, Levenhuk LabZZ T2 Telescope is suitable for an 8-year-old. This telescope allows for viewing the Moon and terrestrial objects.

---
Max Cohen (2016.10.20)
what solar filter suits this model?
Customer service:
Unfortunately, we don't have a suitable solar filter in our product range at the time.
---
Ed Cox (2016.10.14)
Will it be a good birthday gift for a 6 yo kid?
Customer service:
Yes, the Levenhuk LabZZ T2 model will make a perfect gift a 6 yo kid.
---
Todd (2016.10.10)
Can I observe the Moon, Mars, Venus with it?
Customer service:
Levenhuk LabZZ T2 Telescope allows for detailed lunar viewing. Planets will appear as small 'peas'.
---
Submit your question
Levenhuk LabZZ T2 Telescope
It's so easy to take your first steps in astronomy with Levenhuk LabZZ T2 Telescope! This telescope is a perfect choice for a beginning amateur astronomer or a child interested in exploring the Cosmos. The maximum magnification of the telescope is 100x, which allows for observing a great number of large astronomical objects. With Levenhuk LabZZ T2 your kid will be able to explore all corners of the Solar System and even see the fascinating panoramic views of deep space bright objects. The kit includes everything required to start a fascinating space adventure! Levenhuk LabZZ T2 Telescope comes with a diagonal mirror and erecting eyepiece. Both accessories form correctly oriented images, and the eyepiece additionally increases the telescope's power 1.5 times. These accessories make terrestrial observations with Levenhuk LabZZ T2 comfortable, easy and fun. The telescope is set up on a simple alt-azimuth mount. The mount is very easy to control – even a child can manage it without any problems. The tripod supporting the telescope is made of aluminum, and its legs are adjustable in length. Features: Children's telescope The ability to observe terrestrial objects Great choice for first observations Up to 100x magnification power All required accessories are included The kit includes: Telescope 6mm eyepiece 12.5mm eyepiece 1.5x erecting eyepiece 2x optical finder Diagonal mirror Aluminum tripod