Levenhuk Blitz 114 BASE Telescope
Newtonian reflector. Aperture: 114mm. Focal length: 900mm
The Levenhuk Blitz 114 BASE telescope is a classical Newtonian reflector for astronomical observations. It is designed for deep sky object observations: globular clusters, binary stars as well as planetary and diffuse nebulae. Outer space is also well discernible up to Saturn. Since the telescope has a classic 1.25" focuser, and most of the optical accessories that are widely available on the market are compatible with it. However, three eyepieces and a Barlow lens are already included, so you can start observing right away.
The optical elements of the telescope are made of glass with an anti-reflective coating. The mirror has a spherical shape and renders a good quality image without distortions up to the maximum useful magnification. A forked azimuth mount is used to set the optical tube on objects. A microscrew on the vertical axis allows for a more precise setting.
The aluminum with adjustable height tripod features an accessory tray.
Features:
Reflector with optimal aperture and picture resolution
Fork azimuth mount with a microscrew on the vertical axis
Glass optics with an anti-reflective coating
A great assistant in the study of deep space objects – galaxies, nebulae, etc.
Extended kit – you don't need to buy anything separately
The kit includes:
Telescope optical tube
4mm eyepiece
12.5mm eyepiece
20mm eyepiece
2x Barlow lens
Finder 6x30
Azimuth mount
Aluminum tripod with an accessory tray
User manual and lifetime warranty
Levenhuk Blitz 114 BASE Telescope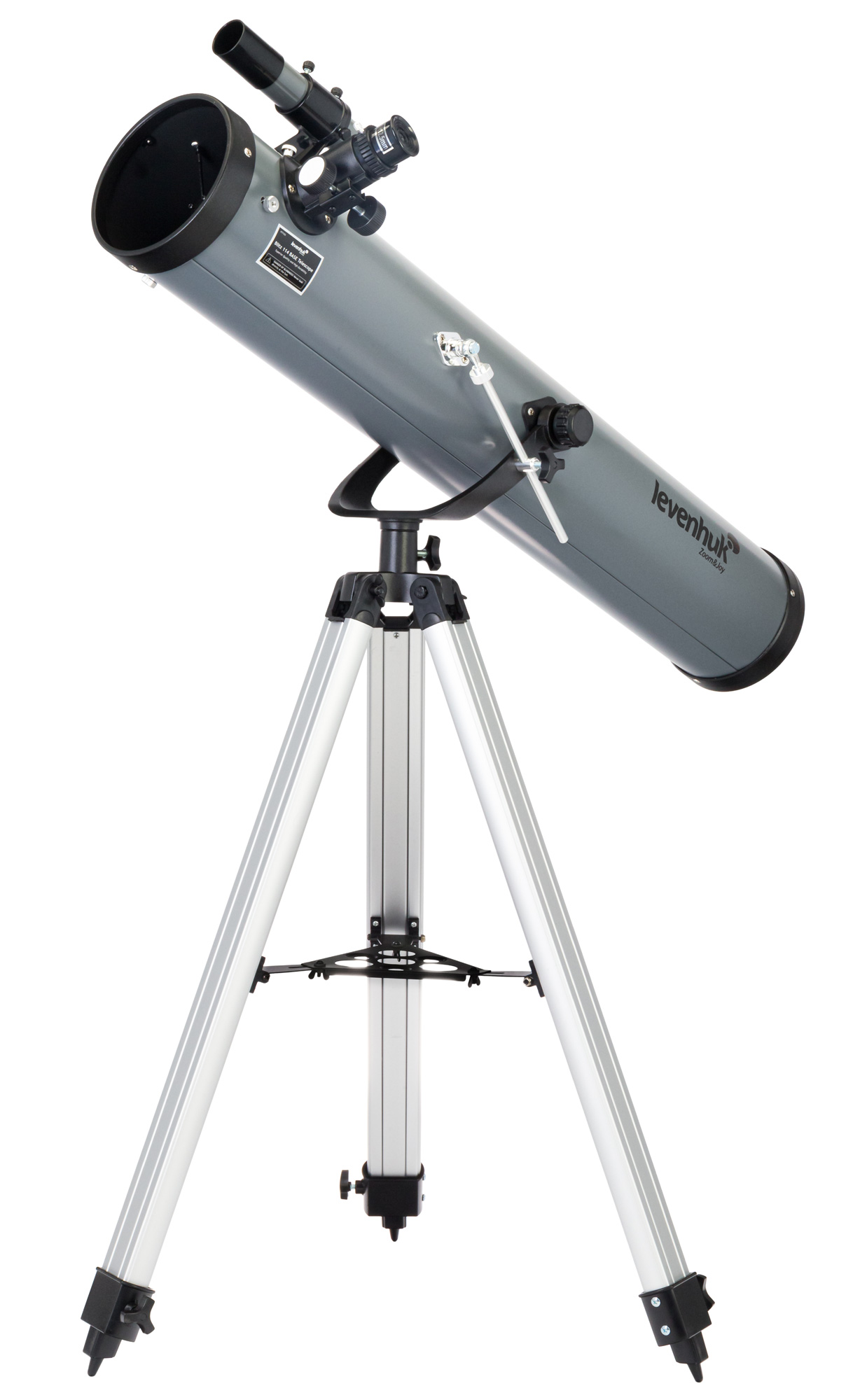 The Levenhuk Blitz 114 BASE telescope is a classical Newtonian reflector for astronomical observations. It is designed for deep sky object observations: globular clusters, binary stars as well as planetary and diffuse nebulae. Outer space is also well discernible up to Saturn. Since the telescope has a classic 1.25" focuser, and most of the optical accessories that are widely available on the market are compatible with it. However, three eyepieces and a Barlow lens are already included, so you can start observing right away. The optical elements of the telescope are made of glass with an anti-reflective coating. The mirror has a spherical shape and renders a good quality image without distortions up to the maximum useful magnification. A forked azimuth mount is used to set the optical tube on objects. A microscrew on the vertical axis allows for a more precise setting. The aluminum with adjustable height tripod features an accessory tray. Features: Reflector with optimal aperture and picture resolution Fork azimuth mount with a microscrew on the vertical axis Glass optics with an anti-reflective coating A great assistant in the study of deep space objects – galaxies, nebulae, etc. Extended kit – you don't need to buy anything separately The kit includes: Telescope optical tube 4mm eyepiece 12.5mm eyepiece 20mm eyepiece 2x Barlow lens Finder 6x30 Azimuth mount Aluminum tripod with an accessory tray User manual and lifetime warranty