Meade Wilderness 20–60x100 Spotting Scope
Magnification: 20–60x. Objective lens diameter: 100mm
The Meade Wilderness 20–60x100 Spotting Scope is a high-quality and reliable optical device with magnification up to 60 times and high-aperture lenses. The scope is adapted for use in the most unfavorable weather situations and is perfectly suitable for studying birds, animals, and landscapes. You can also use it for photographing – the kit includes a special adapter to install any photo equipment on this scope (T-ring must be purchased separately).
The scope has a Porro-prism design with all elements made of quality BaK-4 glass. The external lenses are covered with several layers of anti-reflective coating for even better sharpness and contrast of resulting images. Magnifications can change between 20x and 60x. The powerful 100mm objective lens gathers enough light for observations in poor light.
For even more comfortable observations of objects high above the horizon, the eyepiece of this scope is inclined. The tube can be installed on any standard 1/4" tripod. It is also equipped with a sighting grid.
The Meade Wilderness 20–60x100 Spotting Scope won't let you down even in the most severe weather conditions. Its rubber coating protects optical elements from moisture and rain, and the nitrogen filling secures lenses against fogging.
Features:
Meade high-quality, 20–60 power, zoom Porro prism spotting scopes deliver years of use.
Large 100mm objective gathers plenty of light for bright detailed images.
The spotting scope features high index BaK-4 prisms and high-quality, precision ground lenses that are coated with multiple layers of anti-reflection coatings to provide optical performance that is equal to, or better than any spotting scope in its class.
The spotting scope features a sliding sunshade to further reduce glare.
A rugged rubber armor covering protects your Wilderness spotting scope from abrasions and damage from regular use.
Waterproof, fog-proof, and nitrogen purged to ensure many years of performance regardless of the environment.
Soft case and camera adapter included (requires T-Mount, not included).
Tripod not included
The kit includes:
Spotting Scope
Camera adapter (requires T-Mount, not included)
Soft case
Cleaning wipe
User manual
Meade Wilderness 20–60x100 Spotting Scope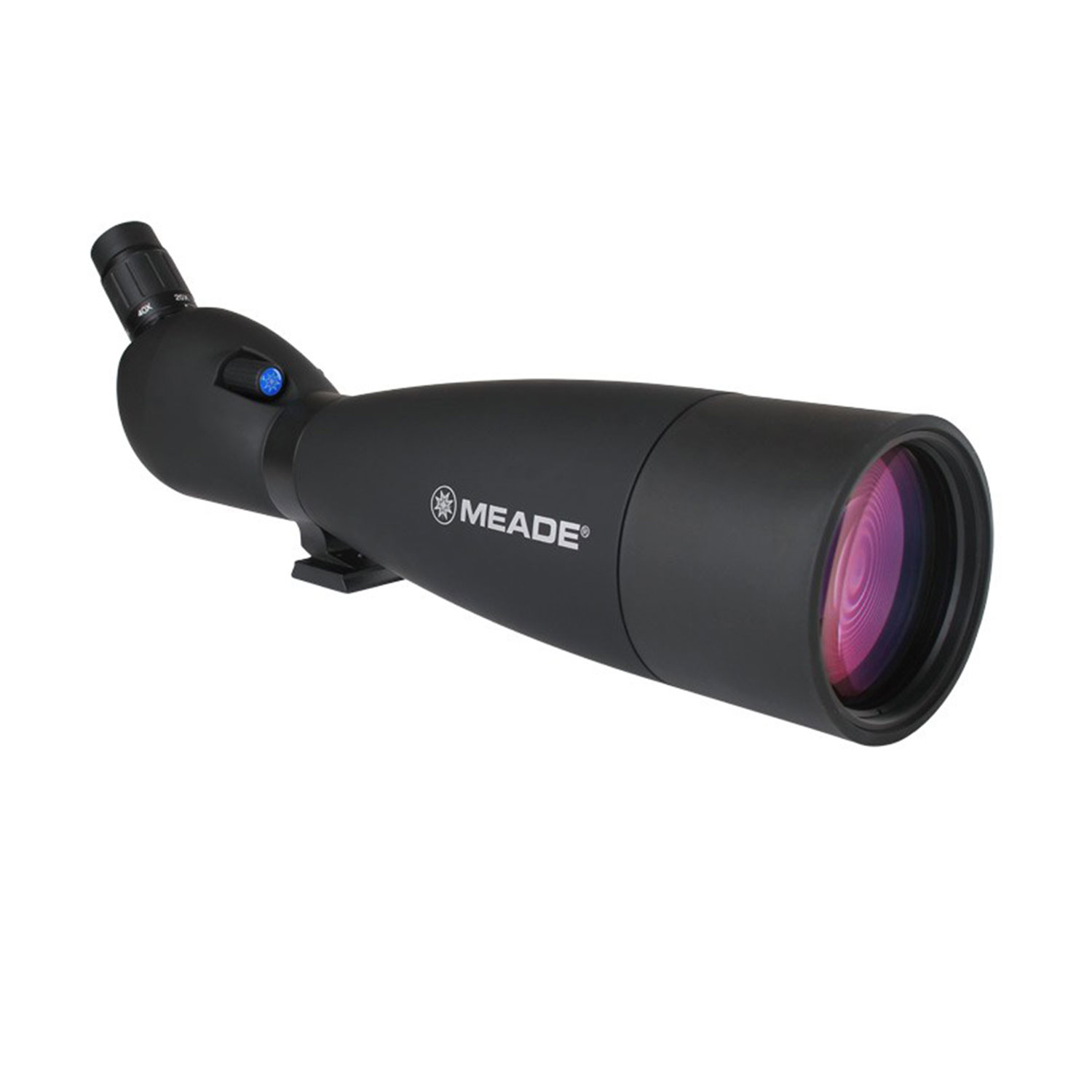 The Meade Wilderness 20–60x100 Spotting Scope is a high-quality and reliable optical device with magnification up to 60 times and high-aperture lenses. The scope is adapted for use in the most unfavorable weather situations and is perfectly suitable for studying birds, animals, and landscapes. You can also use it for photographing – the kit includes a special adapter to install any photo equipment on this scope (T-ring must be purchased separately). The scope has a Porro-prism design with all elements made of quality BaK-4 glass. The external lenses are covered with several layers of anti-reflective coating for even better sharpness and contrast of resulting images. Magnifications can change between 20x and 60x. The powerful 100mm objective lens gathers enough light for observations in poor light. For even more comfortable observations of objects high above the horizon, the eyepiece of this scope is inclined. The tube can be installed on any standard 1/4" tripod. It is also equipped with a sighting grid. The Meade Wilderness 20–60x100 Spotting Scope won't let you down even in the most severe weather conditions. Its rubber coating protects optical elements from moisture and rain, and the nitrogen filling secures lenses against fogging. Features: Meade high-quality, 20–60 power, zoom Porro prism spotting scopes deliver years of use. Large 100mm objective gathers plenty of light for bright detailed images. The spotting scope features high index BaK-4 prisms and high-quality, precision ground lenses that are coated with multiple layers of anti-reflection coatings to provide optical performance that is equal to, or better than any spotting scope in its class. The spotting scope features a sliding sunshade to further reduce glare. A rugged rubber armor covering protects your Wilderness spotting scope from abrasions and damage from regular use. Waterproof, fog-proof, and nitrogen purged to ensure many years of performance regardless of the environment. Soft case and camera adapter included (requires T-Mount, not included). Tripod not included The kit includes: Spotting Scope Camera adapter (requires T-Mount, not included) Soft case Cleaning wipe User manual