Meade Wilderness 15–45x65 Spotting Scope
Magnification: 15–45x. Objective lens diameter: 65mm
The Meade Wilderness 15–45x65 Spotting Scope is a portable and lightweight device with powerful magnification and high-aperture objective lens. The magnification is smoothly changeable within the 15–45x range. It makes a perfect choice for exploring nature, hunting, watching sporting events or observing distant objects. Compact size of the instrument allows for its easy transportation.
The optical design includes a Porro prism, BaK-4 glass optical elements, and multi-coated lenses. The spotting scope creates a very bright, contrast, and sharp image without internal reflections and optical distortions.
The scope can be installed on any standard 1/4" tripod. Its optical tube can be simply turned in any direction and pointed at any object of your interest. The eyepiece in inclined at 45°, which provides for additional viewing comfort. This all-weather scope is coated with rubber that won't let water, dust, or dirt inside. The space between optical elements is filled with nitrogen – it protects the optics from fogging during rapid temperature changes.
The Meade Wilderness 15–45x65 Spotting Scope is also suitable for taking photos! A special adapter included in the package allows for eyepiece projection photography with any available at your disposal photo equipment (you will also need a T-ring for your camera bayonet).
Features:
Meade high-quality, 15–45 power, zoom Porro prism spotting scopes deliver years of use.
Large 65mm objective gathers plenty of light for bright detailed images.
The spotting scope features high index BaK-4 prisms and high-quality, precision ground lenses that are coated with multiple layers of anti-reflection coatings to provide optical performance that is equal to, or better than any spotting scope in its class.
The spotting scope features a sliding sunshade to further reduce glare.
A rugged rubber armor covering protects your Wilderness spotting scope from abrasions and damage from regular use.
Waterproof, fog-proof, and nitrogen purged to ensure many years of performance regardless of the environment.
Soft case and camera adapter included (requires T-Mount, not included).
Tripod not included.
The kit includes:
Spotting Scope
Camera adapter (requires T-Mount, not included)
Soft case
Cleaning wipe
User manual
Meade Wilderness 15–45x65 Spotting Scope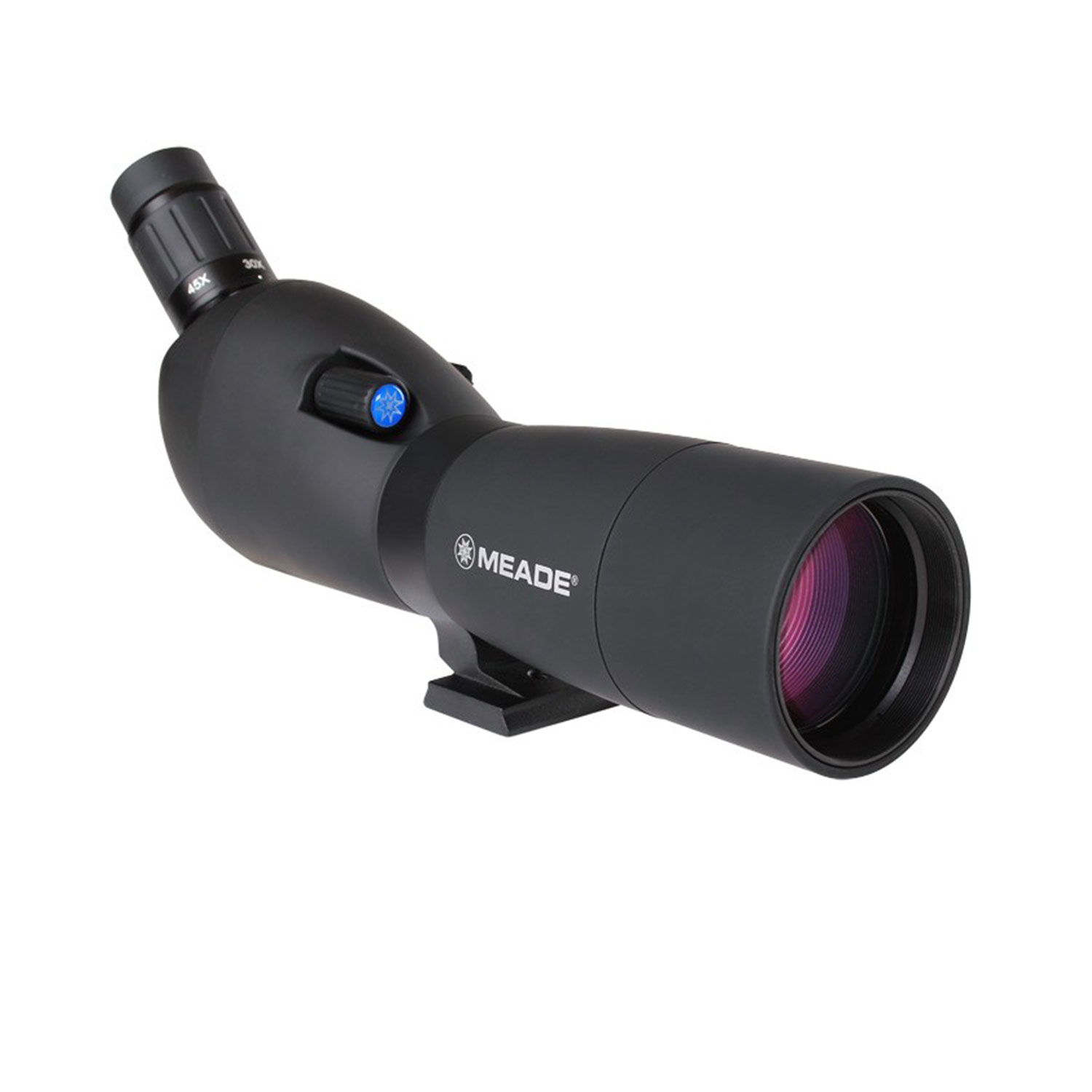 The Meade Wilderness 15–45x65 Spotting Scope is a portable and lightweight device with powerful magnification and high-aperture objective lens. The magnification is smoothly changeable within the 15–45x range. It makes a perfect choice for exploring nature, hunting, watching sporting events or observing distant objects. Compact size of the instrument allows for its easy transportation. The optical design includes a Porro prism, BaK-4 glass optical elements, and multi-coated lenses. The spotting scope creates a very bright, contrast, and sharp image without internal reflections and optical distortions. The scope can be installed on any standard 1/4" tripod. Its optical tube can be simply turned in any direction and pointed at any object of your interest. The eyepiece in inclined at 45°, which provides for additional viewing comfort. This all-weather scope is coated with rubber that won't let water, dust, or dirt inside. The space between optical elements is filled with nitrogen – it protects the optics from fogging during rapid temperature changes. The Meade Wilderness 15–45x65 Spotting Scope is also suitable for taking photos! A special adapter included in the package allows for eyepiece projection photography with any available at your disposal photo equipment (you will also need a T-ring for your camera bayonet). Features: Meade high-quality, 15–45 power, zoom Porro prism spotting scopes deliver years of use. Large 65mm objective gathers plenty of light for bright detailed images. The spotting scope features high index BaK-4 prisms and high-quality, precision ground lenses that are coated with multiple layers of anti-reflection coatings to provide optical performance that is equal to, or better than any spotting scope in its class. The spotting scope features a sliding sunshade to further reduce glare. A rugged rubber armor covering protects your Wilderness spotting scope from abrasions and damage from regular use. Waterproof, fog-proof, and nitrogen purged to ensure many years of performance regardless of the environment. Soft case and camera adapter included (requires T-Mount, not included). Tripod not included. The kit includes: Spotting Scope Camera adapter (requires T-Mount, not included) Soft case Cleaning wipe User manual