Levenhuk Blaze Compact 60 Spotting Scope
An angled eyepiece. Magnification: 9–27x. Objective lens diameter: 56mm
Levenhuk Blaze Compact 60 is designed for customers who use an optical instrument in a journey or a hiking trip. It is compact, lightweight, and perfect for any observations at open areas as well as indoors. A close focus is 2 meters; magnification of the optics varies smoothly in a range from 9x to 27x. That allows for focusing on very distant objects or studying general views during observations. Levenhuk Blaze Compact 60 is a choice of customers who have an active lifestyle.
The optical elements in the spotting scope are made of BK-7 glass. They are fully multi-coated; an objective lens of a large diameter gathers much light and provides a bright and contrast image. The optics do not distort geometry, rendering color hints correctly; image contrast is also high. An angled eyepiece helps in studying high-located objects. The spotting scope is excellent for birdwatching.
The waterproof design allows for using Levenhuk Blaze Compact 60 next to water or on a rainy day. Water drops, dust or dirt particles do not penetrate inside the body and do not harm the optics or mechanics. Nitrogen filling protects from condensation and prevents the lenses from fogging up during swift temperature changes.
The spotting scope can be attached to a tripod.
Features:
Smooth variable magnification
Multi-element optics made of BK-7 glass
Fully multi-coated
Removable metal angled eyepiece
Close focus of 2m
Nitrogen filling, waterproof
Adaptable to a standard 1/4" tripod
The kit includes:
Spotting scope
Eyepiece and objective lens protective caps
Cleaning wipe
Pouch for transportation and storage
User manual and lifetime warranty
Levenhuk Blaze Compact 60 Spotting Scope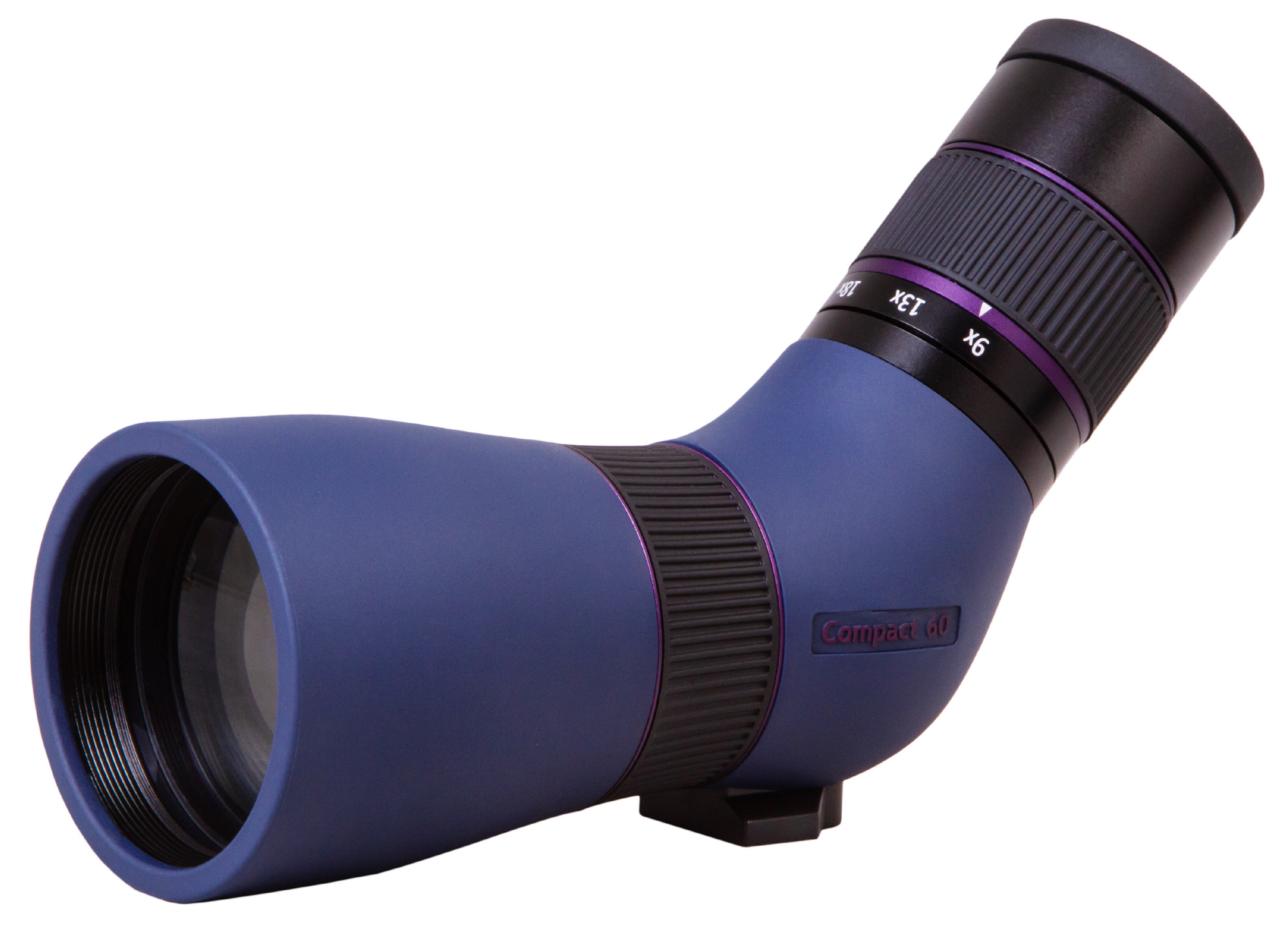 Levenhuk Blaze Compact 60 is designed for customers who use an optical instrument in a journey or a hiking trip. It is compact, lightweight, and perfect for any observations at open areas as well as indoors. A close focus is 2 meters; magnification of the optics varies smoothly in a range from 9x to 27x. That allows for focusing on very distant objects or studying general views during observations. Levenhuk Blaze Compact 60 is a choice of customers who have an active lifestyle. The optical elements in the spotting scope are made of BK-7 glass. They are fully multi-coated; an objective lens of a large diameter gathers much light and provides a bright and contrast image. The optics do not distort geometry, rendering color hints correctly; image contrast is also high. An angled eyepiece helps in studying high-located objects. The spotting scope is excellent for birdwatching. The waterproof design allows for using Levenhuk Blaze Compact 60 next to water or on a rainy day. Water drops, dust or dirt particles do not penetrate inside the body and do not harm the optics or mechanics. Nitrogen filling protects from condensation and prevents the lenses from fogging up during swift temperature changes. The spotting scope can be attached to a tripod. Features: Smooth variable magnification Multi-element optics made of BK-7 glass Fully multi-coated Removable metal angled eyepiece Close focus of 2m Nitrogen filling, waterproof Adaptable to a standard 1/4" tripod The kit includes: Spotting scope Eyepiece and objective lens protective caps Cleaning wipe Pouch for transportation and storage User manual and lifetime warranty