Levenhuk Blaze PLUS 90 Spotting Scope
Magnification: 25–75x. Objective lens diameter: 90mm
Levenhuk Blaze PLUS 90 Spotting Scope is a wonderful choice for studying very distant objects. The optics allow for observing the world around us at magnification in the range of 25x to 75x depending on illumination conditions. The high-aperture objective lens and coated optics deliver a clear and sharp image even in twilight, predawn hours or on a cloudy day.
This spotting scope will give you a wonderful opportunity to observe natural and urban landscapes.
All optical elements are made of BK-7 glass. The delivered image is contrast and detailed. You will love the pictures with vivid and saturated colors. Optical elements are safely protected from any impact. The hermetic shell does not let water inside. The nitrogen filling prevents the lenses from fogging even during abrupt temperature changes. You can use Levenhuk Blaze PLUS 90 while it is raining, snowing or freezing outside.
You can install Levenhuk Blaze PLUS 90 Spotting Scope on a standard camera tripod with 1/4" thread. The kit includes a small tabletop tripod necessary for observing at high magnification: that minimizes image trembling.
Features:
Powerful high-aperture spotting scope
A great choice for visual observations and taking pictures
Waterproof, resistant to abrupt temperature changes
The kit includes:
Spotting Scope
Metal table tripod
Eyepiece and objective lens caps
Cleaning wipe
Case for storage and transportation
User manual and lifetime warranty
Levenhuk Blaze PLUS 90 Spotting Scope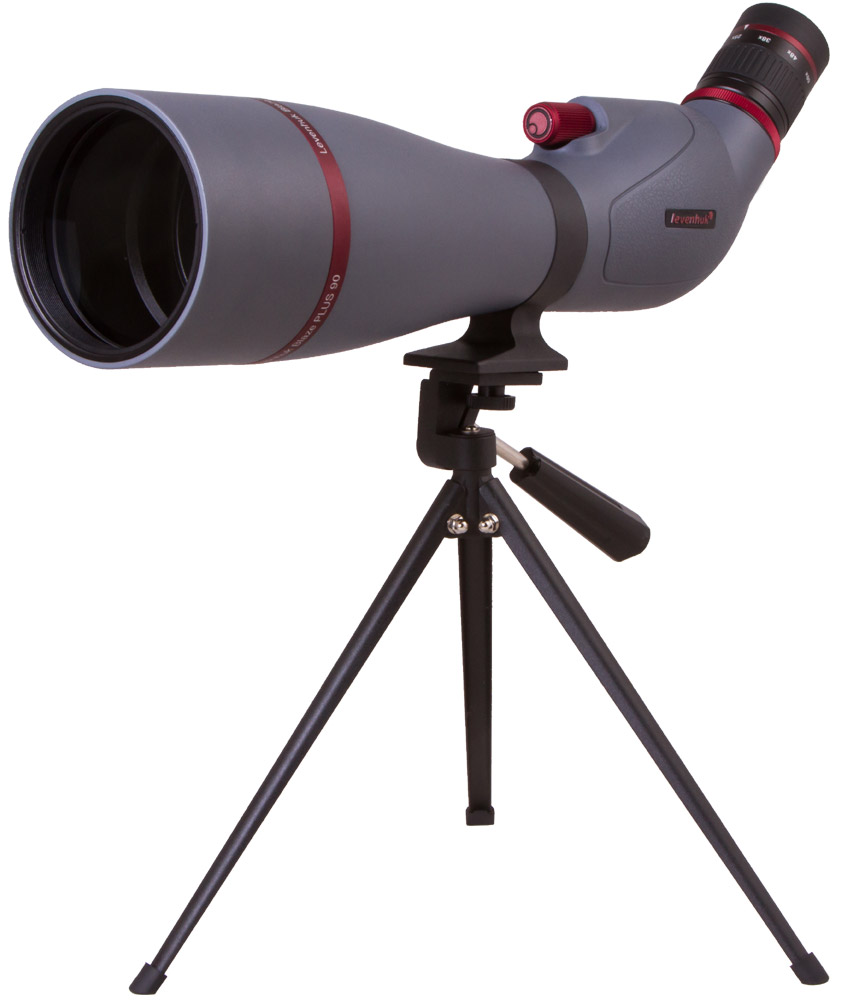 Levenhuk Blaze PLUS 90 Spotting Scope is a wonderful choice for studying very distant objects. The optics allow for observing the world around us at magnification in the range of 25x to 75x depending on illumination conditions. The high-aperture objective lens and coated optics deliver a clear and sharp image even in twilight, predawn hours or on a cloudy day. This spotting scope will give you a wonderful opportunity to observe natural and urban landscapes. All optical elements are made of BK-7 glass. The delivered image is contrast and detailed. You will love the pictures with vivid and saturated colors. Optical elements are safely protected from any impact. The hermetic shell does not let water inside. The nitrogen filling prevents the lenses from fogging even during abrupt temperature changes. You can use Levenhuk Blaze PLUS 90 while it is raining, snowing or freezing outside. You can install Levenhuk Blaze PLUS 90 Spotting Scope on a standard camera tripod with 1/4" thread. The kit includes a small tabletop tripod necessary for observing at high magnification: that minimizes image trembling. Features: Powerful high-aperture spotting scope A great choice for visual observations and taking pictures Waterproof, resistant to abrupt temperature changes The kit includes: Spotting Scope Metal table tripod Eyepiece and objective lens caps Cleaning wipe Case for storage and transportation User manual and lifetime warranty