Levenhuk Blaze PLUS 60 Spotting Scope
Magnification: 15–45x. Objective lens diameter: 60mm
Levenhuk Blaze PLUS 60 Spotting Scope is a reliable, high-aperture powerful optical instrument that is unaffected by bad weather and is perfect for any observations in the open air. You can set up magnification in the range of 15x to 45x due to the zoom objective lens. Levenhuk Blaze PLUS 60 is suited perfectly for studying nature, hunting, fishing and observing urban landscapes.
Inside this spotting scope are optical elements made of BK-7 glass. The external lenses are coated with several layers of anti-reflective coating. This spotting scope delivers a sharp and clear image with correct color rendition, even in twilight.
The hermetic design with nitrogen filling protects the optics from exposure. This spotting scope is unaffected by rain, snow, dust and dirt. The lenses neither fog up nor suffer from condensation. You can mount this spotting scope on most modern tripods due to the 1/4" thread. The kit includes a small tabletop tripod necessary for observing at high magnification: that minimizes image trembling.
Features:
Great for visual observations and taking pictures
An excellent choice for trips and walking tours
Variable magnification
Removable metal eyepiece
Waterproof and nitrogen-filled shell
The kit includes:
Spotting Scope
Metal table tripod
Eyepiece and objective lens caps
Cleaning wipe
Case for storage and transportation
User manual and lifetime warranty
Levenhuk Blaze PLUS 60 Spotting Scope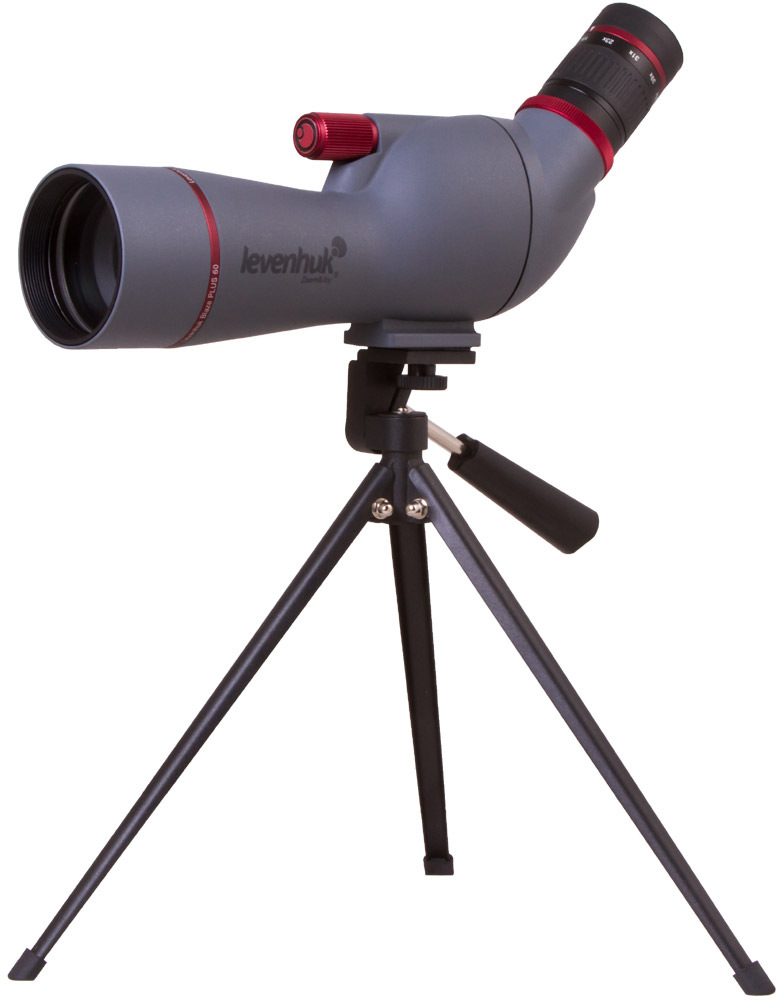 Levenhuk Blaze PLUS 60 Spotting Scope is a reliable, high-aperture powerful optical instrument that is unaffected by bad weather and is perfect for any observations in the open air. You can set up magnification in the range of 15x to 45x due to the zoom objective lens. Levenhuk Blaze PLUS 60 is suited perfectly for studying nature, hunting, fishing and observing urban landscapes. Inside this spotting scope are optical elements made of BK-7 glass. The external lenses are coated with several layers of anti-reflective coating. This spotting scope delivers a sharp and clear image with correct color rendition, even in twilight. The hermetic design with nitrogen filling protects the optics from exposure. This spotting scope is unaffected by rain, snow, dust and dirt. The lenses neither fog up nor suffer from condensation. You can mount this spotting scope on most modern tripods due to the 1/4" thread. The kit includes a small tabletop tripod necessary for observing at high magnification: that minimizes image trembling. Features: Great for visual observations and taking pictures An excellent choice for trips and walking tours Variable magnificationRemovable metal eyepiece Waterproof and nitrogen-filled shell The kit includes: Spotting Scope Metal table tripod Eyepiece and objective lens caps Cleaning wipe Case for storage and transportation User manual and lifetime warranty