Levenhuk Blaze PLUS 50 Spotting Scope
Magnification: 13–40x. Objective lens diameter: 50mm
Levenhuk Blaze PLUS 50 Spotting Scope is a small lightweight optical tool with powerful coated optics. You can use it for any observations in open areas due to smooth variable magnification. You can go birdwatching, study wild animals' habits, and examine urban architecture. Bad weather will not be an obstacle to observe – this spotting scope is impervious to rain, snow and abrupt temperature changes.
The optical scheme uses BK-7 glass lenses. The external surfaces are coated with several layers of anti-reflective coating, which improves image brightness during observations in twilight or predawn hours. The optics deliver a sharp and clear image with no aberrations across the whole field of view. Levenhuk Blaze PLUS 50 is perfect for visual observations.
The shell of this spotting scope is completely hermetic and nitrogen-filled. The optics do not fog up and easily overcome any weather difficulties. A standard 1/4" thread allows for mounting Levenhuk Blaze PLUS 50 on most modern tripods to perform long-term stationary observations with convenience. The kit includes a small tabletop tripod necessary for observing at high magnification: that minimizes image trembling.
Features:
Small and lightweight spotting scope
Variable magnification
Removable metal eyepiece
Nitrogen-filled shell
The kit includes:
Spotting Scope
Metal table tripod
Eyepiece and objective lens caps
Cleaning wipe
Strap
Case for storage and transportation
User manual and lifetime warranty
Levenhuk Blaze PLUS 50 Spotting Scope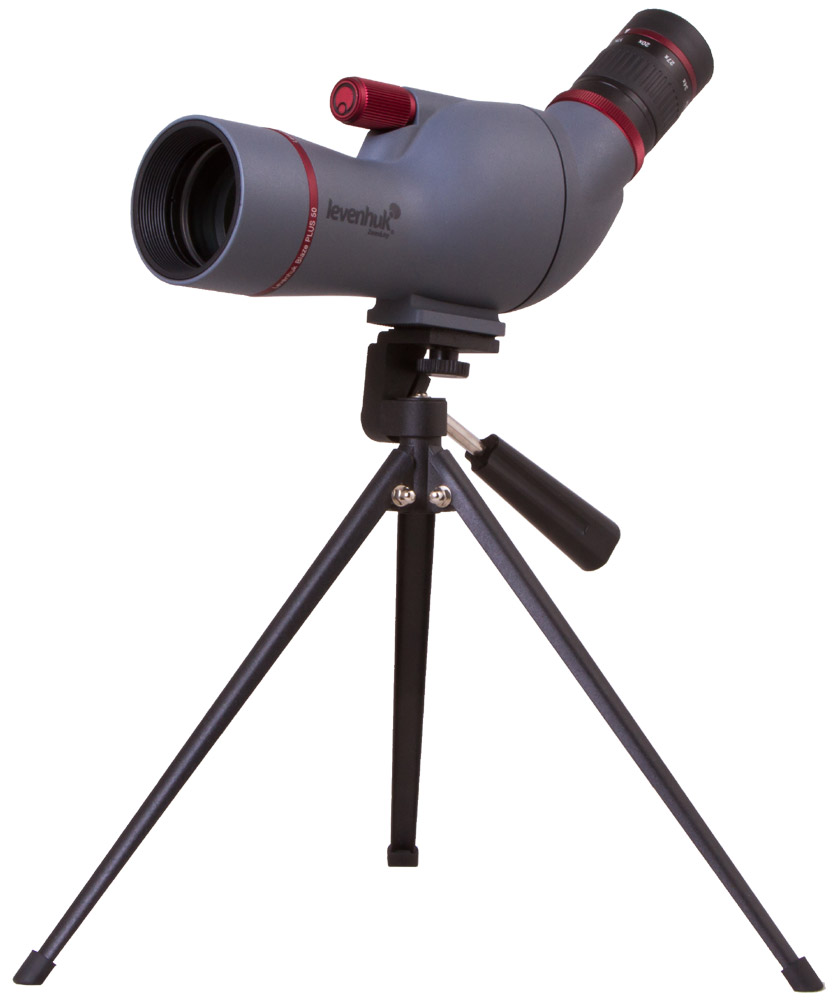 Levenhuk Blaze PLUS 50 Spotting Scope is a small lightweight optical tool with powerful coated optics. You can use it for any observations in open areas due to smooth variable magnification. You can go birdwatching, study wild animals' habits, and examine urban architecture. Bad weather will not be an obstacle to observe – this spotting scope is impervious to rain, snow and abrupt temperature changes. The optical scheme uses BK-7 glass lenses. The external surfaces are coated with several layers of anti-reflective coating, which improves image brightness during observations in twilight or predawn hours. The optics deliver a sharp and clear image with no aberrations across the whole field of view. Levenhuk Blaze PLUS 50 is perfect for visual observations. The shell of this spotting scope is completely hermetic and nitrogen-filled. The optics do not fog up and easily overcome any weather difficulties. A standard 1/4" thread allows for mounting Levenhuk Blaze PLUS 50 on most modern tripods to perform long-term stationary observations with convenience. The kit includes a small tabletop tripod necessary for observing at high magnification: that minimizes image trembling. Features:Small and lightweight spotting scopeVariable magnificationRemovable metal eyepieceNitrogen-filled shellThe kit includes:Spotting ScopeMetal table tripodEyepiece and objective lens capsCleaning wipeStrapCase for storage and transportationUser manual and lifetime warranty