Levenhuk Blaze 50 PLUS Spotting Scope
Superb quality in compact body. Magnification: 12–36x. Objective lens diameter: 50mm
Bird watching, traveling and tourism – with Levenhuk Blaze 50 PLUS Spotting Scope any outdoor activity will bring you even more vivid experiences! Advanced fully coated optics produce clear, sharp and crisp images. Wide range of magnifications allows you to observe objects located at different distances in detail. High aperture objective lens provides for great visibility during day and at dusk. It's very easy to take this scope with you because of its compact dimensions. The scope comes in a waterproof shell, which makes it resistant to fog, rain and snow. Levenhuk Blaze 50 PLUS Spotting Scope is a great gift for those who value high quality and portability.
The excellent optics of this spotting scope are made of high-quality BK-7 glass. Lenses and prisms are additionally covered with anti-reflective coating to reduce the loss of light inside the instrument to zero. The prisms are covered with a silver coating; the lenses, a blue coating. The large objective collects a lot of light, making produced images bright and sharp even in low light conditions. The scope comes with a professional-level metal eyepiece. Superb optics produce vivid, highly detailed images with natural colors. The shell is filled with nitrogen, so the optics stay fog-free even in high humidity.
Yet another advantage of Levenhuk Blaze 50 PLUS Spotting Scope is its ergonomic design, which provides for maximum comfort of your observations. The soft rubber eyecup blocks side light. Long eye relief allows you to observe with your glasses on, be it eyeglasses or sunglasses.
Levenhuk Blaze 50 PLUS Spotting Scope comes in a lightweight shockproof shell. The shell is hermetically sealed, which prevents dust, dirt and moisture from getting inside the instrument. The kit includes a case that protects the scope from splashes. You don't even have to remove the case to start observing – just unzip it and you are ready to observe. That's especially helpful when observing in adverse weather conditions or in the field. At high magnifications, even the slightest vibration of the instrument can strongly affect image quality. You can be sure that won't happen with this scope as it comes with a reliable metal table tripod. Levenhuk Blaze 50 PLUS Spotting Scope provides you with crisp steady images in all settings!
The kit includes:
Levenhuk Blaze 50 PLUS Spotting Scope
Metal table tripod
Cleaning wipe
Case for storage and transportation
User manual and lifetime warranty
Levenhuk Blaze 50 PLUS Spotting Scope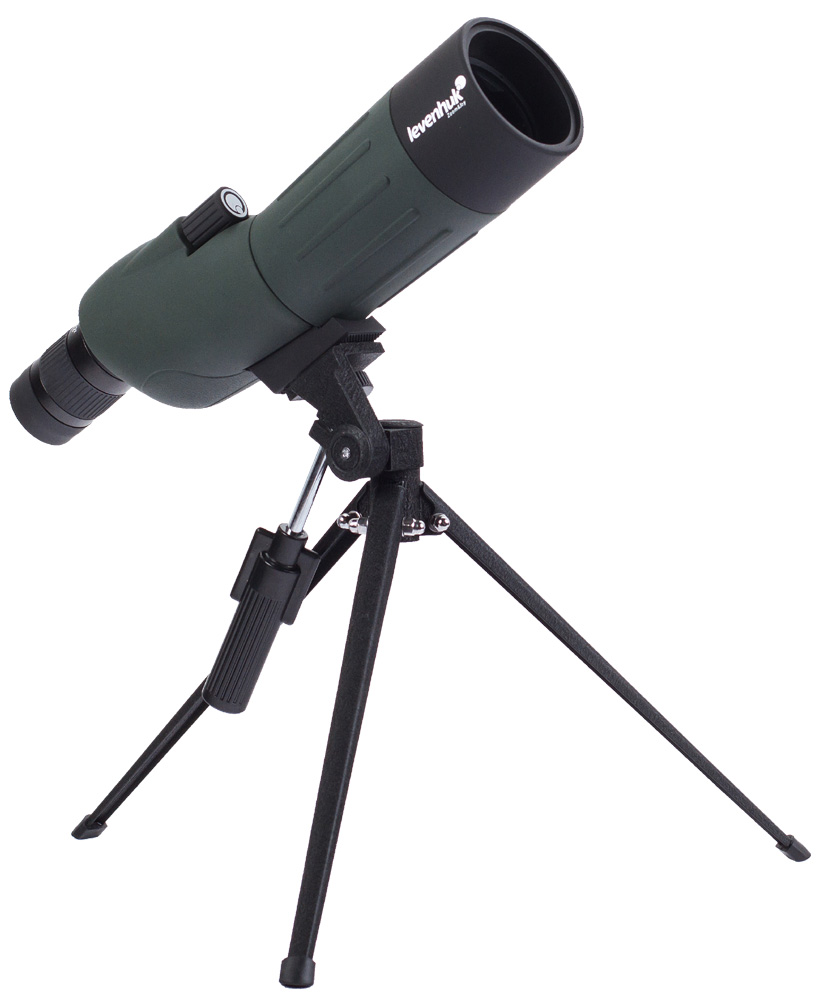 Bird watching, traveling and tourism – with Levenhuk Blaze 50 PLUS Spotting Scope any outdoor activity will bring you even more vivid experiences! Advanced fully coated optics produce clear, sharp and crisp images. Wide range of magnifications allows you to observe objects located at different distances in detail. High aperture objective lens provides for great visibility during day and at dusk. It's very easy to take this scope with you because of its compact dimensions. The scope comes in a waterproof shell, which makes it resistant to fog, rain and snow. Levenhuk Blaze 50 PLUS Spotting Scope is a great gift for those who value high quality and portability. The excellent optics of this spotting scope are made of high-quality BK-7 glass. Lenses and prisms are additionally covered with anti-reflective coating to reduce the loss of light inside the instrument to zero. The prisms are covered with a silver coating; the lenses, a blue coating. The large objective collects a lot of light, making produced images bright and sharp even in low light conditions. The scope comes with a professional-level metal eyepiece. Superb optics produce vivid, highly detailed images with natural colors. The shell is filled with nitrogen, so the optics stay fog-free even in high humidity. Yet another advantage of Levenhuk Blaze 50 PLUS Spotting Scope is its ergonomic design, which provides for maximum comfort of your observations. The soft rubber eyecup blocks side light. Long eye relief allows you to observe with your glasses on, be it eyeglasses or sunglasses. Levenhuk Blaze 50 PLUS Spotting Scope comes in a lightweight shockproof shell. The shell is hermetically sealed, which prevents dust, dirt and moisture from getting inside the instrument. The kit includes a case that protects the scope from splashes. You don't even have to remove the case to start observing – just unzip it and you are ready to observe. That's especially helpful when observing in adverse weather conditions or in the field. At high magnifications, even the slightest vibration of the instrument can strongly affect image quality. You can be sure that won't happen with this scope as it comes with a reliable metal table tripod. Levenhuk Blaze 50 PLUS Spotting Scope provides you with crisp steady images in all settings! The kit includes: Levenhuk Blaze 50 PLUS Spotting Scope Metal table tripod Cleaning wipe Case for storage and transportation User manual and lifetime warranty