Levenhuk Halo 13X Digital Night Vision Monocular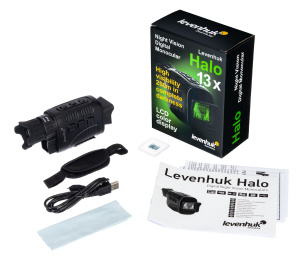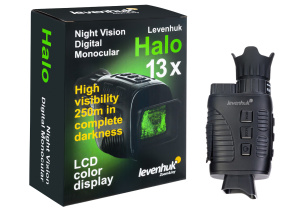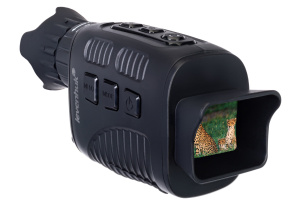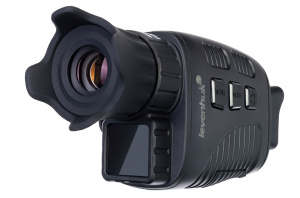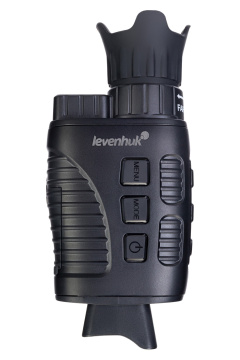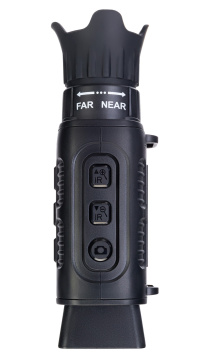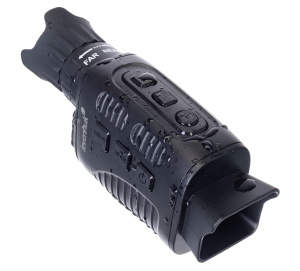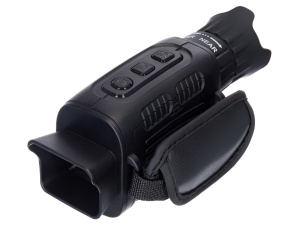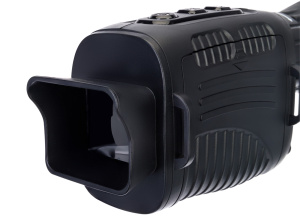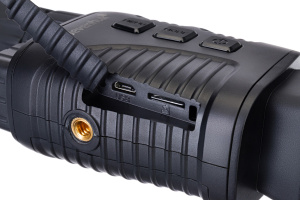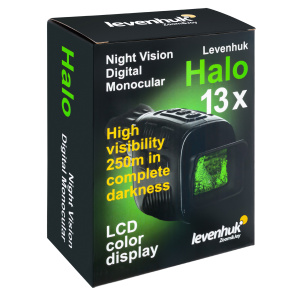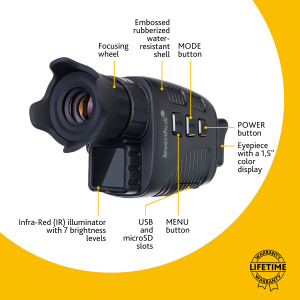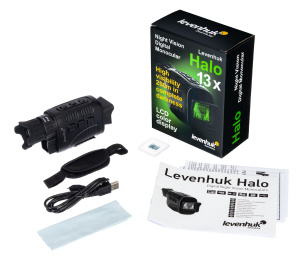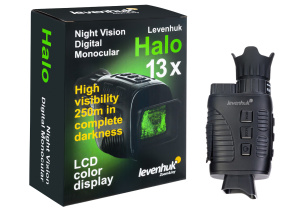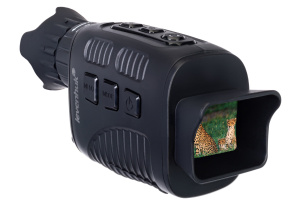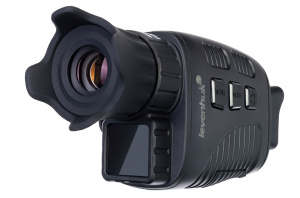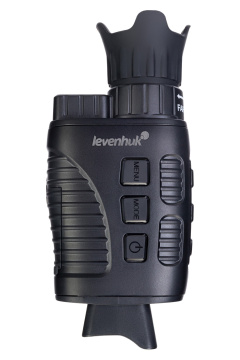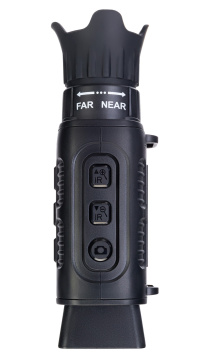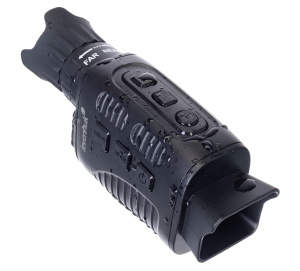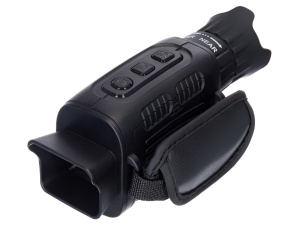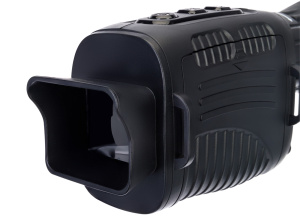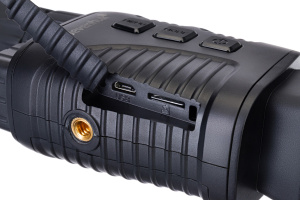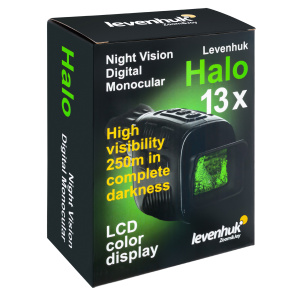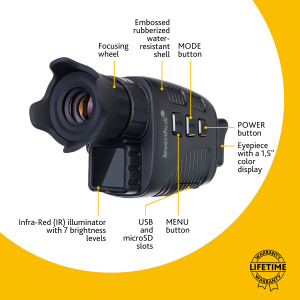 For day and night observation. With a recorder. Magnification: 1–4x digital
The Levenhuk Halo 13X digital night vision monocular features a built-in recorder so it can be used for visual observation as well as for photo- and video-recording. The device works effectively in total darkness. It can also be used as a standard monocular in daylight. Levenhuk Halo 13X is an excellent choice for night hunting, orienteering, war games, and patrolling.
Detection range in total darkness: up to 300 meters
The optics are made of glass with silicon dioxide anti-reflecting coating. Due to this feature, in the dark, the monocular transmits a clear and contrasting image, and in the daytime, it renders a detailed and bright picture. In the daytime, you can study any objects located at any distance. At night, the view is limited to 300 meters. It is recommended to use IR illumination for better image clarity in complete darkness. It has 7 brightness levels, so you can adjust it according to the given light conditions. To save the battery life, the minimum brightness level is used, but for the best picture detail, the maximum brightness level is used. The device can produce a color image, a black and white image, a bright green image, or an image with a color film effect. However, the color image is not available when night mode is on.
High-quality photo and video recording
Due to the built-in recorder, the device can record videos and photos. Data is recorded on a memory card (included), and everything can be transferred to a computer via a USB cable. The maximum resolution for photos is 2048x1536pix, for videos – 1920x1080pix. However, if necessary, it can be reduced to 640x480 pixels. Videos are recorded at 30FPS regardless of the picture resolution, so that they are always smooth and pleasant to watch.
Up to 10 hours of continuous operation without changing the batteries
The monocular features a drip-proof body with 1/4" thread. The design is ergonomic and the monocular is convenient to grip. Device control is very user-friendly. The night vision monocular is operated with AA batteries (not included), as under field conditions this is the most convenient. Dead batteries can be quickly replaced with new ones, but to charge the battery out in the field is extremely difficult. The device can work from 4 to 10 hours on one charge, depending on the intensity of the backlight.
Please note: IR illumination (infrared radiation) can be detected by photo and video cameras as well as other similar electronic devices during operation.
Features:
Night vision device with digitizer
Detection range in total darkness: 300m
Magnification: 1–4x digital
Built-in IR illuminator with 7 brightness levels
Photo (2048x1536pix) and video (1920x1080pix at 30 FPS) recording
Battery powered: AA batteries; up to 10 hours of continuous work
Drip-proof body; adaptability to tripods
The kit includes:
Night vision device
mini USB 2.0 charging cable
MicroSD 32GB
Card reader
Carrying strap
User manual and lifetime warranty
Levenhuk Halo 13X Digital Night Vision Monocular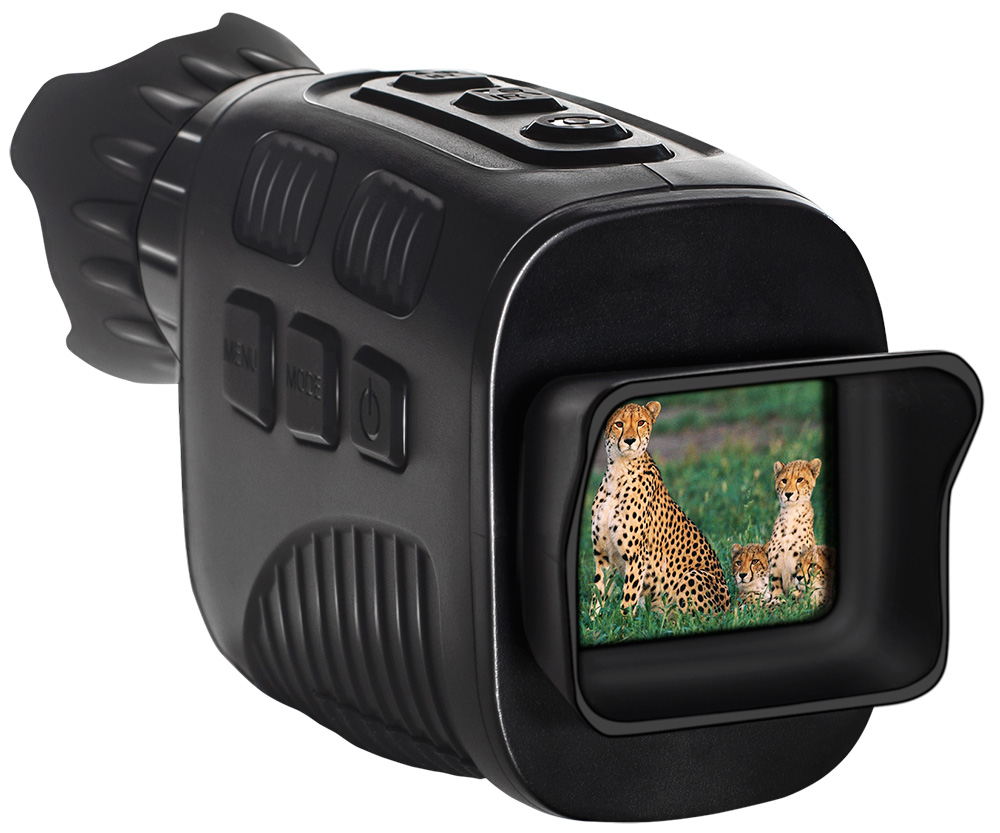 The Levenhuk Halo 13X digital night vision monocular features a built-in recorder so it can be used for visual observation as well as for photo- and video-recording. The device works effectively in total darkness. It can also be used as a standard monocular in daylight. Levenhuk Halo 13X is an excellent choice for night hunting, orienteering, war games, and patrolling. Detection range in total darkness: up to 300 meters The optics are made of glass with silicon dioxide anti-reflecting coating. Due to this feature, in the dark, the monocular transmits a clear and contrasting image, and in the daytime, it renders a detailed and bright picture. In the daytime, you can study any objects located at any distance. At night, the view is limited to 300 meters. It is recommended to use IR illumination for better image clarity in complete darkness. It has 7 brightness levels, so you can adjust it according to the given light conditions. To save the battery life, the minimum brightness level is used, but for the best picture detail, the maximum brightness level is used. The device can produce a color image, a black and white image, a bright green image, or an image with a color film effect. However, the color image is not available when night mode is on. High-quality photo and video recording Due to the built-in recorder, the device can record videos and photos. Data is recorded on a memory card (included), and everything can be transferred to a computer via a USB cable. The maximum resolution for photos is 2048x1536pix, for videos – 1920x1080pix. However, if necessary, it can be reduced to 640x480 pixels. Videos are recorded at 30FPS regardless of the picture resolution, so that they are always smooth and pleasant to watch. Up to 10 hours of continuous operation without changing the batteries The monocular features a drip-proof body with 1/4" thread. The design is ergonomic and the monocular is convenient to grip. Device control is very user-friendly. The night vision monocular is operated with AA batteries (not included), as under field conditions this is the most convenient. Dead batteries can be quickly replaced with new ones, but to charge the battery out in the field is extremely difficult. The device can work from 4 to 10 hours on one charge, depending on the intensity of the backlight. Please note: IR illumination (infrared radiation) can be detected by photo and video cameras as well as other similar electronic devices during operation. Features: Night vision device with digitizer Detection range in total darkness: 300m Magnification: 1–4x digital Built-in IR illuminator with 7 brightness levels Photo (2048x1536pix) and video (1920x1080pix at 30 FPS) recording Battery powered: AA batteries; up to 10 hours of continuous work Drip-proof body; adaptability to tripods The kit includes: Night vision device mini USB 2.0 charging cable MicroSD 32GB Card reader Carrying strap User manual and lifetime warranty