Levenhuk Atom Digital DNM50 Night Vision Monocular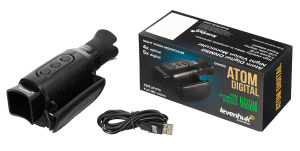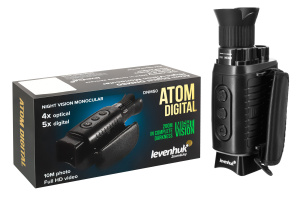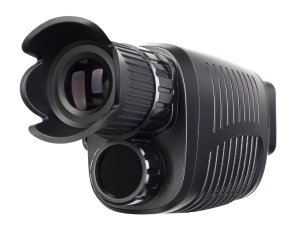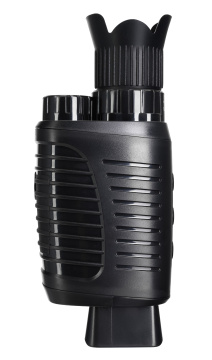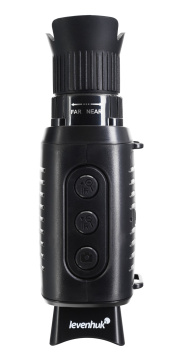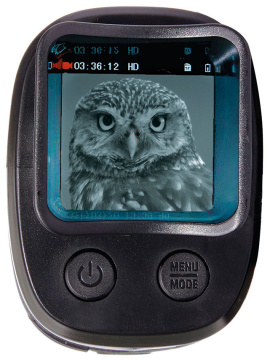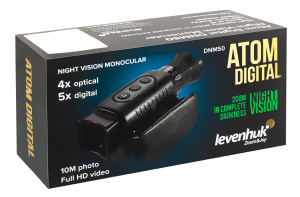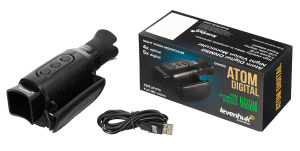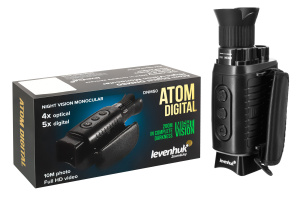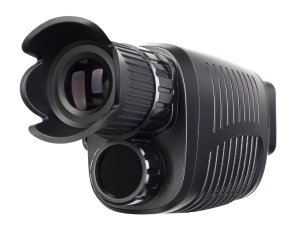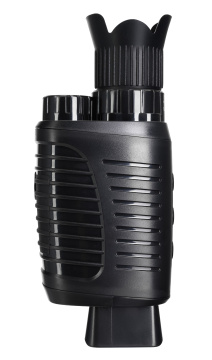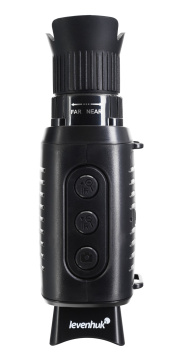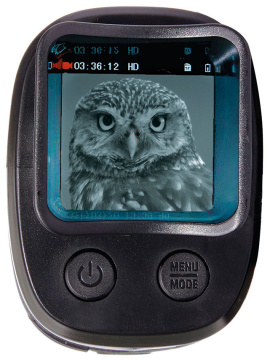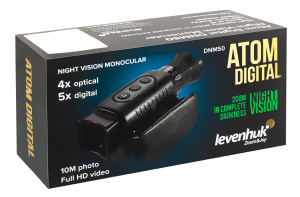 For day and night observations. With a recorder. Magnification: 4x (optical), 1–5x (digital). Lens diameter: 28mm
The Levenhuk Atom Digital DNM50 Night Vision Monocular is a compact digital NVD with a range of up to 200m (650ft) in darkness and a built-in recorder for photo and video recording. The device's functionality is useful during night hunting, multi-day hiking, and terrain observations. The device can be used during the day and at night. There is an IR-illumination with 7 levels of brightness for conducting observation in the darkness. It has 4x optical magnification and a 1–5x digital zoom.
High-quality optics and simple operation of the device
The image on the built-in display of the Levenhuk Atom Digital DNM50 monocular is produced by high-quality glass optics and its CMOS sensor. The focusing wheel is located on the objective lens, and the illumination control buttons are right under your fingers on the top panel. The small and lightweight monocular is easy to take with you, so you can quickly start observing wherever you are. The device is powered by standard batteries. The auto-off function of the display and the device saves energy power. The continuous operation time on a single charge may vary depending on viewing conditions. It can last up to 6 hours in night mode.
Recorder for taking high-quality photos and videos
The detection range of an object in complete darkness is up to 200m (650ft), and at dusk and in daylight it is unlimited. The built-in video recorder provides a wide range of photo and video recording options in different resolutions: up to 10M for photos and up to 1920x1080 pix at 30fps for videos. The data is stored on a memory card of up to 128GB, which can hold many photos and videos. The device is equipped with a USB port for transferring files to a PC and a tripod socket with a standard diameter.
Key features:
NVD monocular with optical magnification and digital zoom
Day and night observation with IR illumination
CMOS sensor, glass optics, built-in display
Lightweight body made of rugged ABS plastic, comfortable rubber eyecups
Video recorder, Full HD video recording, tripod mount
Powered by standard batteries
The kit includes:
Night vision device
Strap
USB cable
User manual and warranty card
Levenhuk Atom Digital DNM50 Night Vision Monocular
The Levenhuk Atom Digital DNM50 Night Vision Monocular is a compact digital NVD with a range of up to 200m (650ft) in darkness and a built-in recorder for photo and video recording. The device's functionality is useful during night hunting, multi-day hiking, and terrain observations. The device can be used during the day and at night. There is an IR-illumination with 7 levels of brightness for conducting observation in the darkness. It has 4x optical magnification and a 1–5x digital zoom. High-quality optics and simple operation of the device The image on the built-in display of the Levenhuk Atom Digital DNM50 monocular is produced by high-quality glass optics and its CMOS sensor. The focusing wheel is located on the objective lens, and the illumination control buttons are right under your fingers on the top panel. The small and lightweight monocular is easy to take with you, so you can quickly start observing wherever you are. The device is powered by standard batteries. The auto-off function of the display and the device saves energy power. The continuous operation time on a single charge may vary depending on viewing conditions. It can last up to 6 hours in night mode. Recorder for taking high-quality photos and videos The detection range of an object in complete darkness is up to 200m (650ft), and at dusk and in daylight it is unlimited. The built-in video recorder provides a wide range of photo and video recording options in different resolutions: up to 10M for photos and up to 1920x1080 pix at 30fps for videos. The data is stored on a memory card of up to 128GB, which can hold many photos and videos. The device is equipped with a USB port for transferring files to a PC and a tripod socket with a standard diameter. Key features: NVD monocular with optical magnification and digital zoom Day and night observation with IR illumination CMOS sensor, glass optics, built-in display Lightweight body made of rugged ABS plastic, comfortable rubber eyecups Video recorder, Full HD video recording, tripod mount Powered by standard batteries The kit includes: Night vision device Strap USB cable User manual and warranty card