Levenhuk Atom 10–30x30 Monocular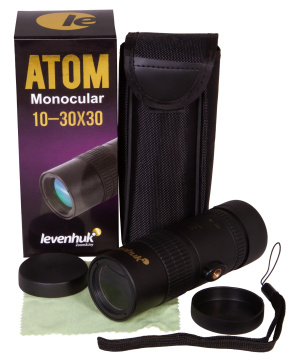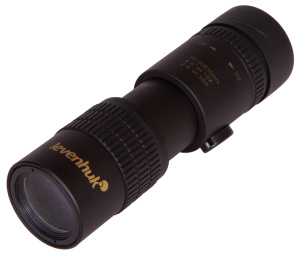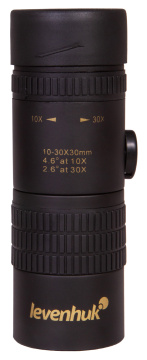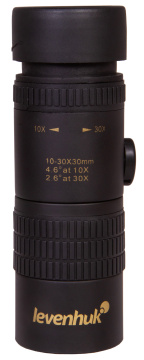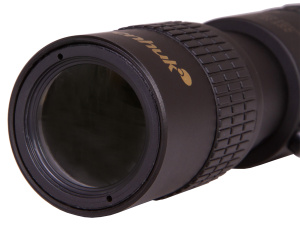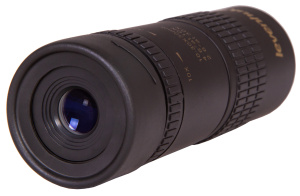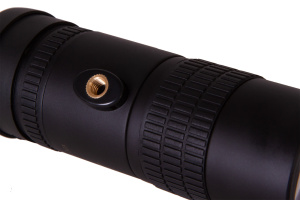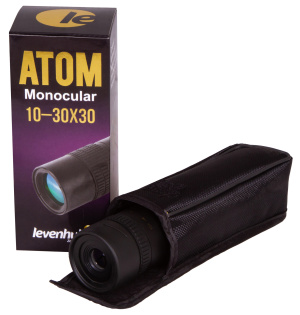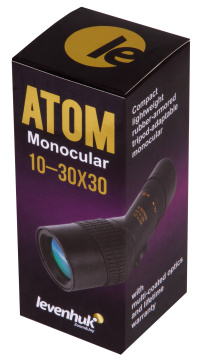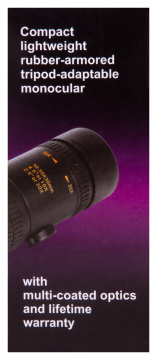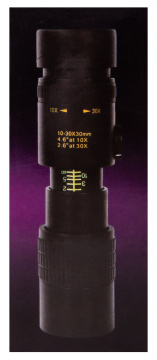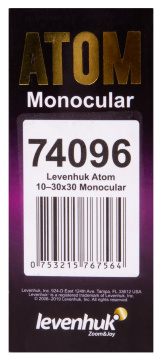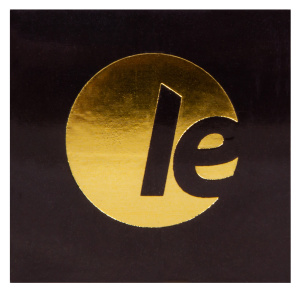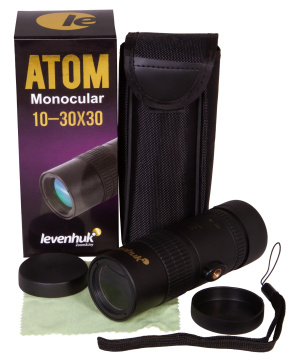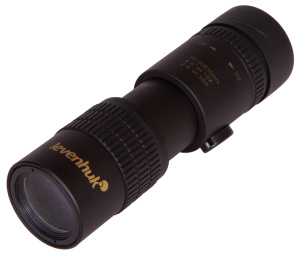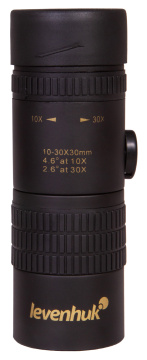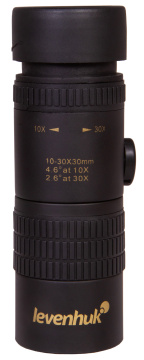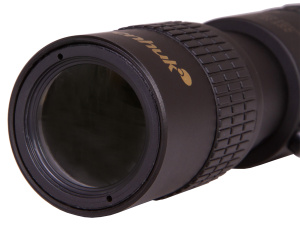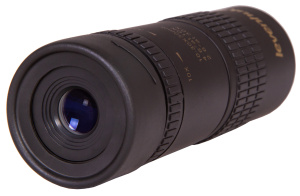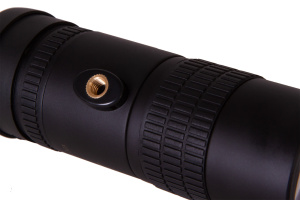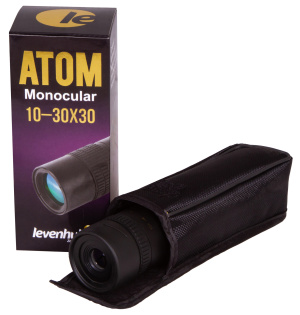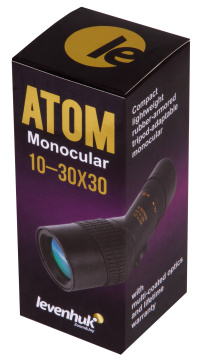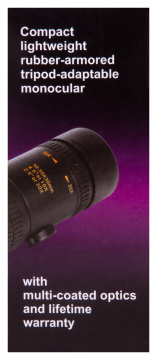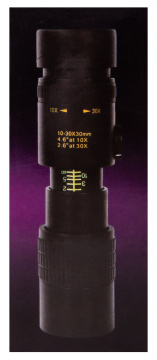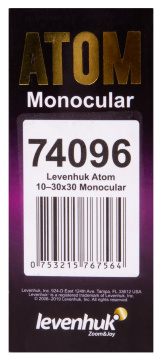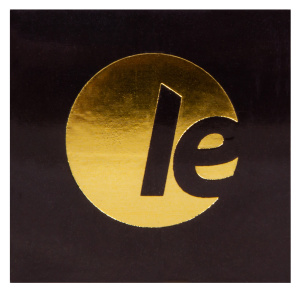 Magnification: 10–30x. Objective lens diameter: 30mm
Levenhuk Atom 10–30x30 is a monocular with smooth variable magnification in the range from 10x to 30x. This compact optical instrument will come in handy on any adventure. It is lightweight and easily fits in a jacket pocket. What's more, it is perfect for short-term observations of the world around you. It performs best in the daylight and allows you to study natural landscapes, architecture, and any distant objects.
This optical instrument is aimed at focused studying of objects and, therefore, it does not provide a wide field of view. The monocular can be used for orienteering or hunting. The body is made of plastic and embossed with a rubber coating. It provides a firm grip and repels small water drops and dust. The optics are made of coated glass; the delivered image features bright colors and clear details.
Customers with imperfect eyesight will appreciate the long eye relief and twist-up eyecup. This optical instrument is adaptable to a tripod.
Features:
Monocular with 10–30x magnification
Coated optics made of BK-7 glass
Lightweight plastic body
Adaptable to a tripod
Comfortable observations when wearing glasses
The kit includes:
Monocular
Pouch
Strap
Cleaning wipe
Eyepiece and objective lens caps
User manual and lifetime warranty
Levenhuk Atom 10–30x30 Monocular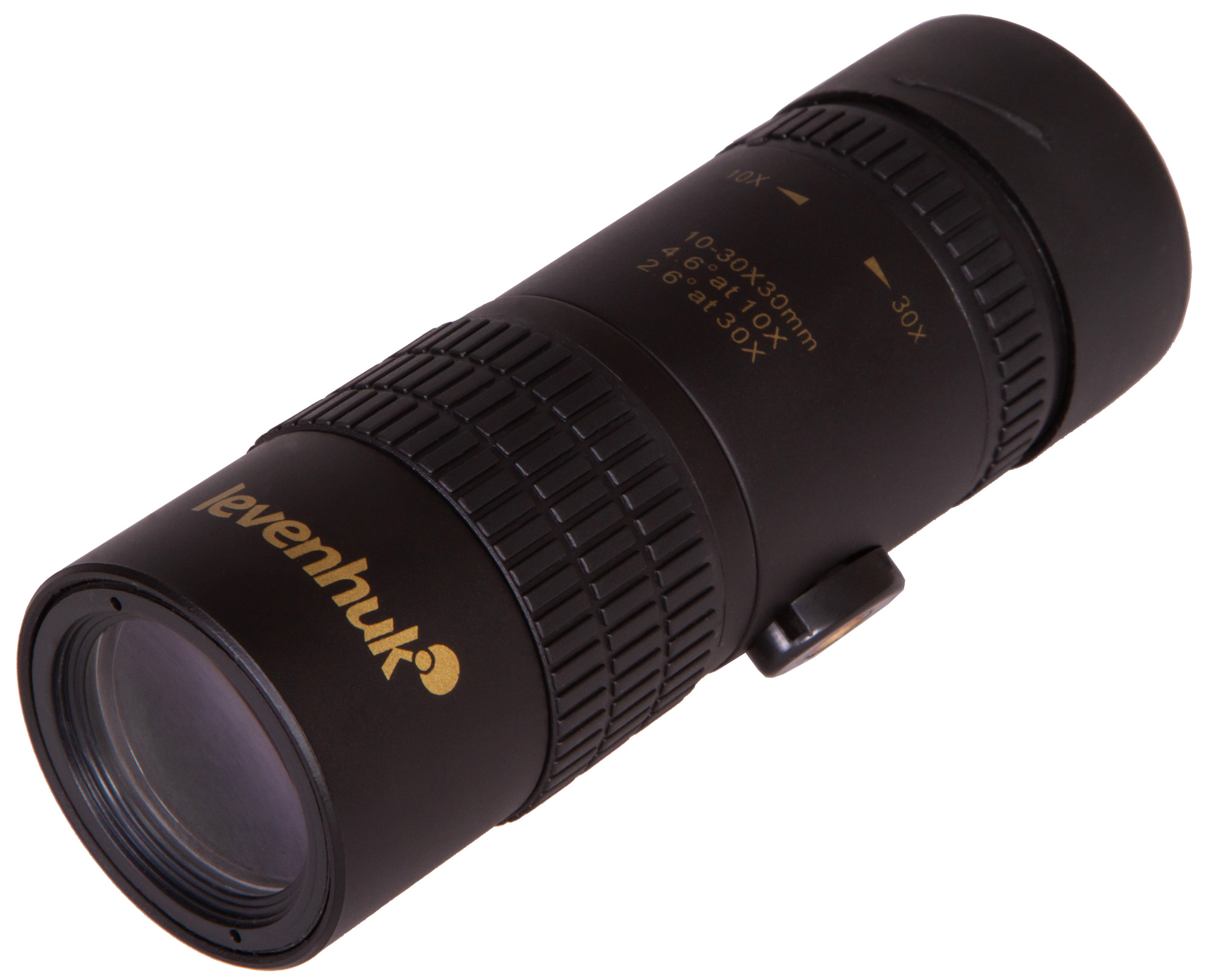 Levenhuk Atom 10–30x30 is a monocular with smooth variable magnification in the range from 10x to 30x. This compact optical instrument will come in handy on any adventure. It is lightweight and easily fits in a jacket pocket. What's more, it is perfect for short-term observations of the world around you. It performs best in the daylight and allows you to study natural landscapes, architecture, and any distant objects. This optical instrument is aimed at focused studying of objects and, therefore, it does not provide a wide field of view. The monocular can be used for orienteering or hunting. The body is made of plastic and embossed with a rubber coating. It provides a firm grip and repels small water drops and dust. The optics are made of coated glass; the delivered image features bright colors and clear details. Customers with imperfect eyesight will appreciate the long eye relief and twist-up eyecup. This optical instrument is adaptable to a tripod. Features: Monocular with 10–30x magnification Coated optics made of BK-7 glass Lightweight plastic body Adaptable to a tripod Comfortable observations when wearing glasses The kit includes: Monocular Pouch Strap Cleaning wipe Eyepiece and objective lens caps User manual and lifetime warranty