Ermenrich NetGeeks NP30 Network Cable Tester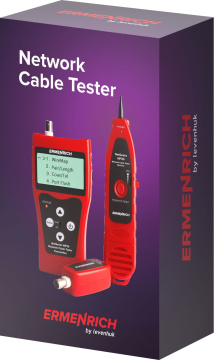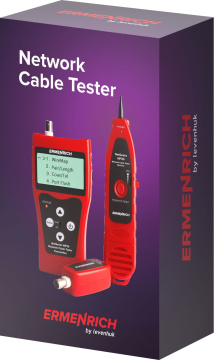 Functions: cable length measurement by measuring the capacitance of a cable, cable testing, Port Flash function, cable tracing
The Ermenrich NetGeeks NP30 cable tester is designed for checking network cables, locating open circuits, and measuring the length of a cable. The device will come in handy for anyone who installs, troubleshoots, and maintains computer networks and telephone lines, but it can also be used for household needs.
The Ermenrich NetGeeks NP30 can be used for testing network, telephone, coaxial, and other types of cables. It can be used to check for open circuits and short circuits as well as reversed and crossed pairs. There is a Port Flash function that enables you to find the exact port on the network switch or router to which the target cable is connected. The length measurement is available for LAN cables, ranging from 5 to 350 meters (from 16 to 1150ft) and with an accuracy of 5%. There is also an option to calibrate the device to improve the accuracy of measurements. The cable tester can also measure the distance to open circuits.
The set includes a transmitter, receiver, remote unit, and additional accessories. The transmitter and receiver require a 9V battery each.
Key features:
Cable length measurement by measuring the capacitance of a cable
Can be calibrated to improve measurement accuracy
Cable diagnostics: open circuits, crossed pairs, short circuits
Locating an open circuit, measuring the distance to it
Port Flash function for detecting the exact port on the network switch or router to which the target cable is connected
The kit includes:
Transmitter
Receiver
Remote unit
RJ11 patch cord
RJ45 patch cord
Alligator clip
DC cable
Earbuds
Carry bag
User manual and warranty card
Ermenrich NetGeeks NP30 Network Cable Tester
The Ermenrich NetGeeks NP30 cable tester is designed for checking network cables, locating open circuits, and measuring the length of a cable. The device will come in handy for anyone who installs, troubleshoots, and maintains computer networks and telephone lines, but it can also be used for household needs. The Ermenrich NetGeeks NP30 can be used for testing network, telephone, coaxial, and other types of cables. It can be used to check for open circuits and short circuits as well as reversed and crossed pairs. There is a Port Flash function that enables you to find the exact port on the network switch or router to which the target cable is connected. The length measurement is available for LAN cables, ranging from 5 to 350 meters (from 16 to 1150ft) and with an accuracy of 5%. There is also an option to calibrate the device to improve the accuracy of measurements. The cable tester can also measure the distance to open circuits. The set includes a transmitter, receiver, remote unit, and additional accessories. The transmitter and receiver require a 9V battery each. Key features: Cable length measurement by measuring the capacitance of a cable Can be calibrated to improve measurement accuracy Cable diagnostics: open circuits, crossed pairs, short circuits Locating an open circuit, measuring the distance to it Port Flash function for detecting the exact port on the network switch or router to which the target cable is connected The kit includes: Transmitter Receiver Remote unit RJ11 patch cord RJ45 patch cord Alligator clip DC cable Earbuds Carry bag User manual and warranty card