Discovery Crafts DHR 20 Head Rechargeable Magnifier
With combinable lenses and illumination. Magnification: 1/1.5/2/2.5/3.5/8x. Lens size: 100x43mm
Discovery Channel informs, entertains and inspires its audiences around the globe about the world in all its wonder, diversity and amazement. Offering millions of people the chance to discover, and satisfy their curiosity, Discovery offers a compelling mix of stories across genres including science and technology, exploration, adventure, history and in depth behind-the-scenes glimpses at the people, places and organisations that shape and share the world we live in.
We proudly present the Discovery optics series that is produced by Levenhuk and endorsed by Discovery.
---
Discovery Crafts DHR 20 is a comfortable magnifier and safety goggles for any precision work. As it is secured to the head, the hands remain free, which offers a number of unlimited applications of the device. The features of this magnifier will be appreciated by the jewelers, watchmakers, repair shop staff, model makers, etc.
It comes with interchangeable lenses of different magnifications; up to two lenses can be simultaneously mounted on the magnifier. There is also a small lens for the right eye that can be flipped to the side. Combining the lenses with each other, you can optimally adjust the magnification for the specific task. All of the lenses are made of durable polymer optical glass with a high degree of transparency.
The magnifier headband is adjustable, so it can be securely fastened to your head. There is a built-in LED illumination with adjustable brightness. It is convenient that the illumination is powered by a rechargeable battery – there is no need to spend money on batteries. The rechargeable battery is powered via a micro USB to USB cable.
Key features:
Magnifier and safety glasses in one device
Interchangeable combinable lenses, a flip-up lens for the right eye
Optics material: polymer optical glass
Adjustable headband
LED illumination powered by a rechargeable battery
The kit includes:
Rechargeable magnifier
Interchangeable lenses – 5 pcs.
Power cable (microUSB to USB)
User manual and warranty card
Discovery Crafts DHR 20 Head Rechargeable Magnifier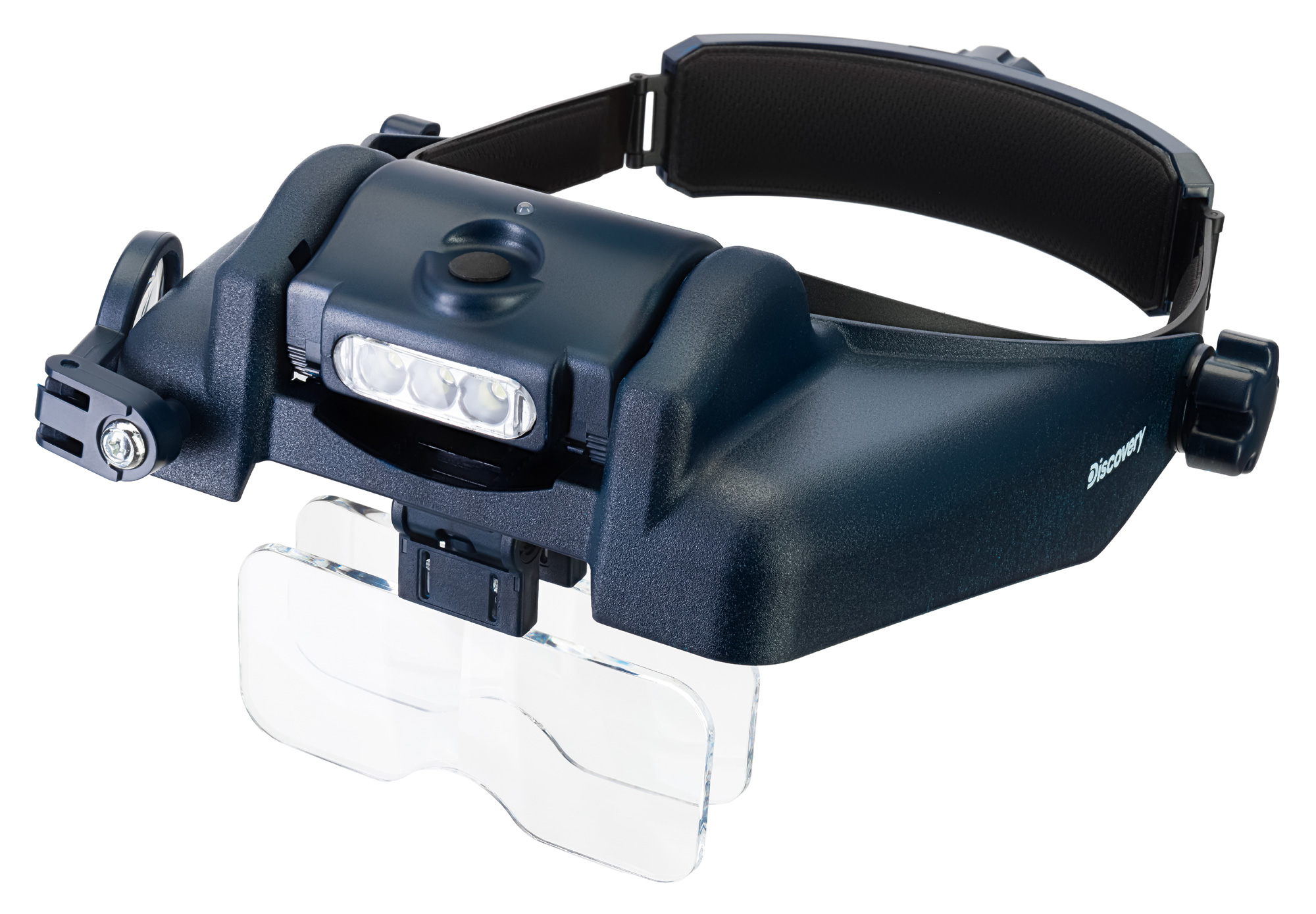 {: style="border:0px; margin-bottom: -5px; width:15%;" } Discovery Channel informs, entertains and inspires its audiences around the globe about the world in all its wonder, diversity and amazement. Offering millions of people the chance to discover, and satisfy their curiosity, Discovery offers a compelling mix of stories across genres including science and technology, exploration, adventure, history and in depth behind-the-scenes glimpses at the people, places and organisations that shape and share the world we live in. We proudly present the Discovery optics series that is produced by Levenhuk and endorsed by Discovery. Discovery Crafts DHR 20 is a comfortable magnifier and safety goggles for any precision work. As it is secured to the head, the hands remain free, which offers a number of unlimited applications of the device. The features of this magnifier will be appreciated by the jewelers, watchmakers, repair shop staff, model makers, etc. It comes with interchangeable lenses of different magnifications; up to two lenses can be simultaneously mounted on the magnifier. There is also a small lens for the right eye that can be flipped to the side. Combining the lenses with each other, you can optimally adjust the magnification for the specific task. All of the lenses are made of durable polymer optical glass with a high degree of transparency. The magnifier headband is adjustable, so it can be securely fastened to your head. There is a built-in LED illumination with adjustable brightness. It is convenient that the illumination is powered by a rechargeable battery – there is no need to spend money on batteries. The rechargeable battery is powered via a micro USB to USB cable. Key features: Magnifier and safety glasses in one device Interchangeable combinable lenses, a flip-up lens for the right eye Optics material: polymer optical glass Adjustable headband LED illumination powered by a rechargeable battery The kit includes: Rechargeable magnifier Interchangeable lenses – 5 pcs. Power cable (microUSB to USB) User manual and warranty card