Discovery Crafts DHD 20 Head Magnifier
With combinable lenses and illumination. Magnification: 1.5/3/6.5/8x. Lens size: 87x30/28mm
Discovery Channel informs, entertains and inspires its audiences around the globe about the world in all its wonder, diversity and amazement. Offering millions of people the chance to discover, and satisfy their curiosity, Discovery offers a compelling mix of stories across genres including science and technology, exploration, adventure, history and in depth behind-the-scenes glimpses at the people, places and organisations that shape and share the world we live in.
We proudly present the Discovery optics series that is produced by Levenhuk and endorsed by Discovery.
---
Discovery Crafts DHD 20 is a head magnifier that is useful for precision work. It is also helpful for assessing surface defects and reading fine print or drawings. The magnifier is hands-free, provides a high degree of magnification and has built-in illumination. Its features will be useful to the jeweler, watchmaker, model maker, service center technician, and many others.
The magnifier uses three individual lenses that can be combined with each other: two rectangular lenses and one small circular lens. The small lens is for the right eye only. There are four magnifications available, the highest magnification is possible for single-eye observations only. All of the lenses are made of polymer optical glass with a high degree of transparency.
The magnifier is secured to your head with a size-adjustable headband. Batteries are required to power the illumination.
Key features:
Magnifier with combinable lenses
The right eye lens can be flipped to the side
4 magnification stages; polymer optical glass optics
Built-in LED powered by batteries
Adjustable headband
The kit includes:
Magnifier
Additional lenses – 2 pcs. (pre-installed)
User manual and warranty card
Discovery Crafts DHD 20 Head Magnifier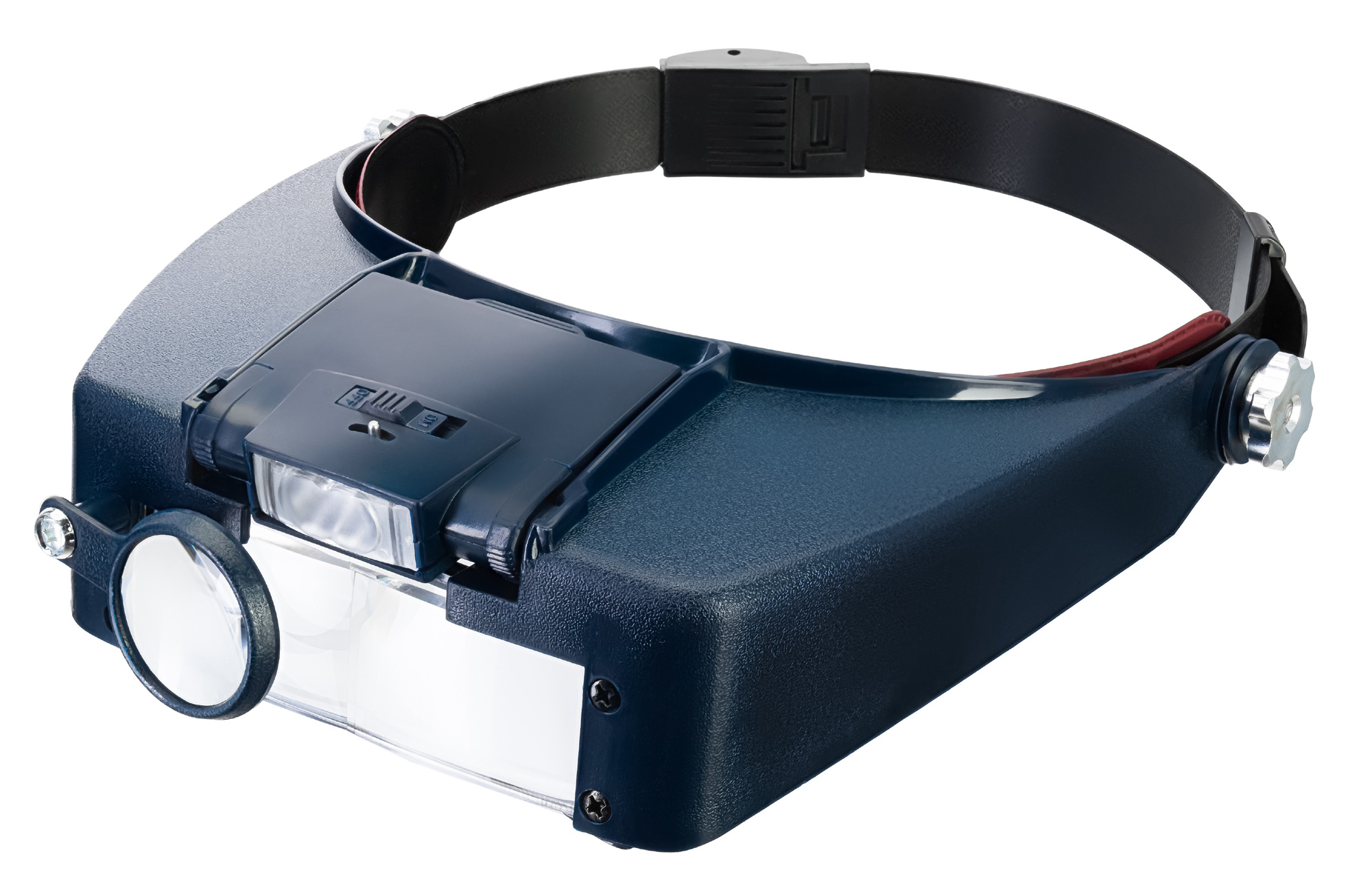 {: style="border:0px; margin-bottom: -5px; width:15%;" } Discovery Channel informs, entertains and inspires its audiences around the globe about the world in all its wonder, diversity and amazement. Offering millions of people the chance to discover, and satisfy their curiosity, Discovery offers a compelling mix of stories across genres including science and technology, exploration, adventure, history and in depth behind-the-scenes glimpses at the people, places and organisations that shape and share the world we live in. We proudly present the Discovery optics series that is produced by Levenhuk and endorsed by Discovery. Discovery Crafts DHD 20 is a head magnifier that is useful for precision work. It is also helpful for assessing surface defects and reading fine print or drawings. The magnifier is hands-free, provides a high degree of magnification and has built-in illumination. Its features will be useful to the jeweler, watchmaker, model maker, service center technician, and many others. The magnifier uses three individual lenses that can be combined with each other: two rectangular lenses and one small circular lens. The small lens is for the right eye only. There are four magnifications available, the highest magnification is possible for single-eye observations only. All of the lenses are made of polymer optical glass with a high degree of transparency. The magnifier is secured to your head with a size-adjustable headband. Batteries are required to power the illumination. Key features: Magnifier with combinable lenses The right eye lens can be flipped to the side 4 magnification stages; polymer optical glass optics Built-in LED powered by batteries Adjustable headband The kit includes: Magnifier Additional lenses – 2 pcs. (pre-installed) User manual and warranty card