Discovery Crafts DHD 10 Head Magnifier
With combinable lenses and illumination. Magnification: 1.5/3/6.5/8x. Lens size: 87x30/28mm
Discovery Channel informs, entertains and inspires its audiences around the globe about the world in all its wonder, diversity and amazement. Offering millions of people the chance to discover, and satisfy their curiosity, Discovery offers a compelling mix of stories across genres including science and technology, exploration, adventure, history and in depth behind-the-scenes glimpses at the people, places and organisations that shape and share the world we live in.
We proudly present the Discovery optics series that is produced by Levenhuk and endorsed by Discovery.
---
The Discovery Crafts DHD 10 Head Magnifier is an optical magnifier for jewelry design and watchmaking. It is secured to your head with a convenient size-adjustable headband, provides four different magnifications, and is equipped with the illumination for low-light conditions. This is a great choice for professional work or a hobby that requires the treatment of small objects.
The optical system contains three lenses: two rectangular lenses (both mounted one after the other) and one circular lens with a flip-up design. The lenses can be combined with each other, which allows for different magnifications. The optics material is polymer optical glass, which delivers a clear and contrast image without any blurring or geometrical distortion. It is a very durable material, resistant to accidental damage.
Batteries are required to power the illumination.
Key features:
Magnifier for precision work
Lenses: two main lenses, one flip-up lens for the right eye
4 magnification stages; polymer optical glass optics
The bright illumination is powered by batteries
Adjustable headband
The kit includes:
Magnifier
Additional lenses – 2 pcs. (pre-installed)
User manual and warranty card
Discovery Crafts DHD 10 Head Magnifier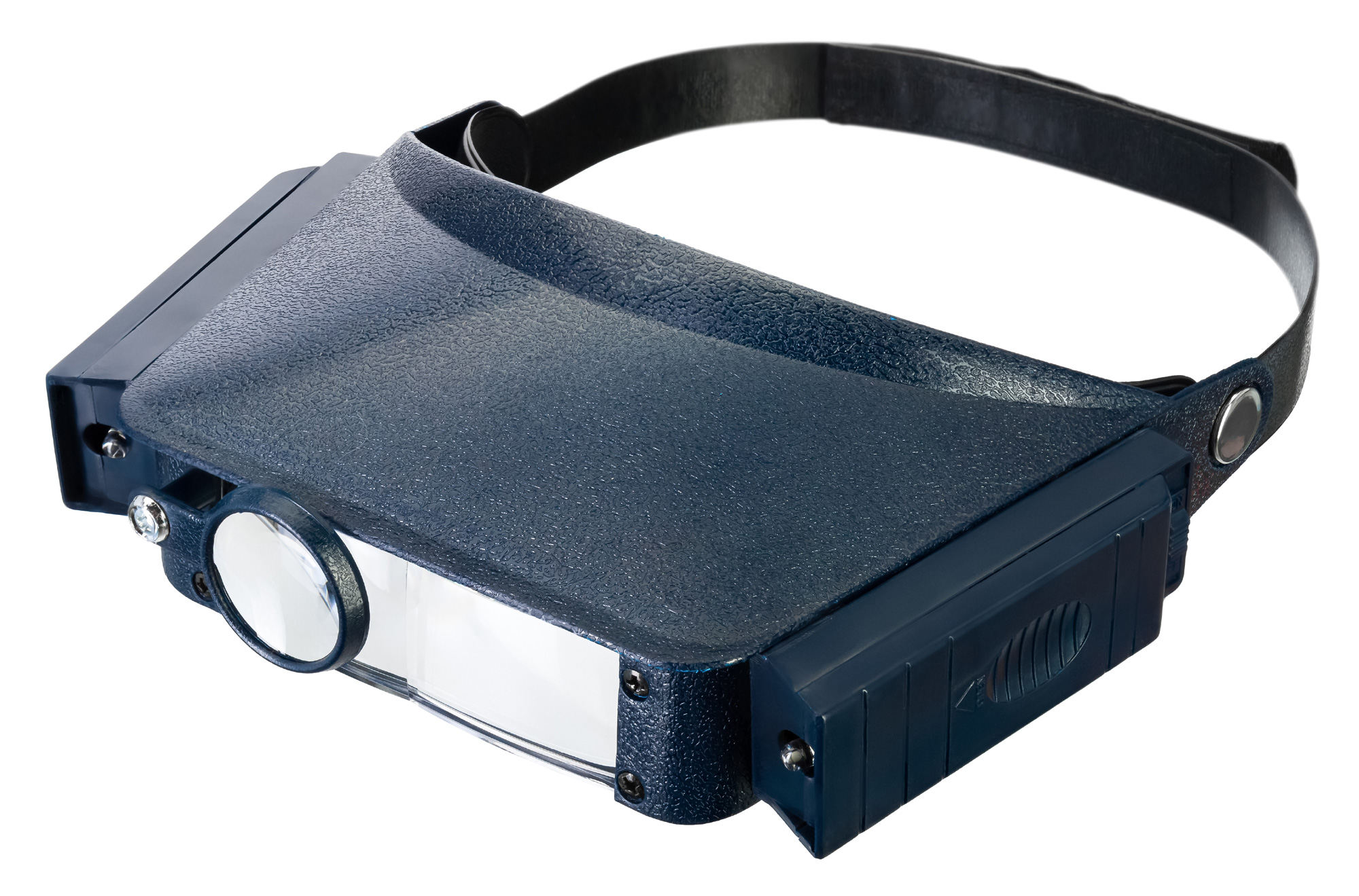 {: style="border:0px; margin-bottom: -5px; width:15%;" } Discovery Channel informs, entertains and inspires its audiences around the globe about the world in all its wonder, diversity and amazement. Offering millions of people the chance to discover, and satisfy their curiosity, Discovery offers a compelling mix of stories across genres including science and technology, exploration, adventure, history and in depth behind-the-scenes glimpses at the people, places and organisations that shape and share the world we live in. We proudly present the Discovery optics series that is produced by Levenhuk and endorsed by Discovery. The Discovery Crafts DHD 10 Head Magnifier is an optical magnifier for jewelry design and watchmaking. It is secured to your head with a convenient size-adjustable headband, provides four different magnifications, and is equipped with the illumination for low-light conditions. This is a great choice for professional work or a hobby that requires the treatment of small objects. The optical system contains three lenses: two rectangular lenses (both mounted one after the other) and one circular lens with a flip-up design. The lenses can be combined with each other, which allows for different magnifications. The optics material is polymer optical glass, which delivers a clear and contrast image without any blurring or geometrical distortion. It is a very durable material, resistant to accidental damage. Batteries are required to power the illumination. Key features: Magnifier for precision work Lenses: two main lenses, one flip-up lens for the right eye 4 magnification stages; polymer optical glass optics The bright illumination is powered by batteries Adjustable headband The kit includes: Magnifier Additional lenses – 2 pcs. (pre-installed) User manual and warranty card