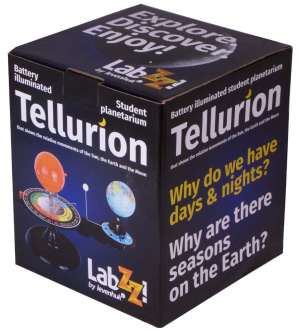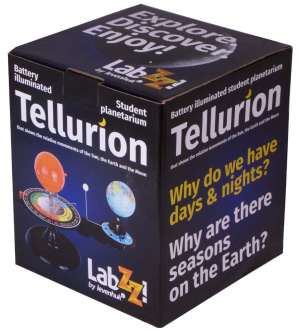 A visual aid for studying astronomy and geography
Levenhuk LabZZ Tellurion is a display model of the rotation of the Earth and Moon around the Sun. This simple device will help children quickly understand what causes the day and night and the seasons and why a year has twelve months. The Tellurion will be of great assistance in teaching astronomy and geography lessons or for astronomy club meetings. A tabletop model displays the seasons, and the Moon phases changes as well as the nature of solar eclipses.
Before working with the Tellurion, put it on an even stable surface. The Tellurion is fixed on a stand with a special screw. Turn the Earth globe around the Sun counterclockwise by rotating a small crank handle. The mechanism will start rotating, and the Moon will start to orbit Earth quickly. While Earth orbits around the Sun once, the Moon orbits Earth 12 times corresponding to 12 months of the year.
The Sun model features illumination inside. The Sun lamp is turned on with a button located under its base.
The tool is made of secure durable plastic. The diameter of the Sun model is 100 mm, Earth's diameter is 85 mm and the diameter of the Moon is 18 mm.
Note: the Tellurion contains small parts! Do not allow small children to play with the Tellurion without adult supervision.
Features:
A mechanical model of rotation of the Earth and Moon around the Sun
A user-friendly astronomy display model
The Tellurion is operated manually
The Sun model comes with illumination
Displays the Moon phases and the nature of solar eclipses
The kit includes:
Levenhuk LabZZ Tellurion
Stand with a screw
User manual and warranty slip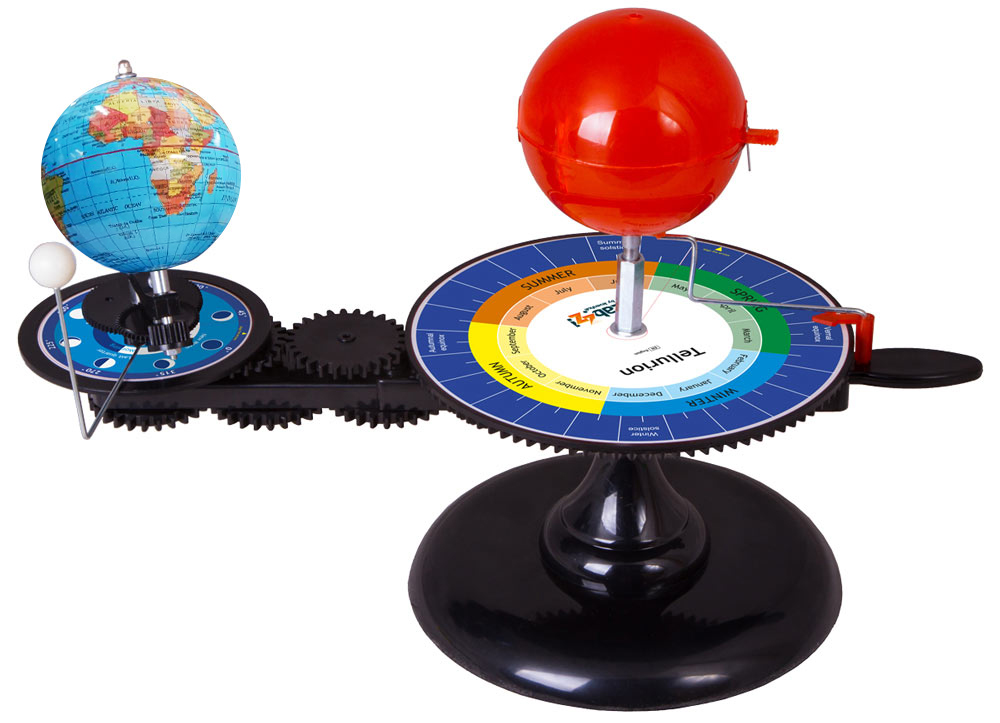 Levenhuk LabZZ Tellurion is a display model of the rotation of the Earth and Moon around the Sun. This simple device will help children quickly understand what causes the day and night and the seasons and why a year has twelve months. The Tellurion will be of great assistance in teaching astronomy and geography lessons or for astronomy club meetings. A tabletop model displays the seasons, and the Moon phases changes as well as the nature of solar eclipses. Before working with the Tellurion, put it on an even stable surface. The Tellurion is fixed on a stand with a special screw. Turn the Earth globe around the Sun counterclockwise by rotating a small crank handle. The mechanism will start rotating, and the Moon will start to orbit Earth quickly. While Earth orbits around the Sun once, the Moon orbits Earth 12 times corresponding to 12 months of the year. The Sun model features illumination inside. The Sun lamp is turned on with a button located under its base. The tool is made of secure durable plastic. The diameter of the Sun model is 100 mm, Earth's diameter is 85 mm and the diameter of the Moon is 18 mm. Note: the Tellurion contains small parts! Do not allow small children to play with the Tellurion without adult supervision. Features: A mechanical model of rotation of the Earth and Moon around the Sun A user-friendly astronomy display model The Tellurion is operated manually The Sun model comes with illumination Displays the Moon phases and the nature of solar eclipses The kit includes: Levenhuk LabZZ Tellurion Stand with a screw User manual and warranty slip