Levenhuk LabZZ SK40 Survival Kit
Binoculars, a magnifier, a bug can, a bug catcher, a butterfly net, a compass, tweezers, a whistle, two flashlights, two walkie-talkies, and a backpack
The Levenhuk LabZZ SK40 survival kit is perfect for first-time hikers and explorers. It includes a full-size compass, binoculars, two walkie-talkies, a signal whistle, and two flashlights: a headlight and a dyno torch. You can easily meet the challenges of hiking, walking, or boating with these tools. As for the youngest adventurers – they will learn the basic skills necessary to survive in the wilderness.
Thanks to the walkie-talkies, you can stay in contact over a distance of up to 3 km (1.9 miles). They are equipped with LCD screens and have their own flashlights and a headphone port. Voice control, noise cancellation, scanning, and radio control are available. If necessary, the keyboard can be locked to prevent accidental activation of the device when you are moving around. Not only children but also adults will appreciate the functionality of the walkie-talkies. It is a great option to combine educational and leisure activities outdoors!
For young entomologists, the kit offers a collapsible butterfly net, a magnifier, a bug can, a bug catcher, and plastic entomological tweezers. With this comprehensive set of tools, you can put together your first collection of insects and spiders as well as study living creatures in the natural environment. The Levenhuk LabZZ SK40 colorful tools come in a practical bright backpack: even the youngest travelers won't lose them in the woods or in the field.
Key features:
A complete kit for a hike or an outdoor science class
Tools for terrain orientation and signaling
Entomological accessories: everything you may need for safe insect catching and research
Multichannel walkie talkies with advanced functionality
The kit includes:
Binoculars
Walkie-talkies – 2 pcs.
Headlamp
Dyno torch
Magnifier
Bug can
Compass
Bug catcher
Tweezers
Butterfly net
Whistle
Backpack
User manual and warranty card
| Walkie-talkie specifications | |
| --- | --- |
| Operating frequency, MHz | 446 |
| Number of channels | 8 |
| Noise cancellation | automatic background noise cancellation |
| Power of the transmitter, W | 0.5 |
| Communication range, km (mile) | up to 3 (1.9) |
| Power supply | AAA batteries or rechargeable batteries – 4 pcs (per walkie-talkie, not included in the set) |
| Functionality | volume control, VOX voice control, radio air monitoring, scanning, keypad lock |
| The scan function | + |
| Illumination | + |
| Operating temperature range, °C (°F) | –20…+50 (–4…+122) |
| Additional option | built-in flashlight, headphone port, waistband clip, LCD screen, battery charge indicator |
| Binoculars specifications | |
| --- | --- |
| Type | roof prism |
| Interpupillary distance, mm | adjustable |
| Focusing | central |
| Headlamp specifications | |
| --- | --- |
| Type | LED |
| Power supply | AAA batteries – 3 pcs. (not included) |
| Inclination angle, ° | up to 45 |
| Modes | constant, flashing, SOS signal |
Levenhuk LabZZ SK40 Survival Kit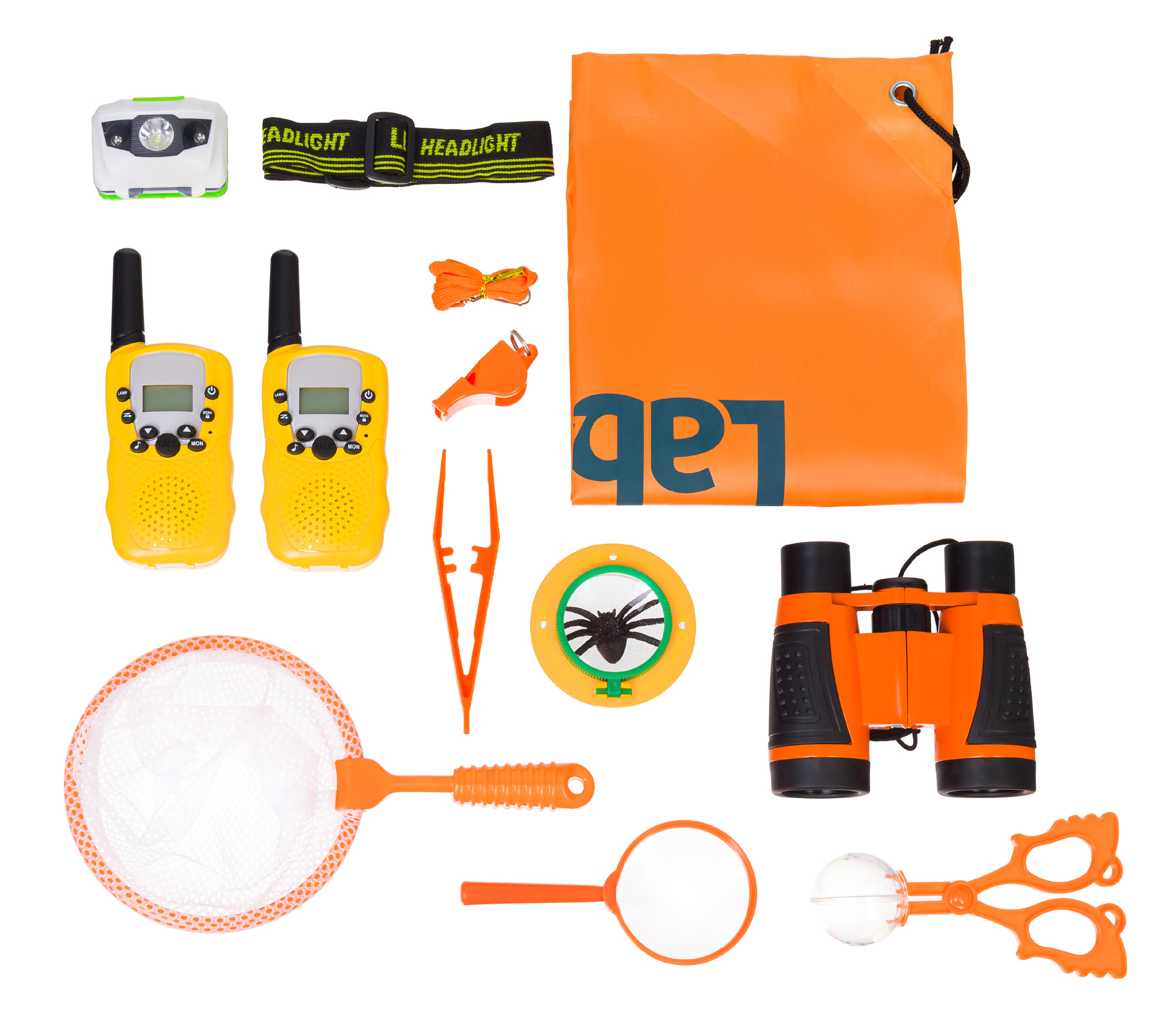 The Levenhuk LabZZ SK40 survival kit is perfect for first-time hikers and explorers. It includes a full-size compass, binoculars, two walkie-talkies, a signal whistle, and two flashlights: a headlight and a dyno torch. You can easily meet the challenges of hiking, walking, or boating with these tools. As for the youngest adventurers – they will learn the basic skills necessary to survive in the wilderness. Thanks to the walkie-talkies, you can stay in contact over a distance of up to 3 km (1.9 miles). They are equipped with LCD screens and have their own flashlights and a headphone port. Voice control, noise cancellation, scanning, and radio control are available. If necessary, the keyboard can be locked to prevent accidental activation of the device when you are moving around. Not only children but also adults will appreciate the functionality of the walkie-talkies. It is a great option to combine educational and leisure activities outdoors! For young entomologists, the kit offers a collapsible butterfly net, a magnifier, a bug can, a bug catcher, and plastic entomological tweezers. With this comprehensive set of tools, you can put together your first collection of insects and spiders as well as study living creatures in the natural environment. The Levenhuk LabZZ SK40 colorful tools come in a practical bright backpack: even the youngest travelers won't lose them in the woods or in the field. Key features: A complete kit for a hike or an outdoor science class Tools for terrain orientation and signaling Entomological accessories: everything you may need for safe insect catching and research Multichannel walkie talkies with advanced functionality The kit includes: Binoculars Walkie-talkies – 2 pcs. Headlamp Dyno torch Magnifier Bug can Compass Bug catcher Tweezers Butterfly net Whistle Backpack User manual and warranty card Walkie-talkie specifications Operating frequency, MHz 446 Number of channels 8 Noise cancellation automatic background noise cancellation Power of the transmitter, W 0.5 Communication range, km (mile) up to 3 (1.9) Power supply AAA batteries or rechargeable batteries – 4 pcs (per walkie-talkie, not included in the set) Functionality volume control, VOX voice control, radio air monitoring, scanning, keypad lock The scan function + Illumination + Operating temperature range, °C (°F) –20…+50 (–4…+122) Additional option built-in flashlight, headphone port, waistband clip, LCD screen, battery charge indicator Binoculars specifications Type roof prism Interpupillary distance, mm adjustable Focusing central Headlamp specifications Type LED Power supply AAA batteries – 3 pcs. (not included) Inclination angle, ° up to 45 Modes constant, flashing, SOS signal