Levenhuk Zeno Vizor H1 Head Magnifier - Exhibition Item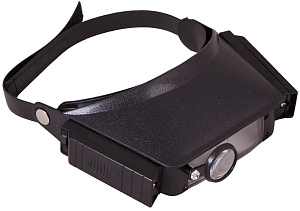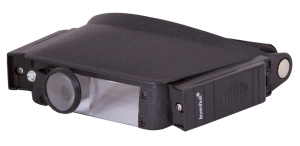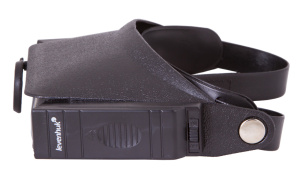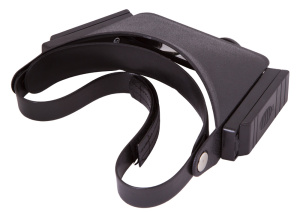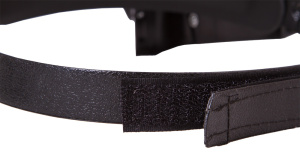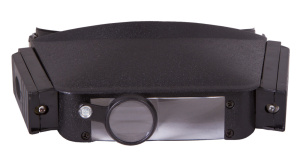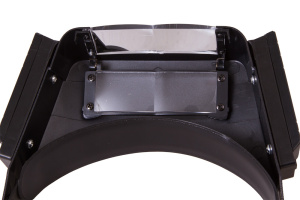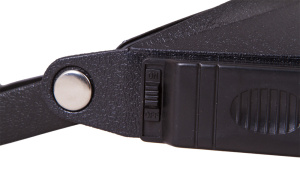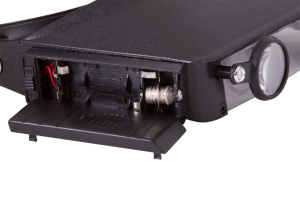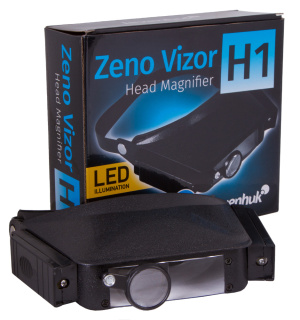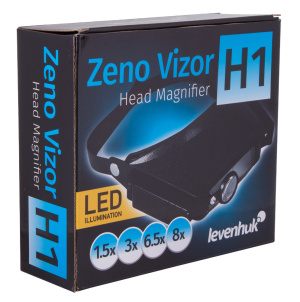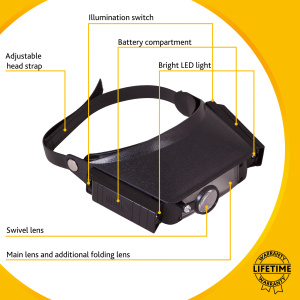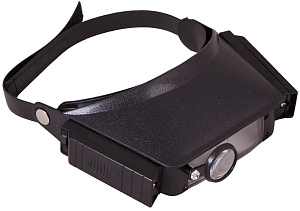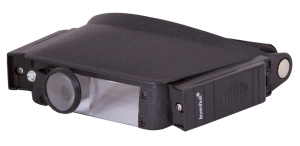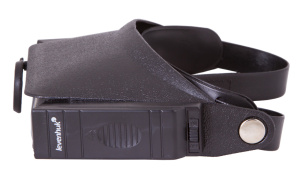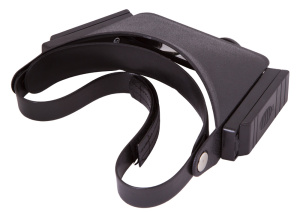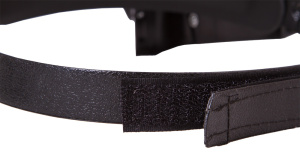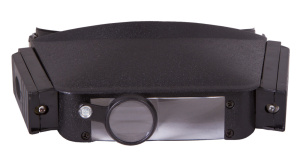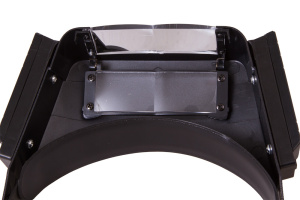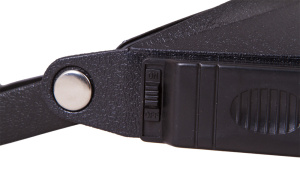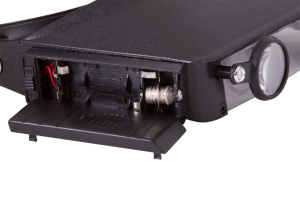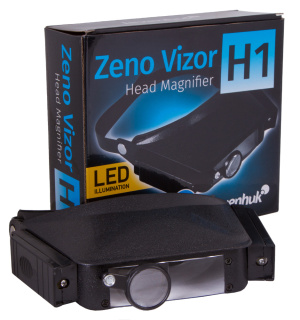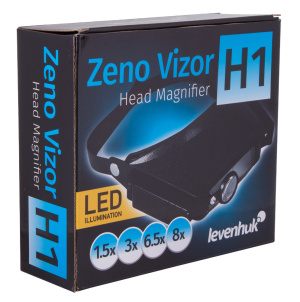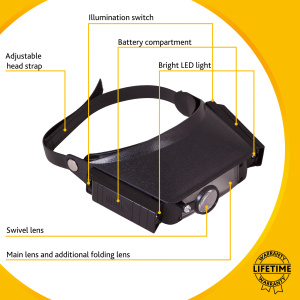 Magnification: 1.5/3/6.5/8x. Lens size: 87x30/28mm. With light
Special price! Further discounts or special offers cannot be applied in this case.
Exhibition copy. The purchased item cannot be returned or exchanged.
The packaging is damaged.
Otherwise, the product is fully functional.
Exhibition copies cannot be exchanged or returned for a refund.
---
Levenhuk Zeno Vizor H1 Head Magnifier is a compact portable magnifier providing four magnification levels. The kit includes an additional folding lens made of quality optical plastic; there's also a special swivel lens for the right eye. The magnification range is between 1.5x and 8x.
It is very easy to fix the magnifier on your head using a special Velcro strap. Your hands will be free, allowing you to accomplish any kind of work with small elements. For more convenience, the magnifier is equipped with built-in illumination – two bright light bulbs placed on the sides of the lens. The intensity of light is enough to work in complete darkness. Illumination is powered by AAA batteries (not included).
Levenhuk Zeno Vizor H1 Head Magnifier is recommended for both home and professional use. Jewelry making, soldering, watch repairing, needlework, reading, and any other work with small details will become easier and more convenient with Levenhuk Zeno Vizor H1 Head Magnifier!
Features:
Magnification range: 1.5x–8x
Four magnification levels
Convenient head strap with adjustable length
Built-in illumination
Two additional lenses
The kit includes:
Levenhuk Zeno Vizor H1 Head Magnifier
Additional lenses – 2 pcs. (pre-installed)
User manual
Lifetime warranty
Levenhuk Zeno Vizor H1 Head Magnifier - Exhibition Item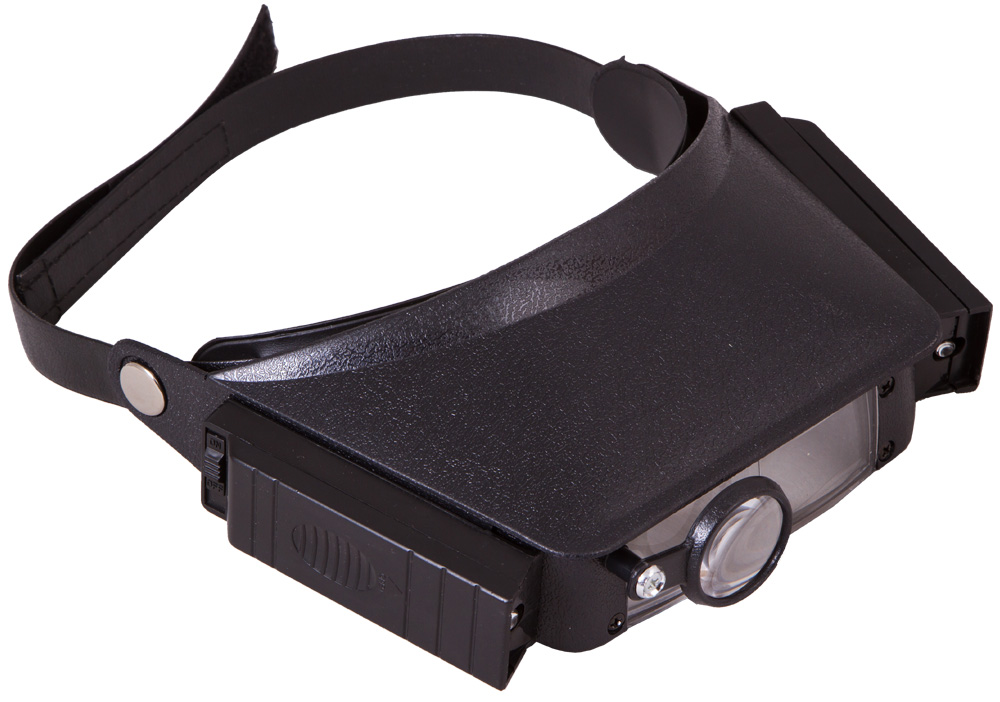 Special price! Further discounts or special offers cannot be applied in this case. Exhibition copy. The purchased item cannot be returned or exchanged. The packaging is damaged.Otherwise, the product is fully functional. Exhibition copies cannot be exchanged or returned for a refund. Levenhuk Zeno Vizor H1 Head Magnifier is a compact portable magnifier providing four magnification levels. The kit includes an additional folding lens made of quality optical plastic; there's also a special swivel lens for the right eye. The magnification range is between 1.5x and 8x. It is very easy to fix the magnifier on your head using a special Velcro strap. Your hands will be free, allowing you to accomplish any kind of work with small elements. For more convenience, the magnifier is equipped with built-in illumination – two bright light bulbs placed on the sides of the lens. The intensity of light is enough to work in complete darkness. Illumination is powered by AAA batteries (not included). Levenhuk Zeno Vizor H1 Head Magnifier is recommended for both home and professional use. Jewelry making, soldering, watch repairing, needlework, reading, and any other work with small details will become easier and more convenient with Levenhuk Zeno Vizor H1 Head Magnifier! Features: Magnification range: 1.5x–8x Four magnification levels Convenient head strap with adjustable length Built-in illumination Two additional lenses The kit includes: Levenhuk Zeno Vizor H1 Head Magnifier Additional lenses – 2 pcs. (pre-installed) User manual Lifetime warranty