Levenhuk Atom Digital DNB300 Night Vision Binoculars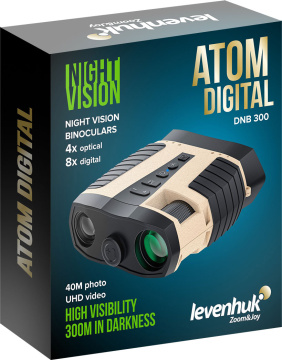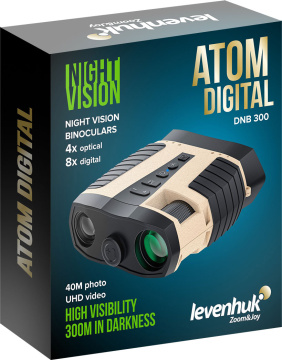 For day and night observations. With a recorder and a tripod. Magnification: 4x (optical), 1–8x (digital). Objective lens diameter: 35mm
Accessories
Meet the Levenhuk Atom Digital DNB300 night vision binoculars – an optical device with an IR illuminator, CMOS sensor, and built-in IPS screen. The device is designed for observation in all lighting conditions: during the day and at dusk, in starlight or total darkness. These binoculars are a reliable tool for hunting and multi-day hikes as well as for professional use by security guards, rescue workers, and members of an expedition or search party.
Optical performance
The combination of 4x optical and 1–8x digital magnification ensures the optimum magnification for any target. By day and at dusk, the observation range can reach up to 1,000 meters (3280ft), and at night – 250–300 meters (820–1000ft). The IR illumination runs on a built-in rechargeable battery and easily adapts to outdoor conditions – there are night vision modes for observations in starlight and total darkness. The auto-off function saves battery power. The optics are made of glass, while the body is made of high-strength ABS plastic.
Ultra HD photos and videos
The Levenhuk Atom Digital DNB300 is equipped with a recorder that allows you to take high-quality photos and videos: up to 40M for photos and up to 2.5K (Ultra HD) for videos. The footage is stored on a memory card of up to 128 GB, which is enough for a long recording session. It is especially convenient to take photos and videos with a tripod, which helps to get a steady picture with maximum quality. A small tabletop folding tripod with a rotatable head comes with the kit.
Please note: IR illumination (infrared radiation) can be detected by photo and video cameras as well as other similar electronic devices during operation.
Key features:
Day and night observations, optical and digital magnification
Detection range in total darkness: up to 250–300m (820–1000ft)
CMOS sensor, high-resolution IPS screen with excellent color rendering
High-quality photo and video recording, high-capacity memory card
IR illumination that adapts to lighting conditions in the dark
Compact tabletop tripod included
The kit includes:
Night vision binoculars
Neck strap
Tabletop tripod
Pouch
USB cable
Cleaning wipe
User manual and warranty card
Levenhuk Atom Digital DNB300 Night Vision Binoculars
Meet the Levenhuk Atom Digital DNB300 night vision binoculars – an optical device with an IR illuminator, CMOS sensor, and built-in IPS screen. The device is designed for observation in all lighting conditions: during the day and at dusk, in starlight or total darkness. These binoculars are a reliable tool for hunting and multi-day hikes as well as for professional use by security guards, rescue workers, and members of an expedition or search party. Optical performance The combination of 4x optical and 1–8x digital magnification ensures the optimum magnification for any target. By day and at dusk, the observation range can reach up to 1,000 meters (3280ft), and at night – 250–300 meters (820–1000ft). The IR illumination runs on a built-in rechargeable battery and easily adapts to outdoor conditions – there are night vision modes for observations in starlight and total darkness. The auto-off function saves battery power. The optics are made of glass, while the body is made of high-strength ABS plastic. Ultra HD photos and videos The Levenhuk Atom Digital DNB300 is equipped with a recorder that allows you to take high-quality photos and videos: up to 40M for photos and up to 2.5K (Ultra HD) for videos. The footage is stored on a memory card of up to 128 GB, which is enough for a long recording session. It is especially convenient to take photos and videos with a tripod, which helps to get a steady picture with maximum quality. A small tabletop folding tripod with a rotatable head comes with the kit. Please note: IR illumination (infrared radiation) can be detected by photo and video cameras as well as other similar electronic devices during operation. Key features: Day and night observations, optical and digital magnification Detection range in total darkness: up to 250–300m (820–1000ft) CMOS sensor, high-resolution IPS screen with excellent color rendering High-quality photo and video recording, high-capacity memory card IR illumination that adapts to lighting conditions in the dark Compact tabletop tripod included The kit includes: Night vision binoculars Neck strap Tabletop tripod Pouch USB cable Cleaning wipe User manual and warranty card