Levenhuk Discovery Night BL10 Digital Night Vision Binoculars with Tripod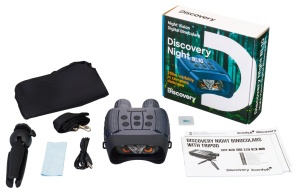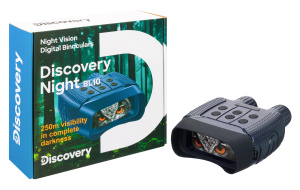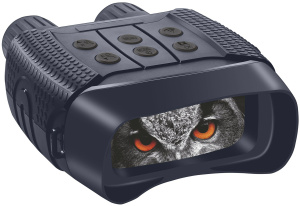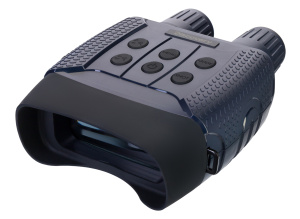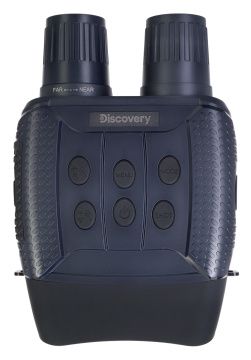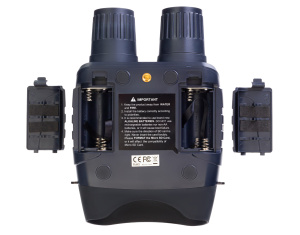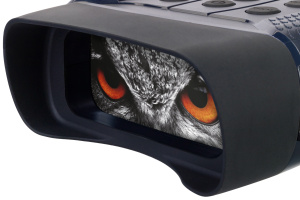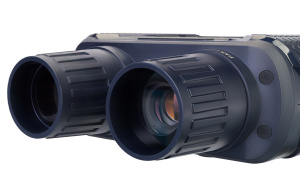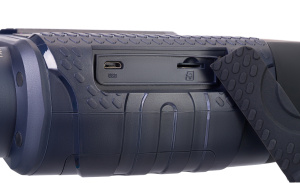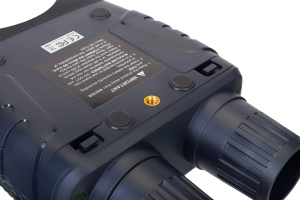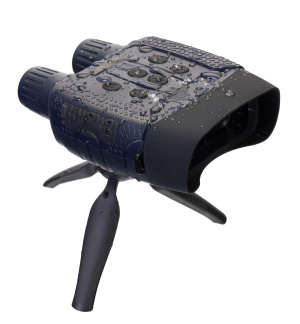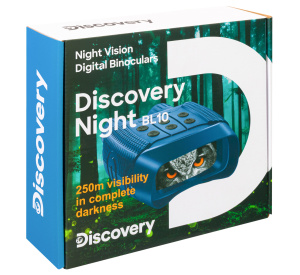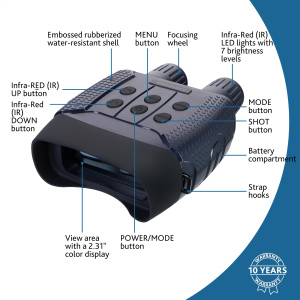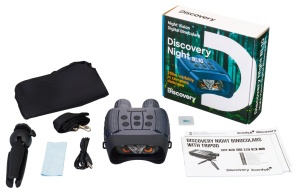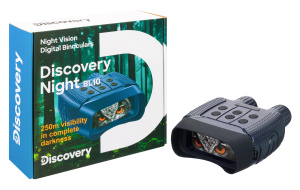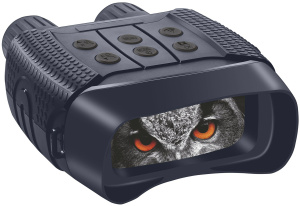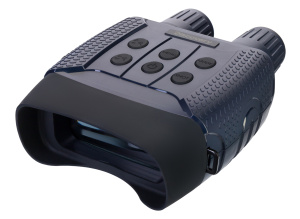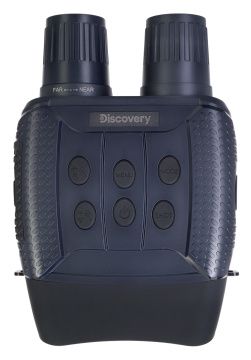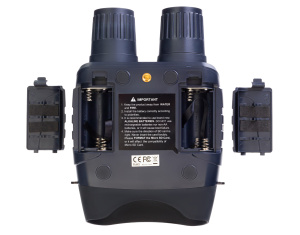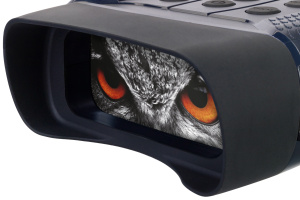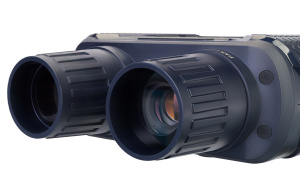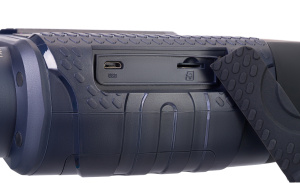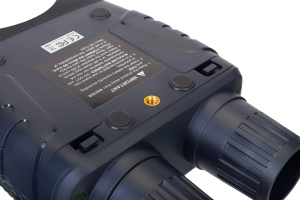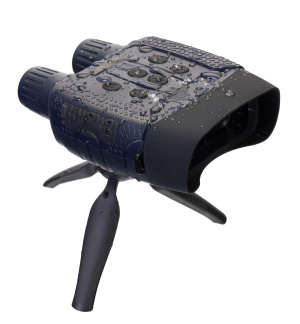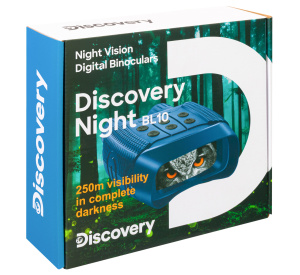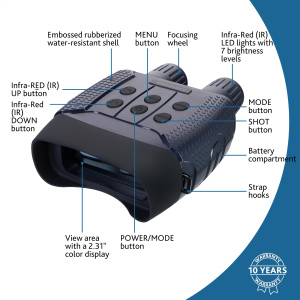 Image intensifier. Photo and video recording. Magnification: 1–4x (digital)
Discovery Channel informs, entertains and inspires its audiences around the globe about the world in all its wonder, diversity and amazement. Offering millions of people the chance to discover, and satisfy their curiosity, Discovery offers a compelling mix of stories across genres including science and technology, exploration, adventure, history and in depth behind-the-scenes glimpses at the people, places and organisations that shape and share the world we live in.
We proudly present the Discovery optics series that is produced by Levenhuk and endorsed by Discovery.
---
Levenhuk Discovery Night BL10 is a pair of night vision binoculars with a digital image intensifier that is handy when in use under different lighting conditions. It has photo and video recording functions; equipped by a small tabletop tripod for more comfortable and stabilized observations in the field. This NVD will be helpful in night hunting, allow you to ensure the camp security in a hike, and will be an excellent choice for the exploration of new territories. Since Levenhuk Discovery Night BL10 is a two-in-one device that can be used not only at night but also during the day as regular binoculars!
Range of detection: 250 meters in pinch-black darkness
The fully coated optics with silicon dioxide coating that delivers crisp and high contrast images. The device transmits light effectively and, in the daytime, it can clearly show objects at 3 meters (10ft) or more. The field of view at night is 250 meters (820ft). It is better to switch on the built-in IR illumination to improve visibility while remaining hidden to others, including timid wild animals. The brightness of the IR amplifies up to 7 levels. Please note that the device can produce a color image, a black and white image, a bright green image, or an image with a color film effect. However, the color image is not available when night mode is on.
Built-in recorder for taking photos and videos
The device stores photos and records on a memory card. You can choose the picture resolution: the maximum for a photo is 2048x1536. The frame rate is the classic 30 fps, which helps the recordings appear to be smooth and visually pleasant. No need to transmit the footage to your PC: view it directly on the screen. Use the USB connection to transfer data to an external drive.
All of the features needed for field observation
When you're out in the field, it's especially important to have equipment that you can count on. The body of Levenhuk Discovery Night BL10 is water-resistant, and the device ensures a firm grip; the control buttons are right under your fingertips. The device is intuitive and easy to use. The device is powered by standard batteries or rechargeable Ni-MH batteries with 4 to 10 hours of continuous recording (depending on the intensity of IR illumination). A small folding tripod, which stabilizes the NVD to capture distortion-free images, is included.
Please note: IR illumination (infrared radiation) can be detected by photo and video cameras as well as other similar electronic devices during operation.
Key features:
Image intensifier that is handy under different lightning conditions
Can be used day and night, the magnification is up to 4x (digital)
Built-in IR illumination with 7 brightness levels
High quality photo and video recording function Powered by batteries or rechargeable batteries, up to 10 hours of operation with a single charge
Comfortable use, ergonomic water-resistant body
The kit includes:
Night vision device
Cable mini-USB 2.0
32GB microSD memory card
Strap
Pouch
Tabletop tripod
User manual and warranty card
Having thought of you and your loved ones, Levenhuk and Discovery have rounded up several desirable gifts for this Christmas
Playlist with reviews of telescopes, binoculars, monoculars, microscopes, planetaria, meteorological stations and other Levenhuk Discovery optical equipment
Eager to learn and explore everything around you? If so, consider treating yourself with new optical instruments to get one step closer to the myriad of unexplored wonders of nature that are all around us every day.
Levenhuk Discovery Night BL10 Digital Night Vision Binoculars with Tripod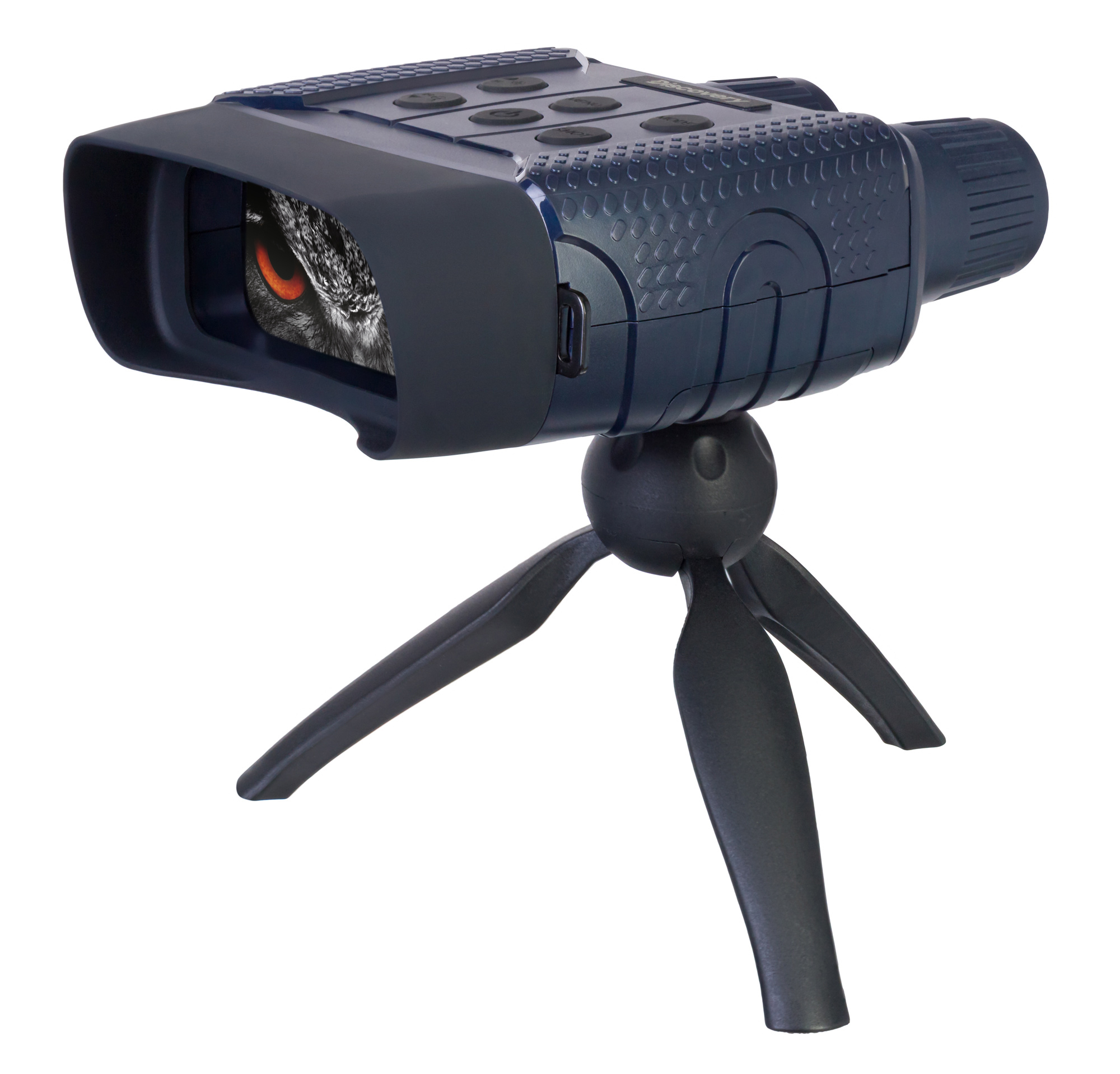 {: style="border:0px; margin-bottom: -5px; width:15%;" } Discovery Channel informs, entertains and inspires its audiences around the globe about the world in all its wonder, diversity and amazement. Offering millions of people the chance to discover, and satisfy their curiosity, Discovery offers a compelling mix of stories across genres including science and technology, exploration, adventure, history and in depth behind-the-scenes glimpses at the people, places and organisations that shape and share the world we live in. We proudly present the Discovery optics series that is produced by Levenhuk and endorsed by Discovery. Levenhuk Discovery Night BL10 is a pair of night vision binoculars with a digital image intensifier that is handy when in use under different lighting conditions. It has photo and video recording functions; equipped by a small tabletop tripod for more comfortable and stabilized observations in the field. This NVD will be helpful in night hunting, allow you to ensure the camp security in a hike, and will be an excellent choice for the exploration of new territories. Since Levenhuk Discovery Night BL10 is a two-in-one device that can be used not only at night but also during the day as regular binoculars! Range of detection: 250 meters in pinch-black darkness The fully coated optics with silicon dioxide coating that delivers crisp and high contrast images. The device transmits light effectively and, in the daytime, it can clearly show objects at 3 meters (10ft) or more. The field of view at night is 250 meters (820ft). It is better to switch on the built-in IR illumination to improve visibility while remaining hidden to others, including timid wild animals. The brightness of the IR amplifies up to 7 levels. Please note that the device can produce a color image, a black and white image, a bright green image, or an image with a color film effect. However, the color image is not available when night mode is on. Built-in recorder for taking photos and videos The device stores photos and records on a memory card. You can choose the picture resolution: the maximum for a photo is 2048x1536. The frame rate is the classic 30 fps, which helps the recordings appear to be smooth and visually pleasant. No need to transmit the footage to your PC: view it directly on the screen. Use the USB connection to transfer data to an external drive. All of the features needed for field observation When you're out in the field, it's especially important to have equipment that you can count on. The body of Levenhuk Discovery Night BL10 is water-resistant, and the device ensures a firm grip; the control buttons are right under your fingertips. The device is intuitive and easy to use. The device is powered by standard batteries or rechargeable Ni-MH batteries with 4 to 10 hours of continuous recording (depending on the intensity of IR illumination). A small folding tripod, which stabilizes the NVD to capture distortion-free images, is included. Please note: IR illumination (infrared radiation) can be detected by photo and video cameras as well as other similar electronic devices during operation. Key features: Image intensifier that is handy under different lightning conditions Can be used day and night, the magnification is up to 4x (digital) Built-in IR illumination with 7 brightness levels High quality photo and video recording function Powered by batteries or rechargeable batteries, up to 10 hours of operation with a single charge Comfortable use, ergonomic water-resistant body The kit includes: Night vision device Cable mini-USB 2.0 32GB microSD memory card Strap Pouch Tabletop tripod User manual and warranty card