Levenhuk Wezzer PLUS LP90 CO₂ Monitor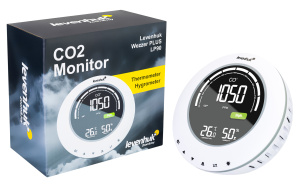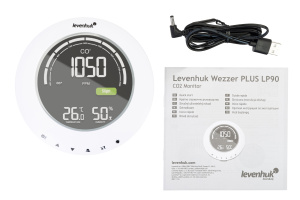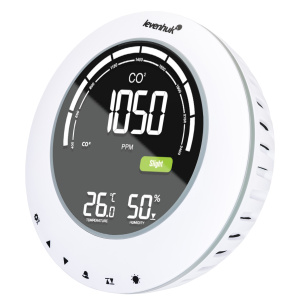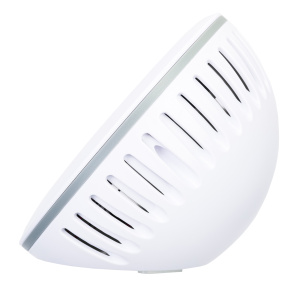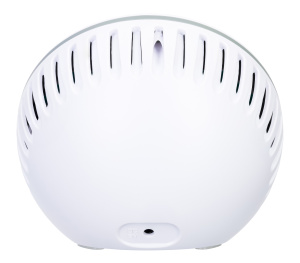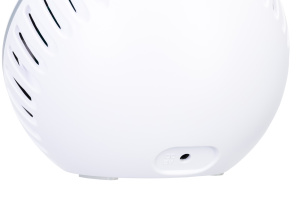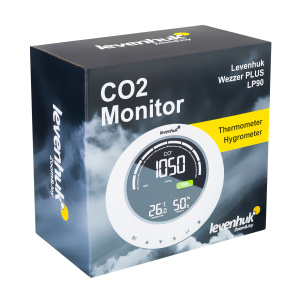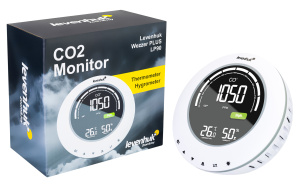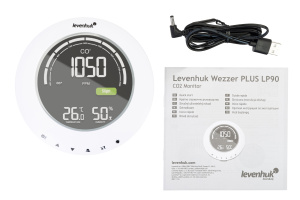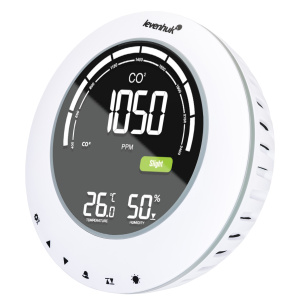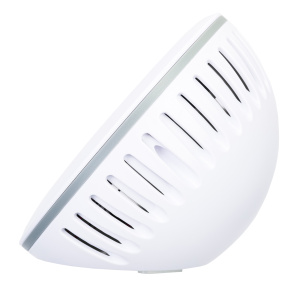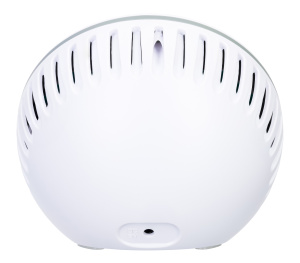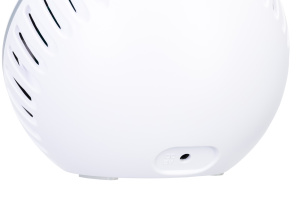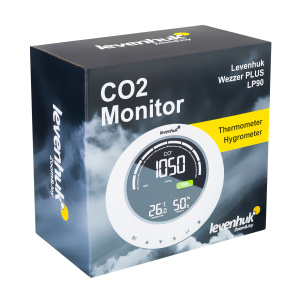 Digital. Detects the temperature, humidity, and carbon dioxide levels
Levenhuk Wezzer PLUS LP90 is a compact CO₂ monitor that can also measure air temperature and humidity. This small device alerts you if the CO₂ or humidity levels are considered too low or too high, making the inside area a less comfortable place to stay. If the concentration of carbon dioxide exceeds the recommended level for ventilated rooms, the gadget will alert you to air the room out. There are digital alerts on the color LCD screen and sound alerts available. If you prefer, you can turn the beeper off.
Another useful feature of the Levenhuk Wezzer PLUS LP90 CO₂ monitor is the history of maximum and minimum records. Furthermore, the device calculates the average CO₂ level every 15 minutes or 8 hours. It helps determine if there was enough oxygen in the room while you were sleeping. By regularly analyzing the obtained data and following ventilation recommendations, you can create a more comfortable atmosphere in any room, whether in a bedroom, children's room, or an office.
The device is AC powered (an AC adapter must be purchased separately).
Key features:
"3-in-1" gadget: thermometer, hygrometer, CO₂ monitor
A stylish minimalist design: a tabletop half-sphere device with an LCD screen
Alerts you to any exceeded levels of humidity and CO₂
CO₂ levels history: maximum, minimum, and average records
The kit includes:
CO₂ monitor
USB cable
User manual and warranty card
Levenhuk Wezzer PLUS LP90 CO₂ Monitor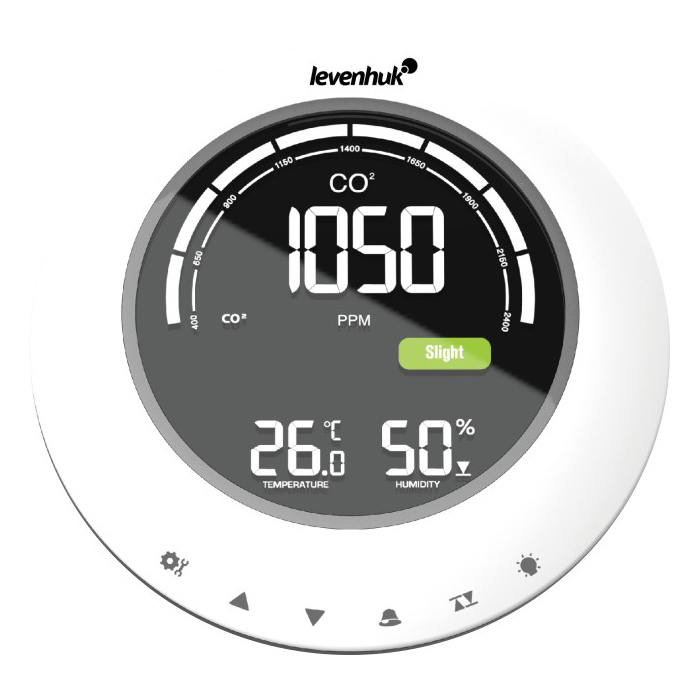 Levenhuk Wezzer PLUS LP90 is a compact CO₂ monitor that can also measure air temperature and humidity. This small device alerts you if the CO₂ or humidity levels are considered too low or too high, making the inside area a less comfortable place to stay. If the concentration of carbon dioxide exceeds the recommended level for ventilated rooms, the gadget will alert you to air the room out. There are digital alerts on the color LCD screen and sound alerts available. If you prefer, you can turn the beeper off. Another useful feature of the Levenhuk Wezzer PLUS LP90 CO₂ monitor is the history of maximum and minimum records. Furthermore, the device calculates the average CO₂ level every 15 minutes or 8 hours. It helps determine if there was enough oxygen in the room while you were sleeping. By regularly analyzing the obtained data and following ventilation recommendations, you can create a more comfortable atmosphere in any room, whether in a bedroom, children's room, or an office. The device is AC powered (an AC adapter must be purchased separately). Key features: "3-in-1" gadget: thermometer, hygrometer, CO₂ monitor A stylish minimalist design: a tabletop half-sphere device with an LCD screen Alerts you to any exceeded levels of humidity and CO₂ CO₂ levels history: maximum, minimum, and average records The kit includes: CO₂ monitor USB cable User manual and warranty card