Levenhuk Wezzer Cook MT50 Cooking Thermometer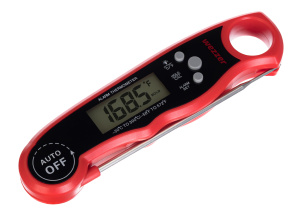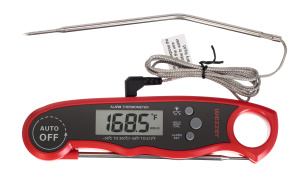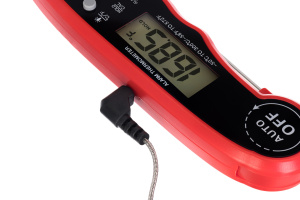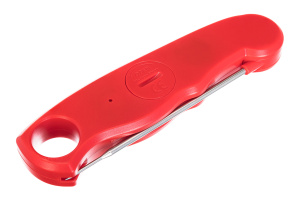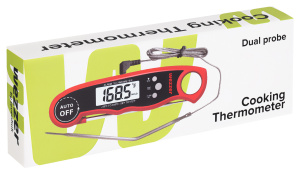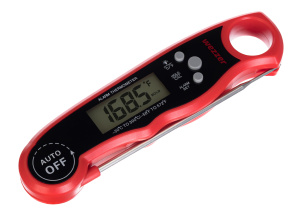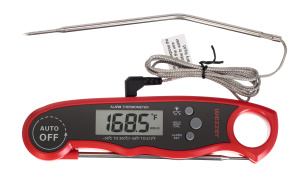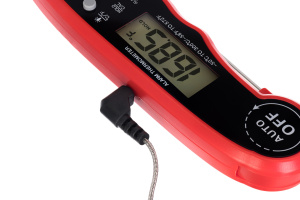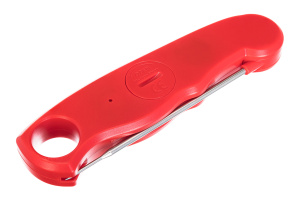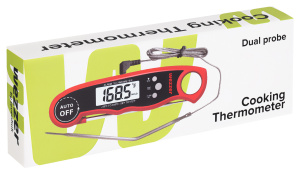 Thermoprobe with an overtemperature alarm. Two separate thermoprobes. Magnetic back
Thanks to the Levenhuk Wezzer Cook MT50 thermometer, creating masterpieces in your kitchen will become much easier. This small device is designed to determine the food temperature while cooking, so you can follow the recipe exactly and, therefore, make your food taste better. The thermoprobe prevents meals from drying out, and that is especially helpful for baking and cooking steaks.
The thermoprobe can also be used as a standard thermometer and accurately measure the temperature of the air, water, or soil, if necessary. It also comes in handy when brewing tea in order to make sure that it is exactly right or to test a portable cooler bag. Among other things, the thermoprobe can also be used to measure body temperature during illness as an ordinary thermometer. All of these factors make the Levenhuk Wezzer Cook MT50 a universal gadget that will come in handy at home, on a camping trip, or in the country.
The model is particularly noteworthy because it comes with two thermoprobes, one of which is attached to a 1-meter (3.3ft) long flexible wire cable. The body of the device is made of very strong and durable ABS-plastic and complemented by a monochrome screen and control buttons. The screen has a backlight. The thermoprobe has all the necessary functions: You can hold the current temperature or set up an alarm to signal that a certain temperature threshold is exceeded.
The device is energy-efficient: It only requires one battery and has an auto shut-off function.
Key features:
Two thermoprobes, one on a flexible wire cable
Monochrome screen, rugged ABS plastic body
Wide range temperature measurement, °C and °F selection option
Option to set up an overtemperature alarm
The temperature "hold" function
Single battery operation; the auto-off function
Magnetic back to fix the device on metal surfaces
The kit includes:
Cooking thermometer
User manual and warranty card
Levenhuk Wezzer Cook MT50 Cooking Thermometer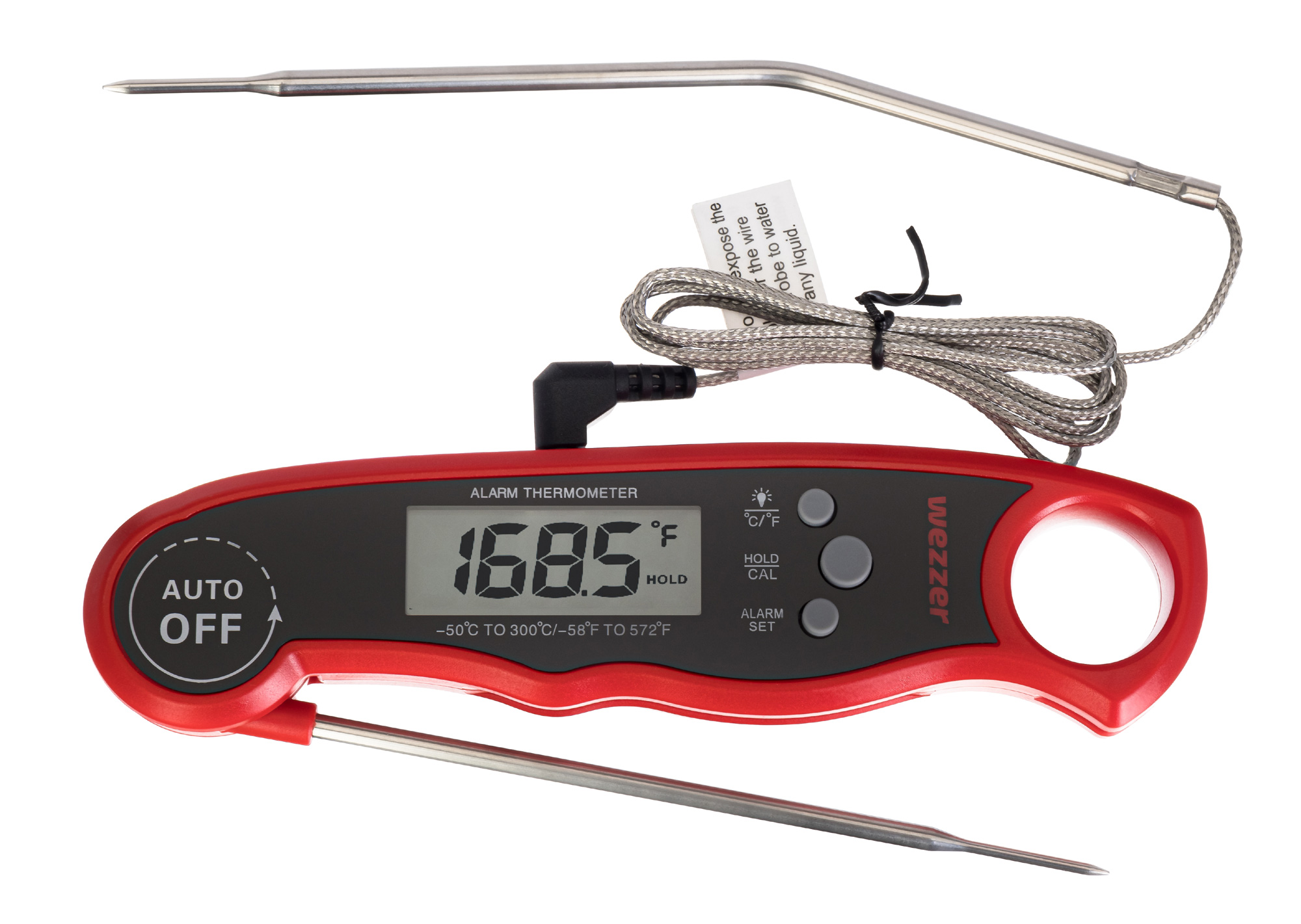 Thanks to the Levenhuk Wezzer Cook MT50 thermometer, creating masterpieces in your kitchen will become much easier. This small device is designed to determine the food temperature while cooking, so you can follow the recipe exactly and, therefore, make your food taste better. The thermoprobe prevents meals from drying out, and that is especially helpful for baking and cooking steaks. The thermoprobe can also be used as a standard thermometer and accurately measure the temperature of the air, water, or soil, if necessary. It also comes in handy when brewing tea in order to make sure that it is exactly right or to test a portable cooler bag. Among other things, the thermoprobe can also be used to measure body temperature during illness as an ordinary thermometer. All of these factors make the Levenhuk Wezzer Cook MT50 a universal gadget that will come in handy at home, on a camping trip, or in the country. The model is particularly noteworthy because it comes with two thermoprobes, one of which is attached to a 1-meter (3.3ft) long flexible wire cable. The body of the device is made of very strong and durable ABS-plastic and complemented by a monochrome screen and control buttons. The screen has a backlight. The thermoprobe has all the necessary functions: You can hold the current temperature or set up an alarm to signal that a certain temperature threshold is exceeded. The device is energy-efficient: It only requires one battery and has an auto shut-off function. Key features: Two thermoprobes, one on a flexible wire cable Monochrome screen, rugged ABS plastic body Wide range temperature measurement, °C and °F selection option Option to set up an overtemperature alarm The temperature "hold" function Single battery operation; the auto-off function Magnetic back to fix the device on metal surfaces The kit includes: Cooking thermometer User manual and warranty card