Discovery Report WA60 Weather Station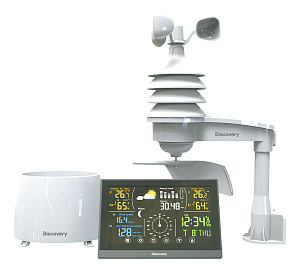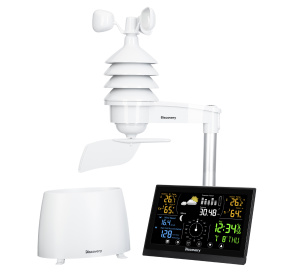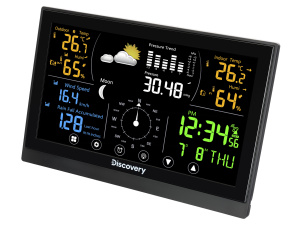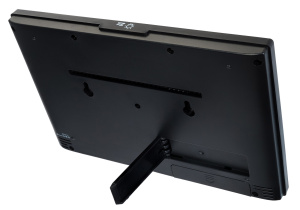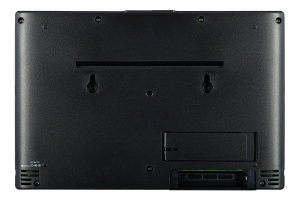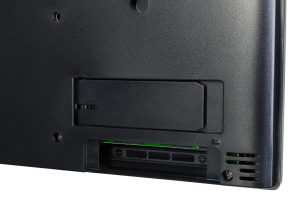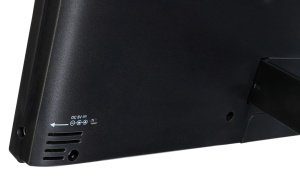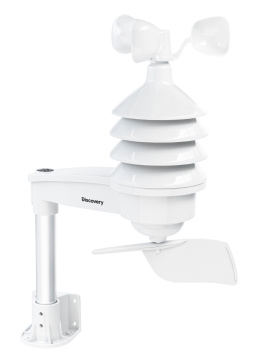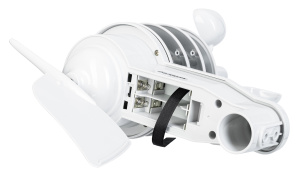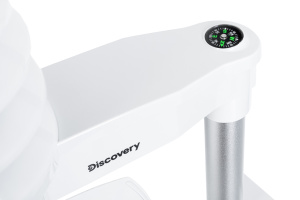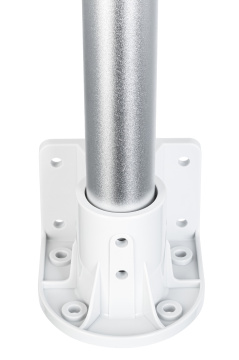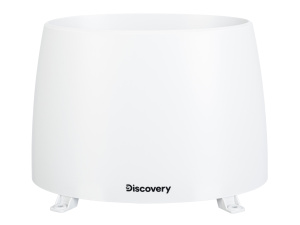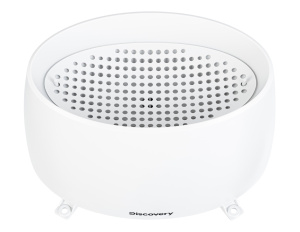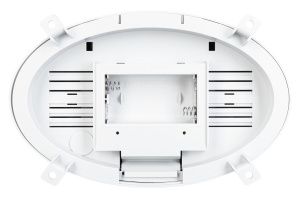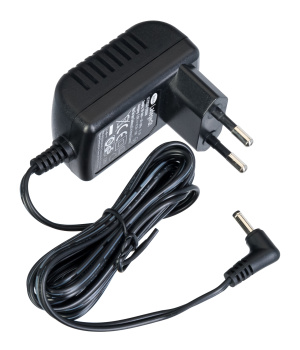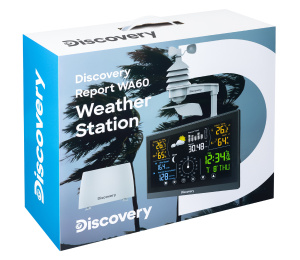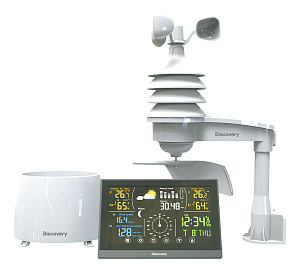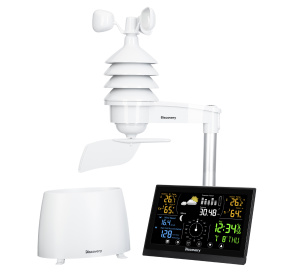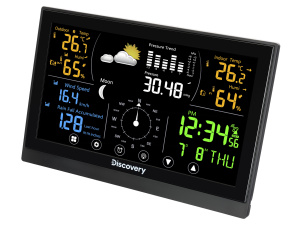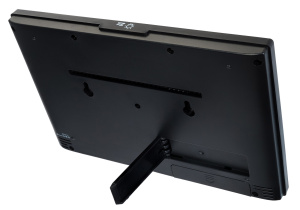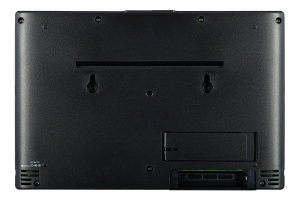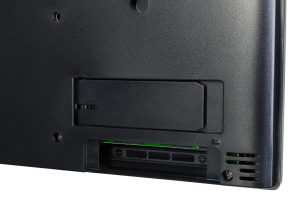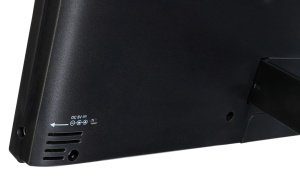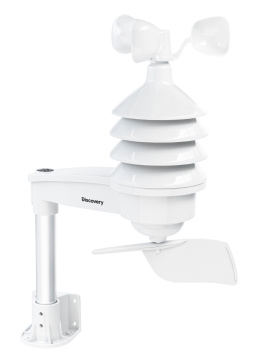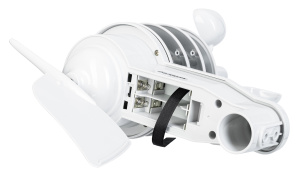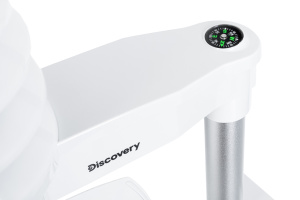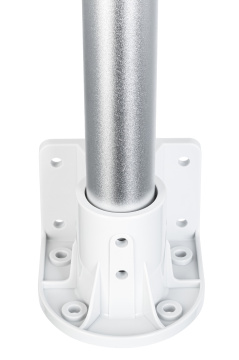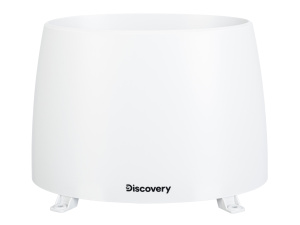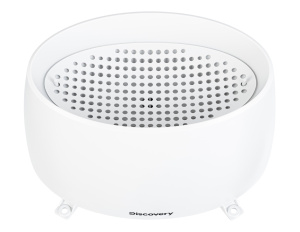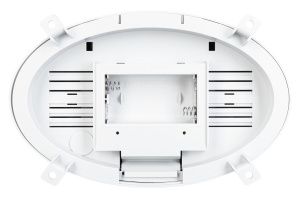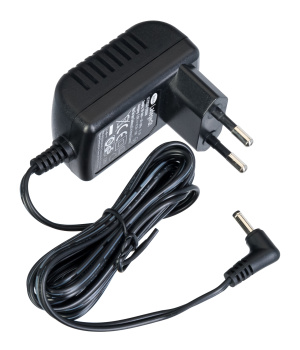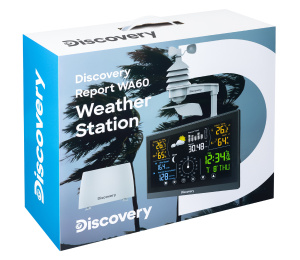 The professional weather station with a wind sensor and a rain gauge
Discovery Channel informs, entertains and inspires its audiences around the globe about the world in all its wonder, diversity and amazement. Offering millions of people the chance to discover, and satisfy their curiosity, Discovery offers a compelling mix of stories across genres including science and technology, exploration, adventure, history and in depth behind-the-scenes glimpses at the people, places and organisations that shape and share the world we live in.
We proudly present the Discovery optics series that is produced by Levenhuk and endorsed by Discovery.
---
The Discovery Report WA60 professional weather station is not just a climate gadget, but also a full-fledged weather center in your home. It provides access to a huge number of readings, which are not collected from websites, but are rather measured by the remote sensors that are included in the kit. The main functions: measuring indoor and outdoor temperature and humidity, detecting pressure levels and the precipitation, the wind direction, and its speed. Based on the data collected, the weather station is able to produce a weather forecast for the next few days. There is also a clock, a calendar, and an alarm clock.
The main module has a large color screen. All of the collected data is clearly shown in blocks, the indicators are contrasting and clear, and the main readings are shown in bold letters. To make it easier to use in poorly lit rooms and at night, the screen is backlit. Along with these measurements, the gadget also graphs atmospheric pressure changes and weather forecasts as well as shows the phases of the Moon.
A weather station should be installed indoors, but remote sensors are intended as an outdoor unit. The data is transmitted via a radio link. Both sensors are battery operated; the main module can be powered by batteries or via an AC connection (a cable and an adapter are included).
It is recommended to use alkaline batteries for the remote sensors.
Key features:
Professional use; two remote sensors included
Functions: a thermometer, a barometer, a hygrometer, a wind sensor, a rain gauge
A clock, a calendar, and an alarm clock; it also displays the phases of the Moon
Makes weather forecasts and graphs atmospheric pressure changes
AC or battery powered
The kit includes:
Weather station (the main block)
Wind sensor
Rain gauge
Power cable with an AC adapter
User manual and warranty card
Discovery Report WA60 Weather Station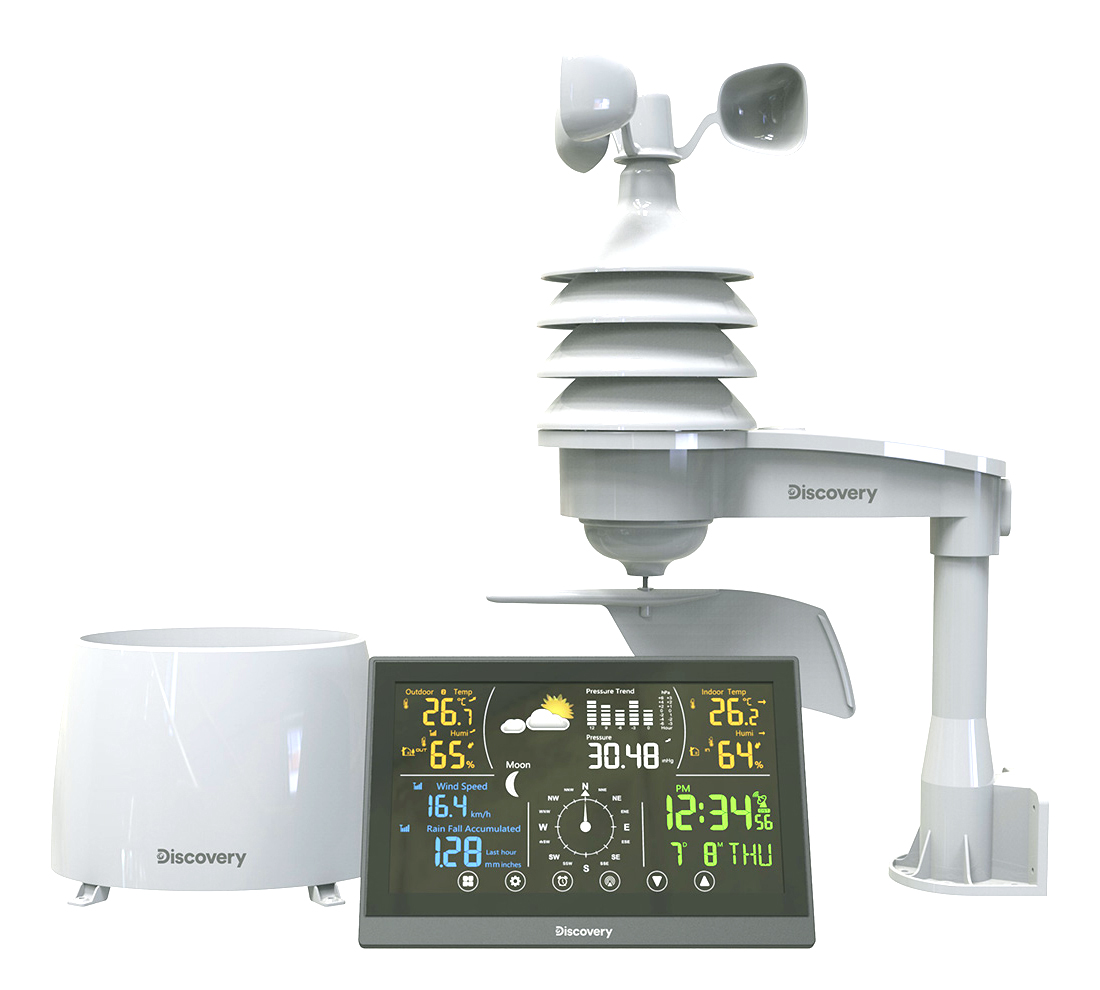 {: style="border:0px; margin-bottom: -5px; width:15%;" } Discovery Channel informs, entertains and inspires its audiences around the globe about the world in all its wonder, diversity and amazement. Offering millions of people the chance to discover, and satisfy their curiosity, Discovery offers a compelling mix of stories across genres including science and technology, exploration, adventure, history and in depth behind-the-scenes glimpses at the people, places and organisations that shape and share the world we live in. We proudly present the Discovery optics series that is produced by Levenhuk and endorsed by Discovery. The Discovery Report WA60 professional weather station is not just a climate gadget, but also a full-fledged weather center in your home. It provides access to a huge number of readings, which are not collected from websites, but are rather measured by the remote sensors that are included in the kit. The main functions: measuring indoor and outdoor temperature and humidity, detecting pressure levels and the precipitation, the wind direction, and its speed. Based on the data collected, the weather station is able to produce a weather forecast for the next few days. There is also a clock, a calendar, and an alarm clock. The main module has a large color screen. All of the collected data is clearly shown in blocks, the indicators are contrasting and clear, and the main readings are shown in bold letters. To make it easier to use in poorly lit rooms and at night, the screen is backlit. Along with these measurements, the gadget also graphs atmospheric pressure changes and weather forecasts as well as shows the phases of the Moon. A weather station should be installed indoors, but remote sensors are intended as an outdoor unit. The data is transmitted via a radio link. Both sensors are battery operated; the main module can be powered by batteries or via an AC connection (a cable and an adapter are included). It is recommended to use alkaline batteries for the remote sensors. Key features: Professional use; two remote sensors included Functions: a thermometer, a barometer, a hygrometer, a wind sensor, a rain gauge A clock, a calendar, and an alarm clock; it also displays the phases of the Moon Makes weather forecasts and graphs atmospheric pressure changes AC or battery powered The kit includes: Weather station (the main block) Wind sensor Rain gauge Power cable with an AC adapter User manual and warranty card