Discovery Report W30 Weather Station
It measures temperature. A remote sensor is included
Discovery Channel informs, entertains and inspires its audiences around the globe about the world in all its wonder, diversity and amazement. Offering millions of people the chance to discover, and satisfy their curiosity, Discovery offers a compelling mix of stories across genres including science and technology, exploration, adventure, history and in depth behind-the-scenes glimpses at the people, places and organisations that shape and share the world we live in.
We proudly present the Discovery optics series that is produced by Levenhuk and endorsed by Discovery.
---
With the Discovery Report W30 you will always know the temperature in your room and outside. Thanks to this, you'll now be able to properly plan how to dress for a walk and quickly react to any changes in the home microclimate. The main module has a monochrome screen that displays measurements in a large size. A remote sensor is included.
The sensor transmits data to the weather station via a radio link, i.e. wirelessly. The sensor and the main module are powered by standard batteries.
Key features:
Home weather station with a remote sensor
Wireless connection via a radio link
Battery powered
The kit includes:
Weather station (the main unit)
Sensor
User manual and warranty card
Discovery Report W30 Weather Station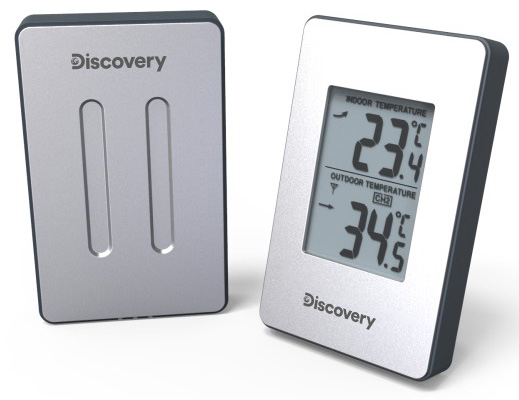 {: style="border:0px; margin-bottom: -5px; width:15%;" } Discovery Channel informs, entertains and inspires its audiences around the globe about the world in all its wonder, diversity and amazement. Offering millions of people the chance to discover, and satisfy their curiosity, Discovery offers a compelling mix of stories across genres including science and technology, exploration, adventure, history and in depth behind-the-scenes glimpses at the people, places and organisations that shape and share the world we live in. We proudly present the Discovery optics series that is produced by Levenhuk and endorsed by Discovery. With the Discovery Report W30 you will always know the temperature in your room and outside. Thanks to this, you'll now be able to properly plan how to dress for a walk and quickly react to any changes in the home microclimate. The main module has a monochrome screen that displays measurements in a large size. A remote sensor is included. The sensor transmits data to the weather station via a radio link, i.e. wirelessly. The sensor and the main module are powered by standard batteries. Key features: Home weather station with a remote sensor Wireless connection via a radio link Battery powered The kit includes: Weather station (the main unit) Sensor User manual and warranty card