Levenhuk Ra LER 6mm, 1.25" Eyepiece
Planetary eyepiece with long eye relief. Focal length: 6mm. Field of view: 55°
The short-focus Levenhuk Ra LER 6mm, 1.25" eyepiece will be a good addition to any astronomy enthusiast toolkit of optical accessories. It provides high magnification and a good 55° view for any telescope. It is ideal for planetary observations. Due to the 1.25" barrel diameter, this eyepiece is compatible with most telescopes of all brands.
The multi-element optical design uses glass lenses that provide a sharp and detailed image. The optics are fully multi-coated. The eyepiece renders a high-resolution image both at the edges and in the center of the field of view. Using this accessory, chromatic and field aberration occurs, and glare is minimized. The long eye relief is sufficient for observing the entire field of view.
The eyepiece features a fold-down rubber eyecup. The eyepiece's body is made of aluminum.
Features:
Multi-element eyepiece for planetary observations
Multi-element fully multi-coated glass optics
It does well with apochromatic refractors of medium aperture
The center of field of view is free of optical distortion. The eyepiece renders minimum edge aberration.
Can be installed on any telescope with a 1.25'' focuser
The kit includes:
Eyepiece
Protective caps – 2 pcs
Cleaning wipe
| Specifications | |
| --- | --- |
| Optical design | Long Eye Relief, 7 elements in 4 groups |
| Optics material | optical glass |
| Optics coating | fully multi-coated |
| Focal length, mm | 6 |
| Eyepiece diameter, mm | 20.6 |
| Eye relief, mm | 20 |
| Barrel diameter, '' | 1.25 |
| Apparent field of view, ° | 55 |
| Body | aluminum |
| Eyecup | fold-down, rubber |
Levenhuk Ra LER 6mm, 1.25" Eyepiece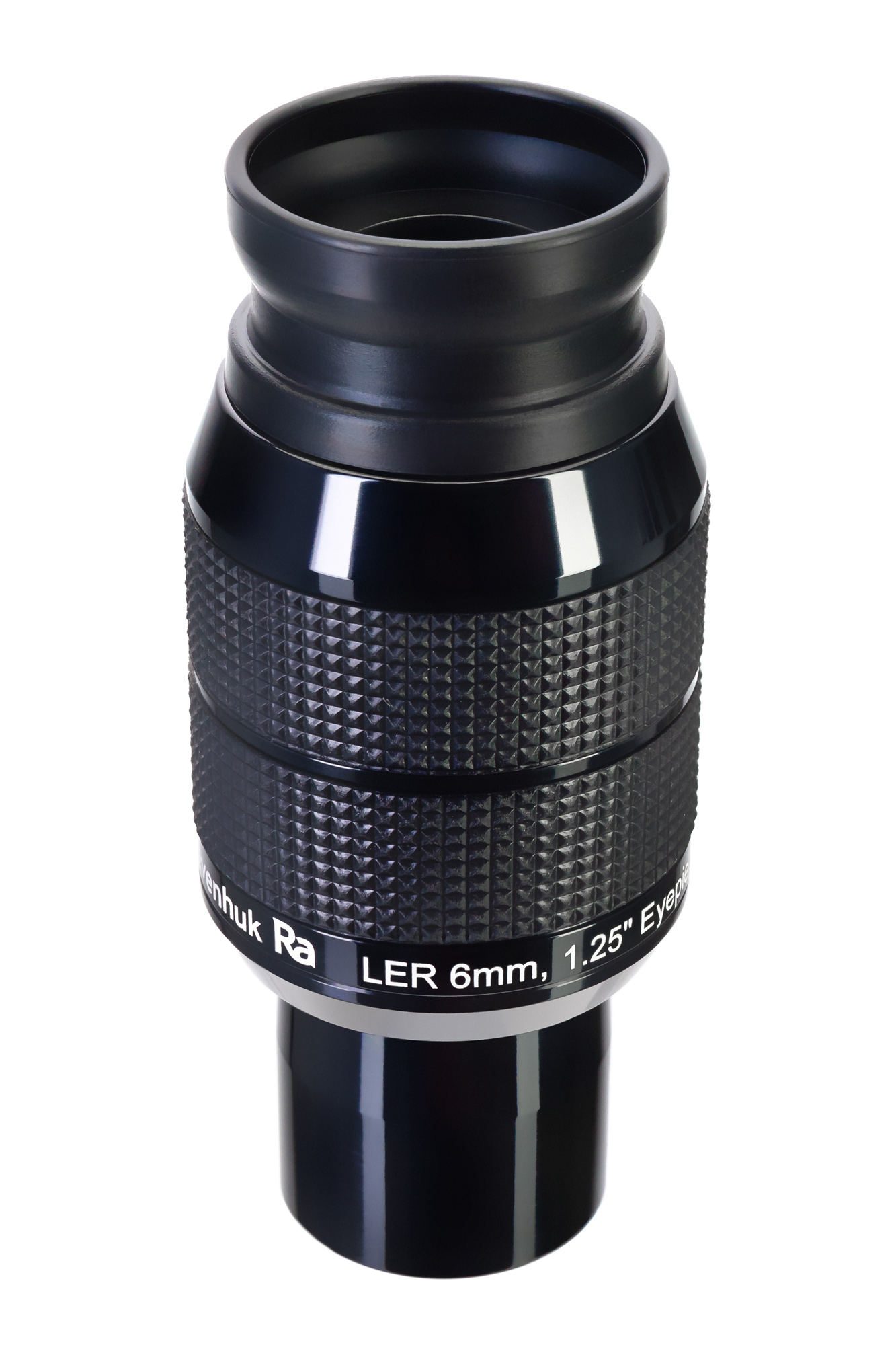 The short-focus Levenhuk Ra LER 6mm, 1.25" eyepiece will be a good addition to any astronomy enthusiast toolkit of optical accessories. It provides high magnification and a good 55° view for any telescope. It is ideal for planetary observations. Due to the 1.25" barrel diameter, this eyepiece is compatible with most telescopes of all brands. The multi-element optical design uses glass lenses that provide a sharp and detailed image. The optics are fully multi-coated. The eyepiece renders a high-resolution image both at the edges and in the center of the field of view. Using this accessory, chromatic and field aberration occurs, and glare is minimized. The long eye relief is sufficient for observing the entire field of view. The eyepiece features a fold-down rubber eyecup. The eyepiece's body is made of aluminum. Features: Multi-element eyepiece for planetary observations Multi-element fully multi-coated glass optics It does well with apochromatic refractors of medium aperture The center of field of view is free of optical distortion. The eyepiece renders minimum edge aberration. Can be installed on any telescope with a 1.25'' focuser The kit includes: Eyepiece Protective caps – 2 pcs Cleaning wipe Specifications Optical design Long Eye Relief, 7 elements in 4 groups Optics material optical glass Optics coating fully multi-coated Focal length, mm 6 Eyepiece diameter, mm 20.6 Eye relief, mm 20 Barrel diameter, '' 1.25 Apparent field of view, ° 55 Body aluminum Eyecup fold-down, rubber