Levenhuk Star Sky Z20 Umbrella
A compact automatic folding umbrella with an astronomy print. The dome size: 106.6 cm (47.7 in)
Compact folding Levenhuk Star Sky Z20 Umbrella will protect you from heavy rain and inspire you to make new astronomy discoveries! The entire inside part of the dome has a colorful astronomy print that will not leave an astronomy enthusiast indifferent. Levenhuk Star Sky Z20 gives you a wonderful opportunity to observe the starry sky even during the rain!
Its dome is made of special water-repellent pongee fabric. Raindrops simply roll off, leaving the umbrella's surface dry. This umbrella has a durable steel frame and eight ribs. The core rod is made of steel, and the handle is made of plastic. All the design elements are painted in black. The kit includes a pouch.
Levenhuk Star Sky Z20 is a wonderful gift for any space and astronomy enthusiast!
Specifications
Design
folding
Number of sections
3
Mechanism
automatic (automatic opening and automatic closing)
Ribs
8
Rib length, cm
in
53.3
20.8
Dome size, cm
in
106.6
47.7
Dome material
pongee fabric (2 layers)
Main color
black (outside)
Additional color
multicolor astronomy print (inside)
Print
serigraphy/digital screening
Core rod and ribs material
steel
Core rod and ribs color
black
Handle material
plastic
Handle type
straight
Pouch in the kit
yes
Levenhuk Star Sky Z20 Umbrella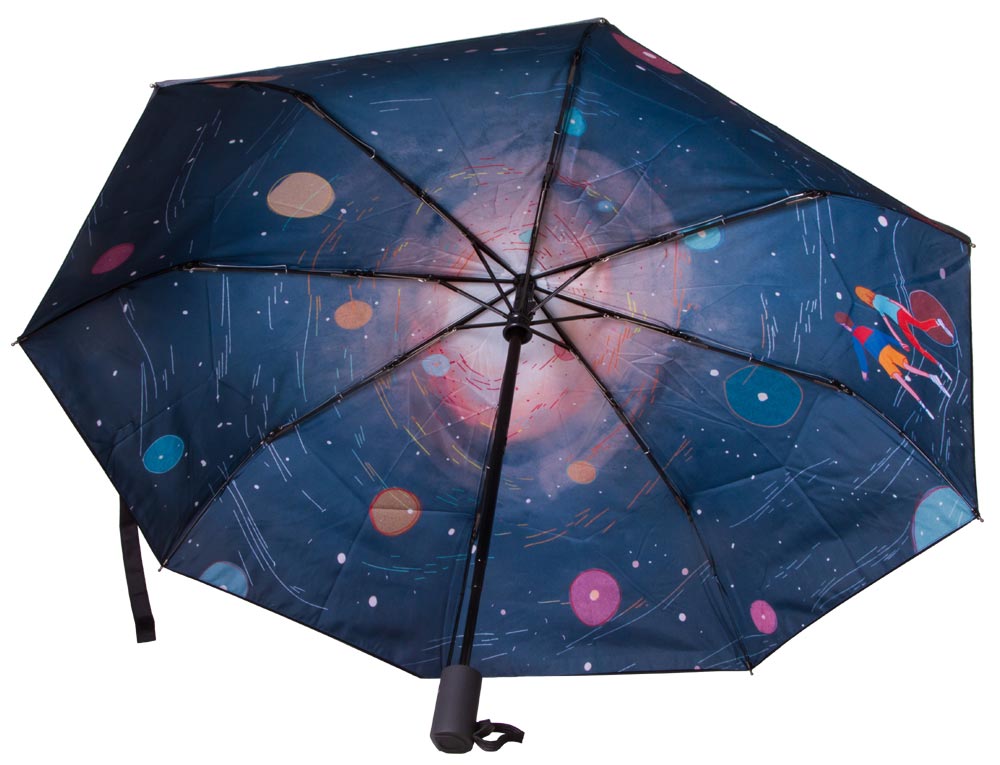 Compact folding Levenhuk Star Sky Z20 Umbrella will protect you from heavy rain and inspire you to make new astronomy discoveries! The entire inside part of the dome has a colorful astronomy print that will not leave an astronomy enthusiast indifferent. Levenhuk Star Sky Z20 gives you a wonderful opportunity to observe the starry sky even during the rain! Its dome is made of special water-repellent pongee fabric. Raindrops simply roll off, leaving the umbrella's surface dry. This umbrella has a durable steel frame and eight ribs. The core rod is made of steel, and the handle is made of plastic. All the design elements are painted in black. The kit includes a pouch. Levenhuk Star Sky Z20 is a wonderful gift for any space and astronomy enthusiast! Specifications Design folding Number of sections 3 Mechanism automatic (automatic opening and automatic closing) Ribs 8 Rib length, cm in 53.3 20.8 Dome size, cm in 106.6 47.7 Dome material pongee fabric (2 layers) Main color black (outside) Additional color multicolor astronomy print (inside) Print serigraphy/digital screening Core rod and ribs material steel Core rod and ribs color black Handle material plastic Handle type straight Pouch in the kit yes