Discovery Prof Specimens DPS 5. "Biology"
The slides can be used with microscopes of any brand. Fields of study: Botany and Mycology
Discovery Channel informs, entertains and inspires its audiences around the globe about the world in all its wonder, diversity and amazement. Offering millions of people the chance to discover, and satisfy their curiosity, Discovery offers a compelling mix of stories across genres including science and technology, exploration, adventure, history and in depth behind-the-scenes glimpses at the people, places and organisations that shape and share the world we live in.
We proudly present the Discovery optics series that is produced by Levenhuk and endorsed by Discovery.
---
The Discovery Prof Specimens DPS 5. "Biology" set includes five professional-grade slides of various plants, algae, and fungi tissues. Perfect for any optical microscope with lower illumination. Prepared slides can save you some time – all you need to do is place the selected specimen onto the microscope stage and start observing.
The key feature of the Discovery Prof Specimens DPS 5. "Biology" is top-quality microscope slides and cover slips. Highly transparent slides help you observe the fibers of the tissue. The Discovery Prof Specimens DPS 5. "Biology" set is suitable for intermediate biological science education at schools and universities. It is also a great choice if you want to make biology your hobby.
Key features:
Five high-quality prepared slides with transparent specimens
Great for studying tissues and reproduction processes in plants and fungi
Top-quality optical glass
For observations in the transmitted light
The set of slides includes:
Filamentous green algae of freshwater
Mold from bread with mycelium and spore
Sunflower root, transversal section
Privet transversal section of a leaf
Tulip trasnv. section of ovary arrangement ovules
Discovery Prof Specimens DPS 5. "Biology"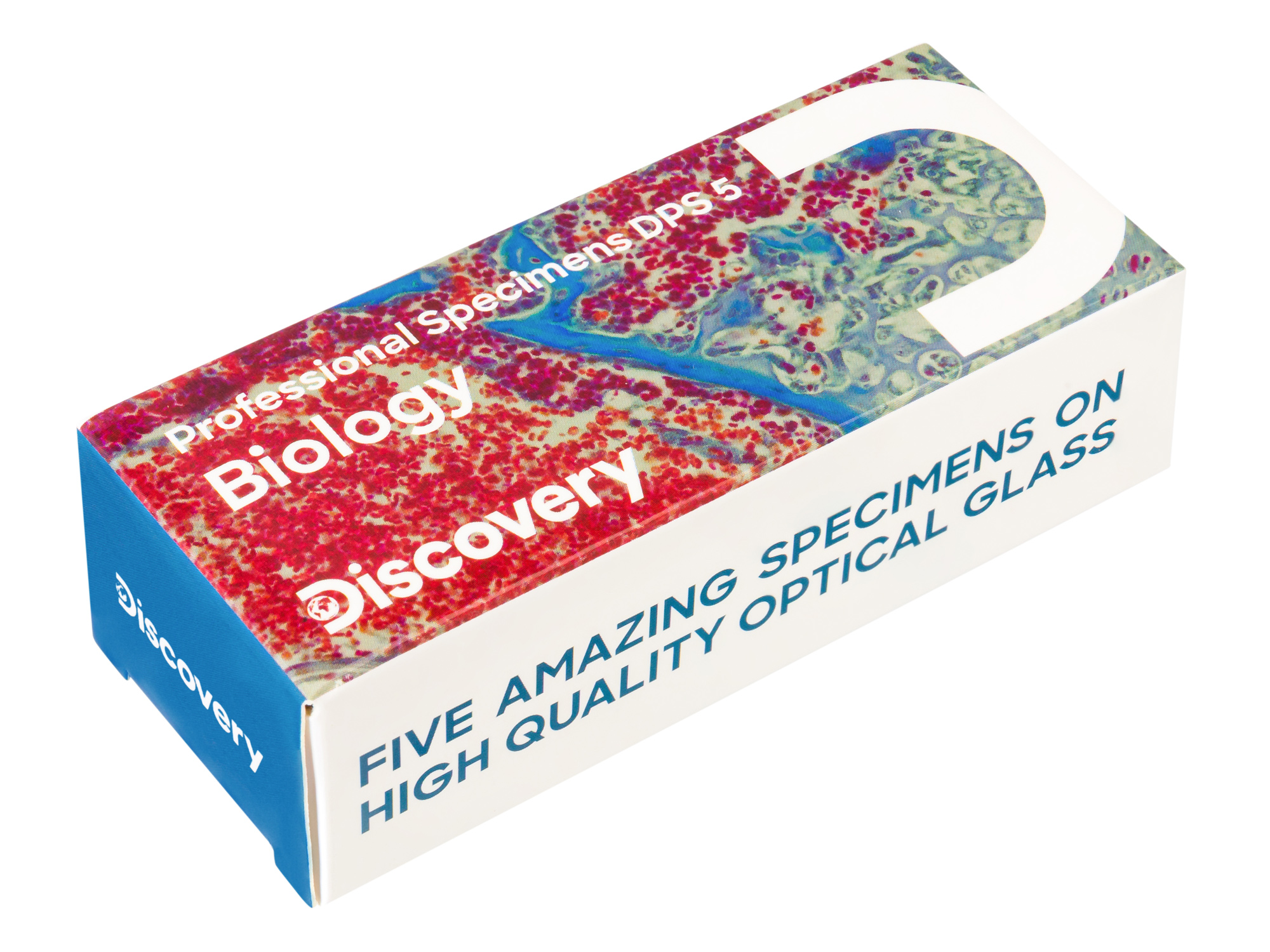 {: style="border:0px; margin-bottom: -5px; width:15%;" } Discovery Channel informs, entertains and inspires its audiences around the globe about the world in all its wonder, diversity and amazement. Offering millions of people the chance to discover, and satisfy their curiosity, Discovery offers a compelling mix of stories across genres including science and technology, exploration, adventure, history and in depth behind-the-scenes glimpses at the people, places and organisations that shape and share the world we live in. We proudly present the Discovery optics series that is produced by Levenhuk and endorsed by Discovery. The Discovery Prof Specimens DPS 5. "Biology" set includes five professional-grade slides of various plants, algae, and fungi tissues. Perfect for any optical microscope with lower illumination. Prepared slides can save you some time – all you need to do is place the selected specimen onto the microscope stage and start observing. The key feature of the Discovery Prof Specimens DPS 5. "Biology" is top-quality microscope slides and cover slips. Highly transparent slides help you observe the fibers of the tissue. The Discovery Prof Specimens DPS 5. "Biology" set is suitable for intermediate biological science education at schools and universities. It is also a great choice if you want to make biology your hobby. Key features: Five high-quality prepared slides with transparent specimens Great for studying tissues and reproduction processes in plants and fungi Top-quality optical glass For observations in the transmitted light The set of slides includes: Filamentous green algae of freshwater Mold from bread with mycelium and spore Sunflower root, transversal section Privet transversal section of a leaf Tulip trasnv. section of ovary arrangement ovules