Levenhuk Zongo 40 Telescope Case; Large, Black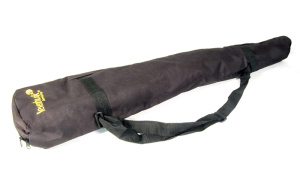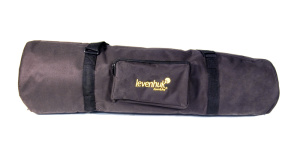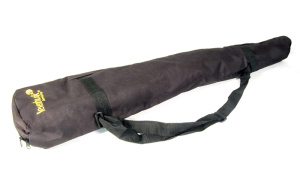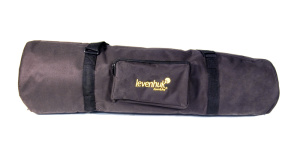 A telescope case for storing and moving your telescope
The Levenhuk Zongo 40 is a large telescope case with ample space for your optical instruments. You can fit Levenhuk Skyline 70x900 EQ, Bresser National Geographic 76/700 EQ, Orion Observer 60 Altaz, or other similar models inside this bag. When travelling, simply put your telescope in Zongo 40, and you can be certain that no harm will come to your equipment.
The telescope case consists of two items:
The main bag with an additional pocket that can hold your telescope tube, mount, accessory tray, and all your accessories inside. It even has a shoulder strap for easy transportation.
The pouch for your tripod that you can sling over your shoulder. When packing the tripod, we recommend that you place its upper part in the case first, then insert the tripod legs – one by one.
Main bag size: 65х17х22cm / 25.6x6.7x8.7in
Tripod pouch size: 100х10х14cm / 39.4x3.9x5.5in
This bag will protect your telescope from any impacts while transported, and from dust and moisture while stored. The Levenhuk Zongo 40 Telescope Case is made of durable black nylon, with orange elements and Levenhuk logos sewn in.
Usage: General use product. May be used by kids over 3 years old.
This bag is suitable for the following telescopes:
Levenhuk telescopes
Levenhuk Strike 80 NG Telescope
Levenhuk Skyline 70x700 AZ Telescope
Levenhuk Skyline 70x900 EQ Telescope
Levenhuk Skyline 76x700 AZ Telescope
Levenhuk Skyline 90x900 EQ Telescope
Levenhuk Skyline BASE 70T Telescope
Levenhuk Skyline BASE 80S Telescope
Levenhuk Skyline PLUS 60T Telescope
Levenhuk Skyline PRO 90 MAK Telescope
Bresser telescopes
Bresser Lyra 70/900 EQ-SKY Telescope
Bresser National Geographic 76/700 EQ Telescope
Bresser Venus 76/700 Telescope with smartphone adapter
Meade telescopes
Meade Infinity 60mm Refractor Telescope
Meade Infinity 70mm Refractor Telescope
Meade Infinity 80mm Refractor Telescope
Meade Infinity 90mm Refractor Telescope
Meade Polaris 70mm EQ Refractor Telescope
Levenhuk Zongo 40 Telescope Case; Large, Black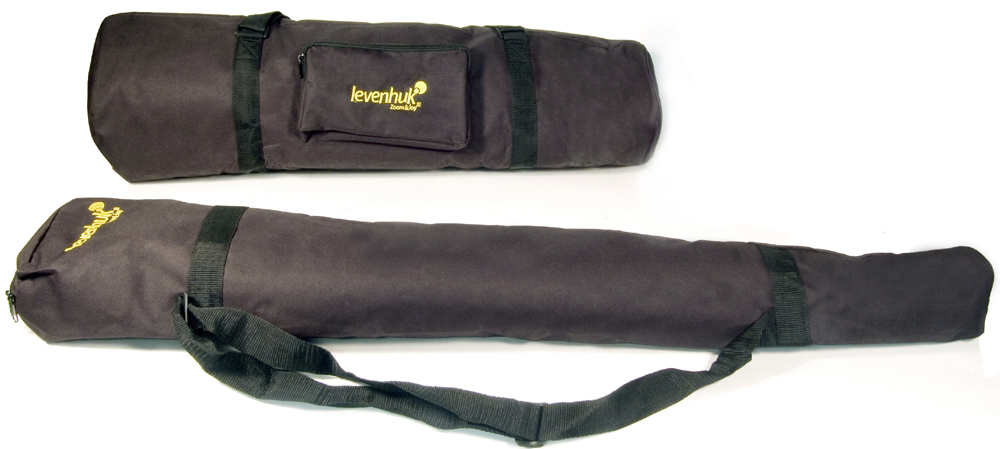 The Levenhuk Zongo 40 is a large telescope case with ample space for your optical instruments. You can fit Levenhuk Skyline 70x900 EQ, Bresser National Geographic 76/700 EQ, Orion Observer 60 Altaz, or other similar models inside this bag. When travelling, simply put your telescope in Zongo 40, and you can be certain that no harm will come to your equipment. The telescope case consists of two items: The main bag with an additional pocket that can hold your telescope tube, mount, accessory tray, and all your accessories inside. It even has a shoulder strap for easy transportation. The pouch for your tripod that you can sling over your shoulder. When packing the tripod, we recommend that you place its upper part in the case first, then insert the tripod legs – one by one. Main bag size: 65х17х22cm / 25.6x6.7x8.7in Tripod pouch size: 100х10х14cm / 39.4x3.9x5.5in This bag will protect your telescope from any impacts while transported, and from dust and moisture while stored. The Levenhuk Zongo 40 Telescope Case is made of durable black nylon, with orange elements and Levenhuk logos sewn in. Usage: General use product. May be used by kids over 3 years old. This bag is suitable for the following telescopes: Levenhuk telescopes
Levenhuk Strike 80 NG Telescope
Levenhuk Skyline 70x700 AZ Telescope
Levenhuk Skyline 70x900 EQ Telescope
Levenhuk Skyline 76x700 AZ Telescope
Levenhuk Skyline 90x900 EQ Telescope
Levenhuk Skyline BASE 70T Telescope
Levenhuk Skyline BASE 80S Telescope
Levenhuk Skyline PLUS 60T Telescope
Levenhuk Skyline PRO 90 MAK Telescope
Bresser telescopes
Bresser Lyra 70/900 EQ-SKY Telescope
Bresser National Geographic 76/700 EQ Telescope
Bresser Venus 76/700 Telescope with smartphone adapter
Meade telescopes
Meade Infinity 60mm Refractor Telescope
Meade Infinity 70mm Refractor Telescope
Meade Infinity 80mm Refractor Telescope
Meade Infinity 90mm Refractor Telescope
Meade Polaris 70mm EQ Refractor Telescope