Discovery Atto Polar microscope with book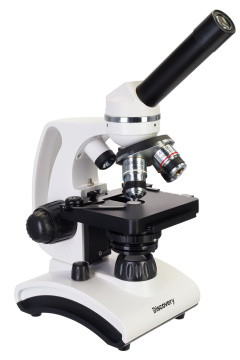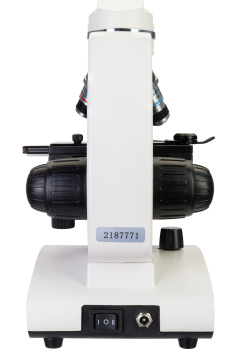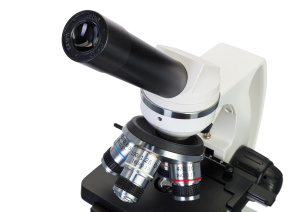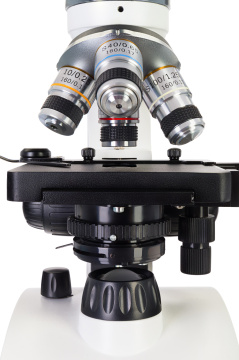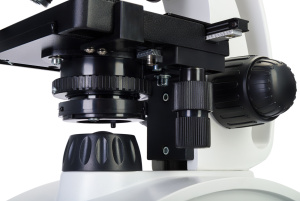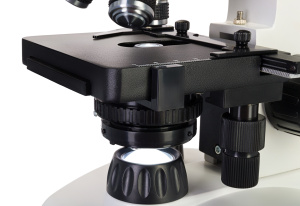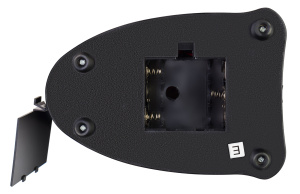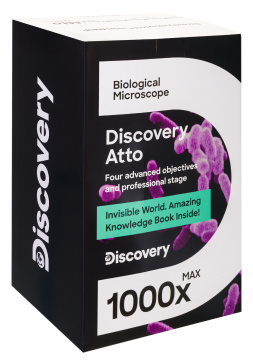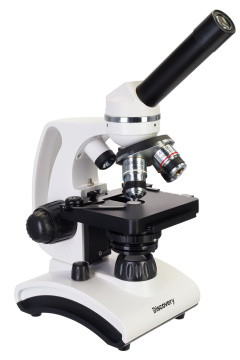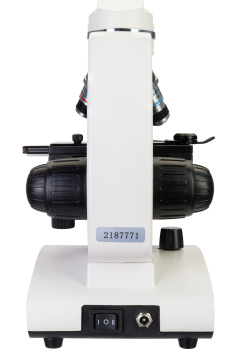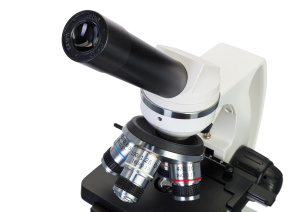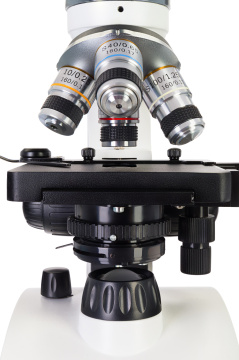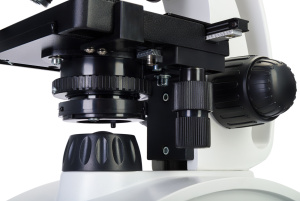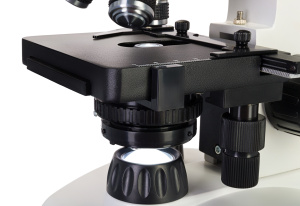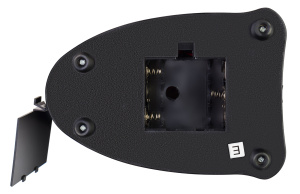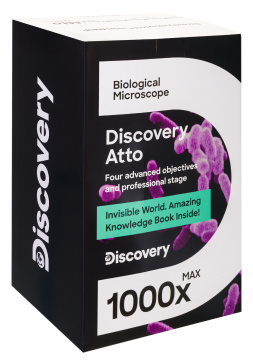 Achromatic. Inclined head, fine focusing, condenser Abbe, LED illumination. Magnification: 40x to 1000x
Discovery Channel informs, entertains and inspires its audiences around the globe about the world in all its wonder, diversity and amazement. Offering millions of people the chance to discover, and satisfy their curiosity, Discovery offers a compelling mix of stories across genres including science and technology, exploration, adventure, history and in depth behind-the-scenes glimpses at the people, places and organisations that shape and share the world we live in.
We proudly present the Discovery optics series that is produced by Levenhuk and endorsed by Discovery.
---
Check out a brief comparison of the Discovery microscope series »
The Discovery Atto Polar microscope is designed for studying the microbial world with magnification settings of 40x to 1000x. Transmitted or reflected light are available as well as immersion oil. The device will be a handy assistant in hobbies, college studies and even laboratory experiments. A knowledge book, "The Invisible World", is included in the kit.
The microscope is equipped with a rotating monocular head with a 45° incline, making long observations or group experiments more comfortable. When several people need to view the same specimen, the head can be turned accordingly without needing to move the whole unit.
Magnification includes settings from 40x to 1000x. The 10x wide-field eyepiece comes with a pointer. The achromatic objectives 4x, 10x, 40x and 100x are conveniently loaded in the revolving nosepiece enabling fast adjustment of magnification power. Objectives 40x and 100x are spring-loaded. In addition, both coarse and fine focusing are included.
The microscope stage is equipped with a mechanical stage for convenience. The Abbe condenser with iris diaphragm and a filter holder are located under the stage. The illumination system consists of two parts: upper and lower illumination with variable intensity. Illumination can be powered by batteries (not included) or plug-in (AC adapter in kit).
The book, "The Invisible World", is a wonderful graphic scholastic that tells about microscopes and the microbial world. It includes scientific theories and practicable advice on how to conduct experiments in a home setting. It perfectly fits the Discovery Atto Polar microscope.
Features:
Biological microscope with magnification settings of 40x to 1000x
Achromatic objectives, wide-field eyepiece with center field pointer
Dual LED illumination with variable intensity
Stage with a mechanical stage, coarse and fine focusing
AC adapter or battery powered
Illustrated knowledge book included in kit
The kit includes:
One microscope
One eyepiece WF 10x with reticle
Achromatic objectives 4x, 10x, 40x spring, 100x spring (immersion oil)
One bottle with immersion oil
One AC adapter and power cord
One dust cover
One book, "The Invisible World"
User manual and warranty card
Discovery Atto Polar microscope with book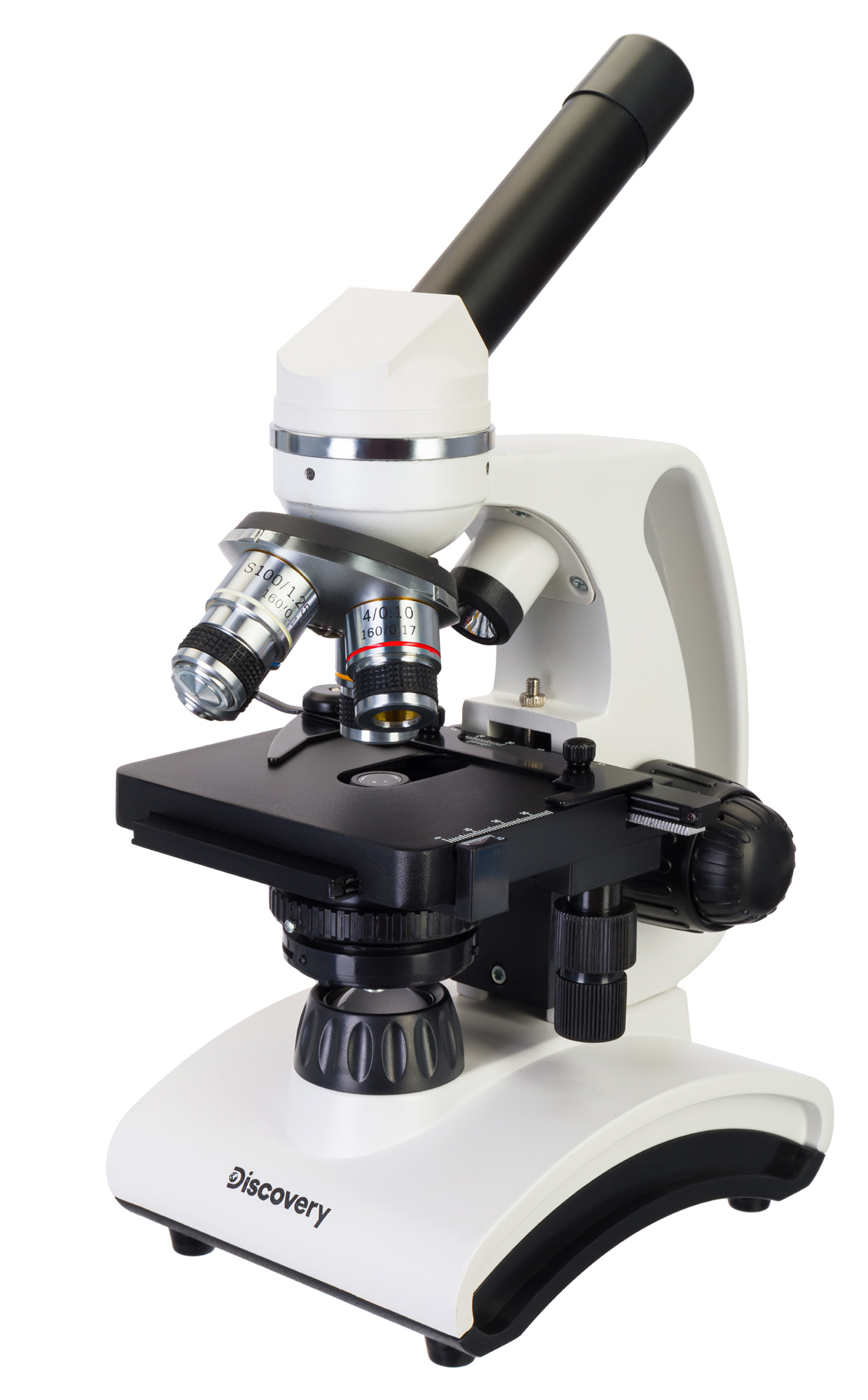 {: style="border:0px; margin-bottom: -5px; width:15%;" } Discovery Channel informs, entertains and inspires its audiences around the globe about the world in all its wonder, diversity and amazement. Offering millions of people the chance to discover, and satisfy their curiosity, Discovery offers a compelling mix of stories across genres including science and technology, exploration, adventure, history and in depth behind-the-scenes glimpses at the people, places and organisations that shape and share the world we live in. We proudly present the Discovery optics series that is produced by Levenhuk and endorsed by Discovery. Check out a brief comparison of the Discovery microscope series » The Discovery Atto Polar microscope is designed for studying the microbial world with magnification settings of 40x to 1000x. Transmitted or reflected light are available as well as immersion oil. The device will be a handy assistant in hobbies, college studies and even laboratory experiments. A knowledge book, "The Invisible World", is included in the kit. The microscope is equipped with a rotating monocular head with a 45° incline, making long observations or group experiments more comfortable. When several people need to view the same specimen, the head can be turned accordingly without needing to move the whole unit. Magnification includes settings from 40x to 1000x. The 10x wide-field eyepiece comes with a pointer. The achromatic objectives 4x, 10x, 40x and 100x are conveniently loaded in the revolving nosepiece enabling fast adjustment of magnification power. Objectives 40x and 100x are spring-loaded. In addition, both coarse and fine focusing are included. The microscope stage is equipped with a mechanical stage for convenience. The Abbe condenser with iris diaphragm and a filter holder are located under the stage. The illumination system consists of two parts: upper and lower illumination with variable intensity. Illumination can be powered by batteries (not included) or plug-in (AC adapter in kit). The book, "The Invisible World", is a wonderful graphic scholastic that tells about microscopes and the microbial world. It includes scientific theories and practicable advice on how to conduct experiments in a home setting. It perfectly fits the Discovery Atto Polar microscope. Features: Biological microscope with magnification settings of 40x to 1000x Achromatic objectives, wide-field eyepiece with center field pointer Dual LED illumination with variable intensity Stage with a mechanical stage, coarse and fine focusing AC adapter or battery powered Illustrated knowledge book included in kit The kit includes: One microscope One eyepiece WF 10x with reticle Achromatic objectives 4x, 10x, 40x spring, 100x spring (immersion oil) One bottle with immersion oil One AC adapter and power cord One dust cover One book, "The Invisible World" User manual and warranty card