Meade TravelView 7x50 Binoculars - Exhibition Item
Magnification: 7x. Objective lens diameter: 50mm
Special price! Further discounts or special offers cannot be applied in this case.
Exhibition copy. The purchased item cannot be returned or exchanged.
Open Box item. A new, unused item with absolutely no signs of use. The item is missing its original packaging or the packaging is damaged.
Otherwise, the product is fully functional.
Exhibition copies cannot be exchanged or returned for a refund.
---
The Meade TravelView 7x50 Binoculars is a wonderful tool that will help you to explore nature, architecture, birds and animals in any weather! The shell is made of aluminum with rubber covering. It shows great performance on sunny, rainy, or foggy days and secures optics against damages. The model is very reliable and can even withstand a fall from a small height.
The model features classic Porro prisms and BK-7 glass lenses with multi-layer coating. The binoculars creates quality and contrast images in natural colors. Large lenses gather enough light to produce bright pictures in any lighting conditions.
Aluminum shell is coated with rubber;These features make it highly resistant to external disturbances. The Meade TravelView 7x50 Binoculars is not afraid of moisture, rain, dust, or dirt. The lenses won't fog up even when weather changes rapidly.
For long-term observations, the binoculars can be installed on a standard 1/4" tripod. Eyecups are convenient for eyeglasses wearers. Diopter correction allows for individual adjustments to fit your eyesight.
Features:
Meade high-quality, 7-power, Porro prism binoculars deliver years of use.
Coated optics and BK-7 prisms provide bright, high-resolution images.
Rubber armoring protects precision optics against impact.
Includes padded case, neck strap and cleaning cloth.
The kit includes:
Meade TravelView 7x50 Binoculars
Eyepiece and objective lens caps
Strap
Cleaning wipe
Pouch
User manual
Meade TravelView 7x50 Binoculars - Exhibition Item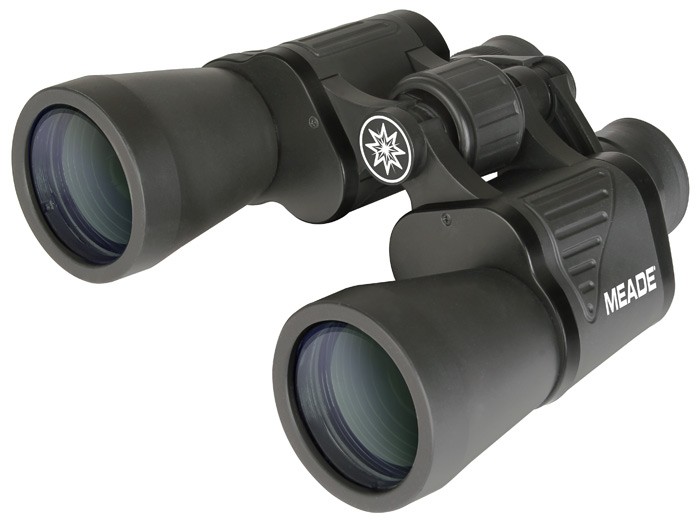 Special price! Further discounts or special offers cannot be applied in this case. Exhibition copy. The purchased item cannot be returned or exchanged. Open Box item. A new, unused item with absolutely no signs of use. The item is missing its original packaging or the packaging is damaged.Otherwise, the product is fully functional. Exhibition copies cannot be exchanged or returned for a refund. The Meade TravelView 7x50 Binoculars is a wonderful tool that will help you to explore nature, architecture, birds and animals in any weather! The shell is made of aluminum with rubber covering. It shows great performance on sunny, rainy, or foggy days and secures optics against damages. The model is very reliable and can even withstand a fall from a small height. The model features classic Porro prisms and BK-7 glass lenses with multi-layer coating. The binoculars creates quality and contrast images in natural colors. Large lenses gather enough light to produce bright pictures in any lighting conditions. Aluminum shell is coated with rubber;These features make it highly resistant to external disturbances. The Meade TravelView 7x50 Binoculars is not afraid of moisture, rain, dust, or dirt. The lenses won't fog up even when weather changes rapidly. For long-term observations, the binoculars can be installed on a standard 1/4" tripod. Eyecups are convenient for eyeglasses wearers. Diopter correction allows for individual adjustments to fit your eyesight. Features: Meade high-quality, 7-power, Porro prism binoculars deliver years of use. Coated optics and BK-7 prisms provide bright, high-resolution images. Rubber armoring protects precision optics against impact. Includes padded case, neck strap and cleaning cloth. The kit includes: Meade TravelView 7x50 Binoculars Eyepiece and objective lens caps Strap Cleaning wipe Pouch User manual