Levenhuk Vegas ED 12x50 Binoculars
Light-gathering binoculars with coated extra-low dispersion optics. Magnification: 12x. Objective lenses diameter: 50mm
Levenhuk Vegas ED 12x50 Binoculars are an optical instrument for demanding users who expect the binoculars to deliver a high quality, detailed image, and withstand extreme conditions. These binoculars are ideal for outdoor observations. You can take them on a hunting, fishing, or hiking trip. Levenhuk Vegas ED 12x50 feature extra-low dispersion optics, four-element eyepieces, and a nitrogen-filled waterproof body.
The binoculars feature light gathering roof prisms and four-element eyepieces that improve the image sharpness and contrast. All of the optical elements are made of extra-low dispersion ED glass that minimizes optical aberrations and provides true color rendering. The external lenses are protected by several layers of anti-reflecting coating.
The binoculars' body is made of shockproof, temperature-resistant, and non-slip plastic. The binoculars are filled with nitrogen, a gas that prevents the lenses from fogging. The hermetic design is not penetrated by water: these binoculars survive immersion into water up to 1.5m deep for no longer than 3 minutes. They require low maintenance, withstand temperature changes, and are impervious to rain, snow, and mud.
Levenhuk Vegas ED 12x50 Binoculars are adaptable to a standard 1/4" tripod.
Features:
Powerful binoculars on modern roof prisms
Four-element eyepieces with a 23mm diameter
Extra-low dispersion optics and fully multi-coated lenses
Shockproof body is unaffected by accidental impacts and temperature changes
Nitrogen filling protects from water penetration
Adaptability to a tripod (purchased separately)
Stylish design and original gift box
The kit includes:
Binoculars
Binoculars
Objectives dust caps
Eyepieces dust caps
Neck strap (45mm wide)
Rigid zip case
Cleaning wipe
User manual and lifetime warranty
Levenhuk Vegas ED 12x50 Binoculars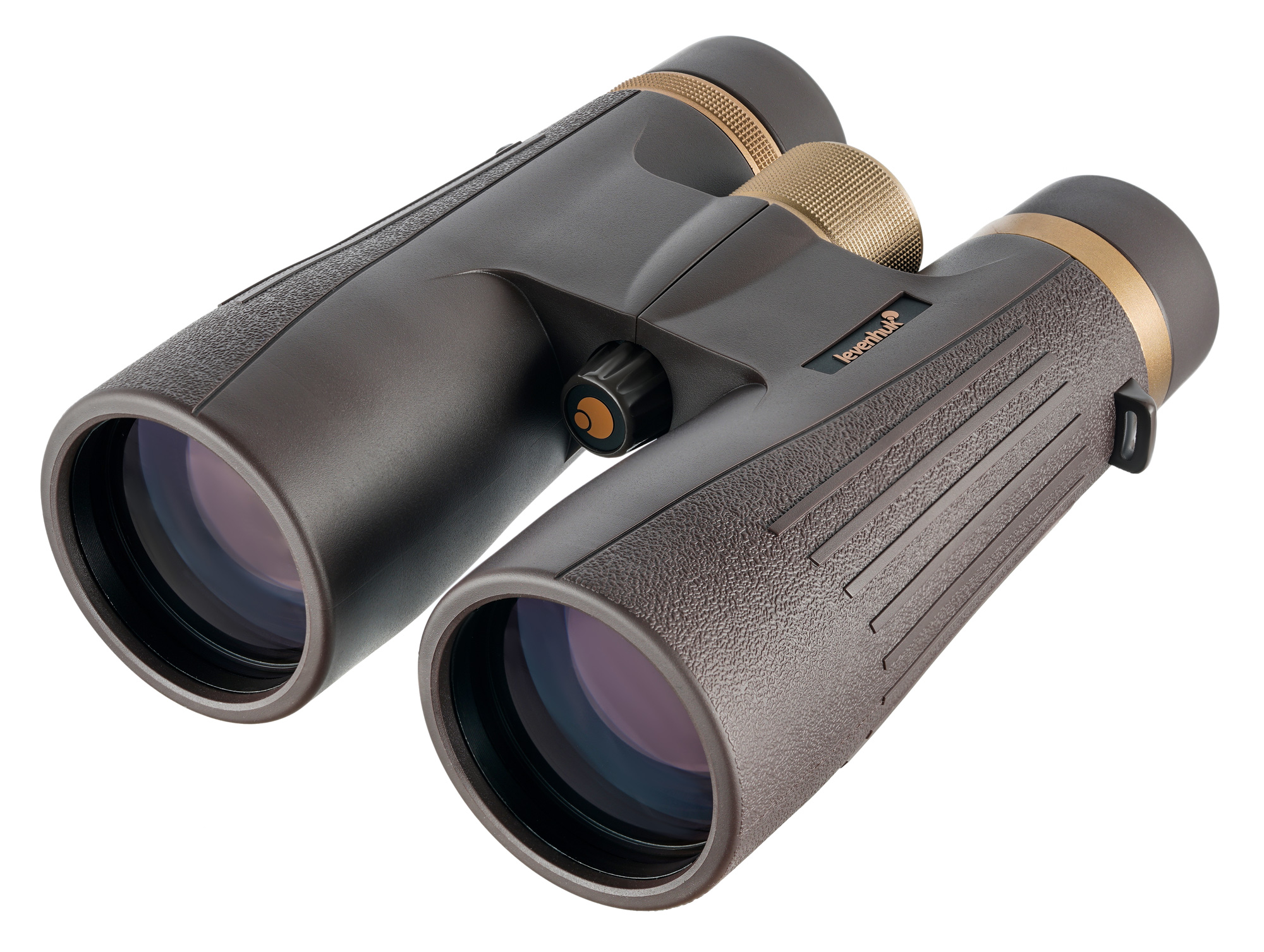 Levenhuk Vegas ED 12x50 Binoculars are an optical instrument for demanding users who expect the binoculars to deliver a high quality, detailed image, and withstand extreme conditions. These binoculars are ideal for outdoor observations. You can take them on a hunting, fishing, or hiking trip. Levenhuk Vegas ED 12x50 feature extra-low dispersion optics, four-element eyepieces, and a nitrogen-filled waterproof body.The binoculars feature light gathering roof prisms and four-element eyepieces that improve the image sharpness and contrast. All of the optical elements are made of extra-low dispersion ED glass that minimizes optical aberrations and provides true color rendering. The external lenses are protected by several layers of anti-reflecting coating.The binoculars' body is made of shockproof, temperature-resistant, and non-slip plastic. The binoculars are filled with nitrogen, a gas that prevents the lenses from fogging. The hermetic design is not penetrated by water: these binoculars survive immersion into water up to 1.5m deep for no longer than 3 minutes. They require low maintenance, withstand temperature changes, and are impervious to rain, snow, and mud.Levenhuk Vegas ED 12x50 Binoculars are adaptable to a standard 1/4" tripod.Features:Powerful binoculars on modern roof prismsFour-element eyepieces with a 23mm diameterExtra-low dispersion optics and fully multi-coated lensesShockproof body is unaffected by accidental impacts and temperature changesNitrogen filling protects from water penetrationAdaptability to a tripod (purchased separately)Stylish design and original gift boxThe kit includes:BinocularsBinocularsObjectives dust capsEyepieces dust capsNeck strap (45mm wide)Rigid zip caseCleaning wipeUser manual and lifetime warranty