Levenhuk Sherman PRO 10x50 Binoculars
High-aperture objectives, wide field of view, improved optics. Magnification: 10x. Objective lens diameter: 50mm
Levenhuk Sherman PRO 10x50 Binoculars are created for experienced hunters, extreme tourism enthusiasts and adventure seekers. 10x magnification enables you to study distant objects in detail, wide field of you allows you to observe large area at once, and powerful objectives ensure great visibility even in low light conditions. Fog, snow or rain won't affect image quality as the binoculars produce clear, crisp images in any weather. The binoculars are completely waterproof, and their ergonomic body provides maximum comfort during your observations. Levenhuk Sherman PRO 10x50 Binoculars are the perfect instrument for professionals!
Levenhuk Sherman PRO 10x50 are classic field binoculars with advanced optics. The binoculars are built using large Porro prisms, so the loss of light is reduced to zero. The objectives consist of two lenses, and the eyepieces include five optical elements. Such construction provides for flat images without distortion across the entire field of view. The lenses of this model are fully multi-coated, so produced images are always vivid and distortion-free, with correct color rendition. The shell is filled with nitrogen, so the optics won't fog up and you can enjoy sharp and crisp images in any weather.
Professional users know how important comfort is when observing under extreme conditions. That's why it's so easy to fine-tune Levenhuk Sherman PRO 10x50 Binoculars to your eyesight – you can change the interpupillary distance and adjust diopters if needed. The binoculars feature long eye relief, which is especially convenient for people wearing glasses. Twist-up eyecups allow you to smoothly change the distance between your eyes and the binoculars' lenses and securely fix their length.
Levenhuk Sherman PRO 10x50 Binoculars come in a waterproof shell, so no dirt or dust will get inside. The shell's embossed dark-green rubber coating makes the binoculars comfortable to hold and prevents them from slipping from your hands. If you plan on long-term observations, the binoculars can be mounted on a tripod (purchased separately) using the tripod mounting jack on their body.
The kit includes:
Levenhuk Sherman PRO 10x50 Binoculars
Eyepiece and objective lens caps
Strap
Cleaning wipe
Pouch
User guide and lifetime warranty
Levenhuk Sherman PRO 10x50 Binoculars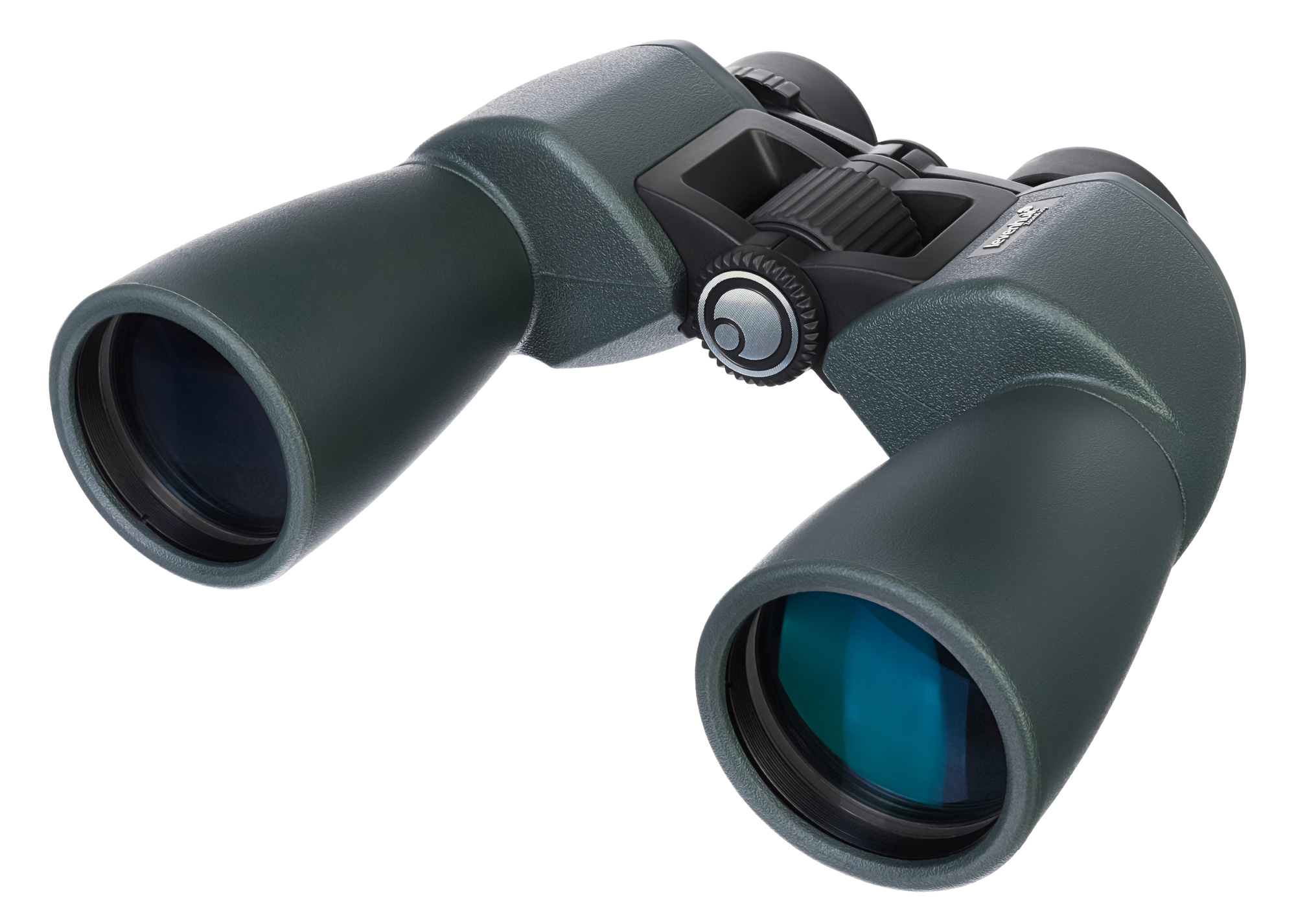 Levenhuk Sherman PRO 10x50 Binoculars are created for experienced hunters, extreme tourism enthusiasts and adventure seekers. 10x magnification enables you to study distant objects in detail, wide field of you allows you to observe large area at once, and powerful objectives ensure great visibility even in low light conditions. Fog, snow or rain won't affect image quality as the binoculars produce clear, crisp images in any weather. The binoculars are completely waterproof, and their ergonomic body provides maximum comfort during your observations. Levenhuk Sherman PRO 10x50 Binoculars are the perfect instrument for professionals! Levenhuk Sherman PRO 10x50 are classic field binoculars with advanced optics. The binoculars are built using large Porro prisms, so the loss of light is reduced to zero. The objectives consist of two lenses, and the eyepieces include five optical elements. Such construction provides for flat images without distortion across the entire field of view. The lenses of this model are fully multi-coated, so produced images are always vivid and distortion-free, with correct color rendition. The shell is filled with nitrogen, so the optics won't fog up and you can enjoy sharp and crisp images in any weather. Professional users know how important comfort is when observing under extreme conditions. That's why it's so easy to fine-tune Levenhuk Sherman PRO 10x50 Binoculars to your eyesight – you can change the interpupillary distance and adjust diopters if needed. The binoculars feature long eye relief, which is especially convenient for people wearing glasses. Twist-up eyecups allow you to smoothly change the distance between your eyes and the binoculars' lenses and securely fix their length. Levenhuk Sherman PRO 10x50 Binoculars come in a waterproof shell, so no dirt or dust will get inside. The shell's embossed dark-green rubber coating makes the binoculars comfortable to hold and prevents them from slipping from your hands. If you plan on long-term observations, the binoculars can be mounted on a tripod (purchased separately) using the tripod mounting jack on their body. The kit includes: Levenhuk Sherman PRO 10x50 Binoculars Eyepiece and objective lens caps Strap Cleaning wipe Pouch User guide and lifetime warranty