Levenhuk Sherman PLUS 7x50 Binoculars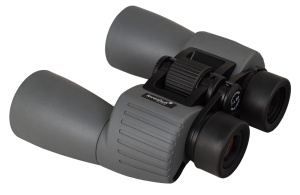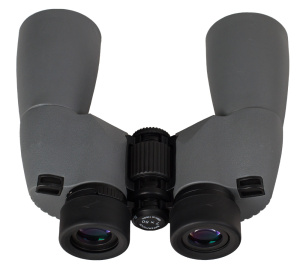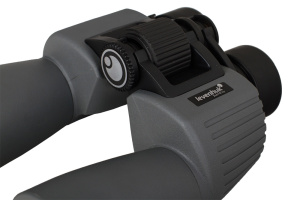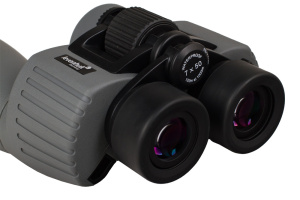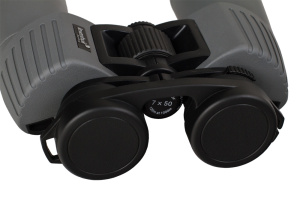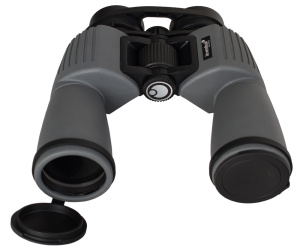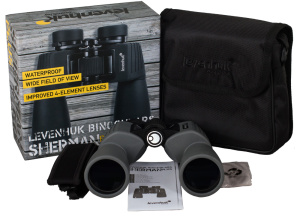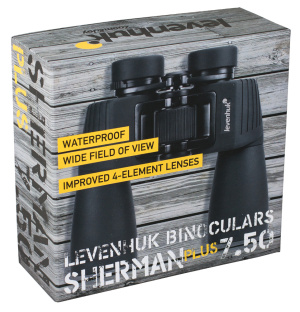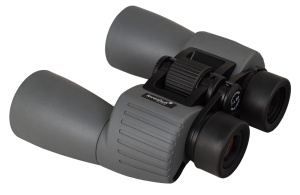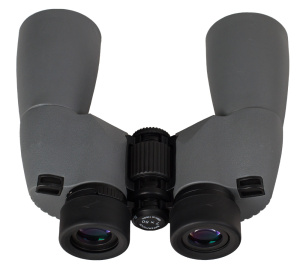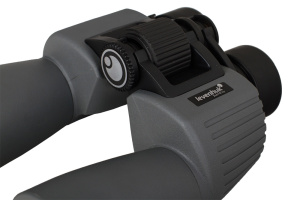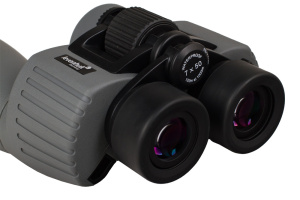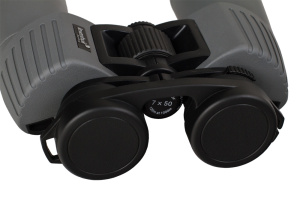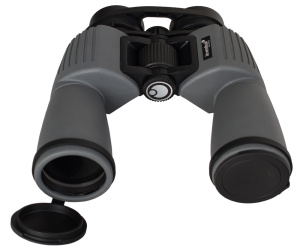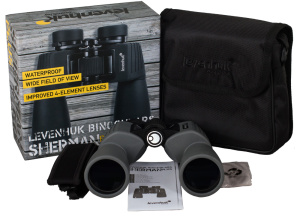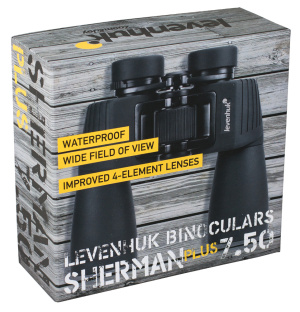 Wide field of view, great visibility in any conditions. Magnification: 7x. Objective lens diameter: 50mm
Levenhuk Sherman PLUS 7x50 Binoculars are distinguished by their high-quality, fully multi-coated optics, classic design, and improved ergonomics. The wide field of view allows you to follow moving objects (for example, a flying bird), and observe wild animals. Powerful two-element objective lenses create bright images even in dim light conditions. The binoculars feature a reliable hermetically sealed shell – they are not afraid of dust, dirt, water splashes, and heavy rain. Levenhuk Sherman PLUS 7x50 Binoculars perform exceptionally well in any weather conditions.
The optics of the binoculars are made of BaK-4 borosilicate glass. Due to the Porro-prism binocular design, the internal light loss is completely eliminated. The four-element eyepieces create sharp, realistic images. The optics are fully coated with multiple layers of anti-reflective coating. To prevent the optics from fogging up in high humidity and rapid temperature changes, the body is filled with nitrogen. Levenhuk Sherman PLUS 7x50 Binoculars create sharp, clear, contrast images with natural colors.
The ergonomic design provides maximum comfort during observations. The binoculars can be easily adjusted to the user's needs: you can change the interpupillary distance and diopters, and by twisting the eyecups up or down you can choose the optimal distance between your eyes and the eyepieces. The long eye relief makes the binoculars suitable for those who wear eyeglasses.
The shell is hermetically sealed – dirt, dust, and moisture won't be able to penetrate the binoculars. The embossed rubber coating of light gray color provides for a secure and comfortable grip.
The kit includes:
Levenhuk Sherman PLUS 7x50 Binoculars
Eyepiece and objective lens caps
Pouch
Strap
Cleaning wipe
User guide and lifetime warranty
Levenhuk Sherman PLUS 7x50 Binoculars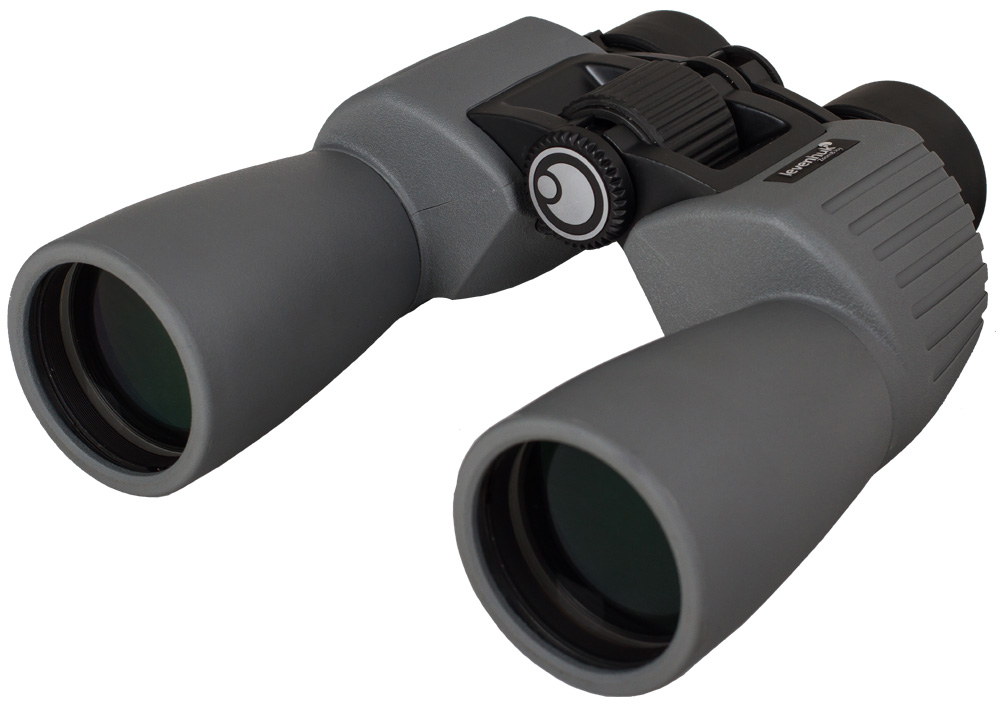 Levenhuk Sherman PLUS 7x50 Binoculars are distinguished by their high-quality, fully multi-coated optics, classic design, and improved ergonomics. The wide field of view allows you to follow moving objects (for example, a flying bird), and observe wild animals. Powerful two-element objective lenses create bright images even in dim light conditions. The binoculars feature a reliable hermetically sealed shell – they are not afraid of dust, dirt, water splashes, and heavy rain. Levenhuk Sherman PLUS 7x50 Binoculars perform exceptionally well in any weather conditions. The optics of the binoculars are made of BaK-4 borosilicate glass. Due to the Porro-prism binocular design, the internal light loss is completely eliminated. The four-element eyepieces create sharp, realistic images. The optics are fully coated with multiple layers of anti-reflective coating. To prevent the optics from fogging up in high humidity and rapid temperature changes, the body is filled with nitrogen. Levenhuk Sherman PLUS 7x50 Binoculars create sharp, clear, contrast images with natural colors. The ergonomic design provides maximum comfort during observations. The binoculars can be easily adjusted to the user's needs: you can change the interpupillary distance and diopters, and by twisting the eyecups up or down you can choose the optimal distance between your eyes and the eyepieces. The long eye relief makes the binoculars suitable for those who wear eyeglasses. The shell is hermetically sealed – dirt, dust, and moisture won't be able to penetrate the binoculars. The embossed rubber coating of light gray color provides for a secure and comfortable grip. The kit includes: Levenhuk Sherman PLUS 7x50 Binoculars Eyepiece and objective lens caps Pouch Strap Cleaning wipe User guide and lifetime warranty