Levenhuk Army 7x50 Binoculars with Reticle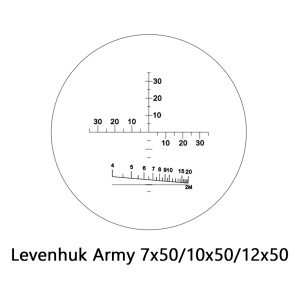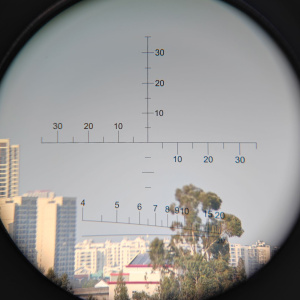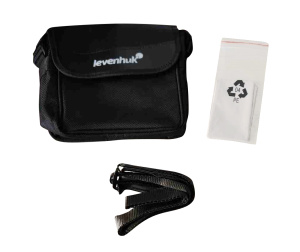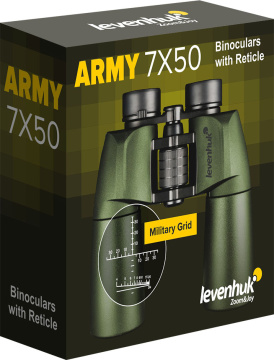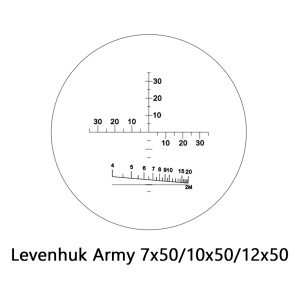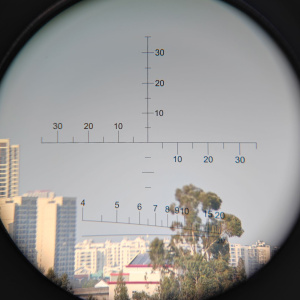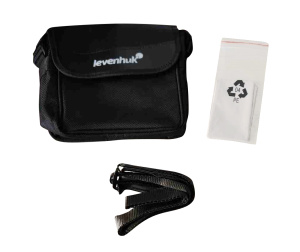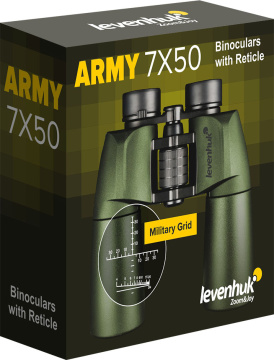 Waterproof. With a scaled reticle and a range-finding scale. Porro prisms. Magnification: 7x. Objective lens diameter: 50mm
Accessories
Levenhuk Army 7x50 Binoculars with Reticle is a high aperture optical device whose functionality is highly appreciated by hunters and hikers, fishermen, and boaters. It is also excellent for professional use, e.g. surveying and territory protection. With these binoculars, you can view landscapes and distant targets at a magnification of 7x as well as take measurements of various sorts. The scales in the binoculars' eyepiece enable you to determine the object's height, distance to it, horizontal angle, and elevation angle.
All optical surfaces of the Levenhuk Army 7x50 are multi-coated – this improves the image quality, increasing its brightness and contrast. The optics uses Porro prisms. You can adjust sharpness on both eyepieces at the same time using the large, convenient central focusing wheel. Diopter adjustment and twist-up eyecups help you adjust the optics to your eyes. You can observe wearing eyeglasses – tactical or sunglasses.
The body of the model is made of metal, it is waterproof and nitrogen-filled – the device can withstand harsh weather conditions and the lenses do not fog up during temperature fluctuations. There is a standard tripod mount.
Key features:
Fully multi-coated BaK-4 glass optics
Porro prisms, high aperture lenses
A range-finding scale and scaled reticle
Aluminum nitrogen-filled body, sealed and rubberized
Diopter adjustment, central focusing, 1/4" tripod mount
The kit includes:
Binoculars
Strap
Pouch
Eyepiece and objective lens protective caps
Cleaning wipe
User manual and warranty card
Levenhuk Army 7x50 Binoculars with Reticle
Levenhuk Army 7x50 Binoculars with Reticle is a high aperture optical device whose functionality is highly appreciated by hunters and hikers, fishermen, and boaters. It is also excellent for professional use, e.g. surveying and territory protection. With these binoculars, you can view landscapes and distant targets at a magnification of 7x as well as take measurements of various sorts. The scales in the binoculars' eyepiece enable you to determine the object's height, distance to it, horizontal angle, and elevation angle. All optical surfaces of the Levenhuk Army 7x50 are multi-coated – this improves the image quality, increasing its brightness and contrast. The optics uses Porro prisms. You can adjust sharpness on both eyepieces at the same time using the large, convenient central focusing wheel. Diopter adjustment and twist-up eyecups help you adjust the optics to your eyes. You can observe wearing eyeglasses – tactical or sunglasses. The body of the model is made of metal, it is waterproof and nitrogen-filled – the device can withstand harsh weather conditions and the lenses do not fog up during temperature fluctuations. There is a standard tripod mount. Key features: Fully multi-coated BaK-4 glass optics Porro prisms, high aperture lenses A range-finding scale and scaled reticle Aluminum nitrogen-filled body, sealed and rubberized Diopter adjustment, central focusing, 1/4" tripod mount The kit includes: Binoculars Strap Pouch Eyepiece and objective lens protective caps Cleaning wipe User manual and warranty card