Levenhuk M1000 PLUS Digital Camera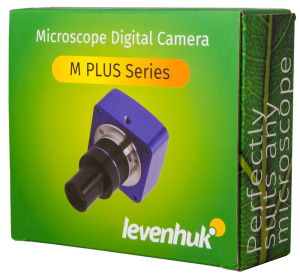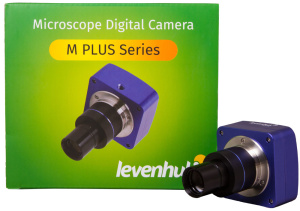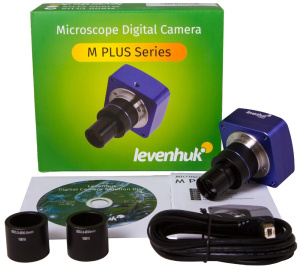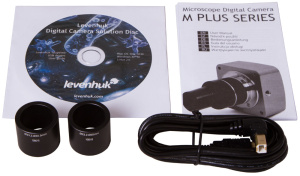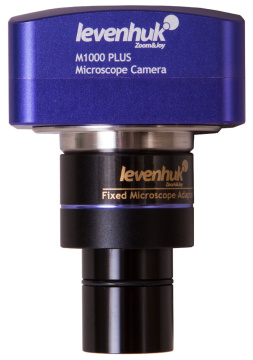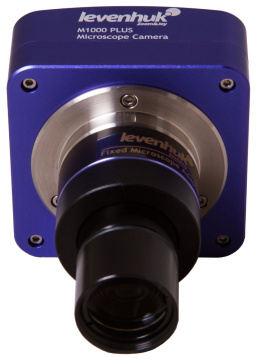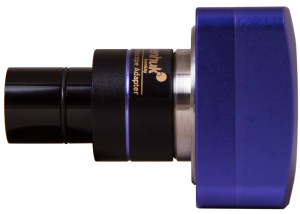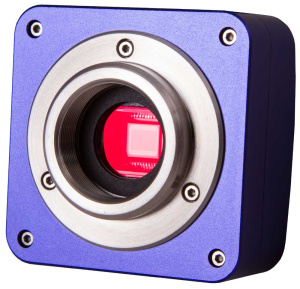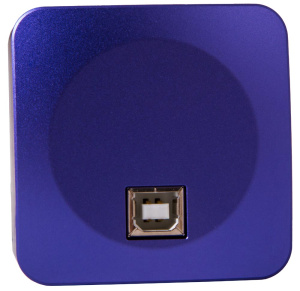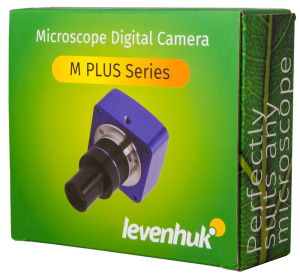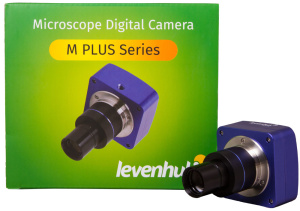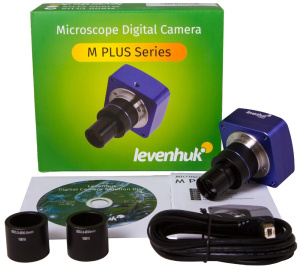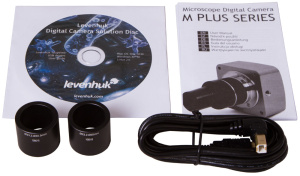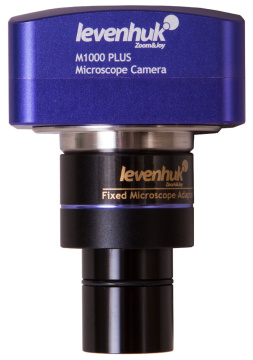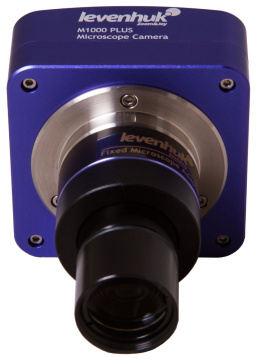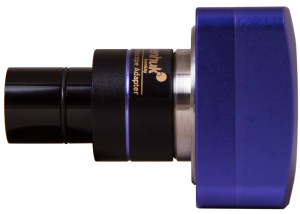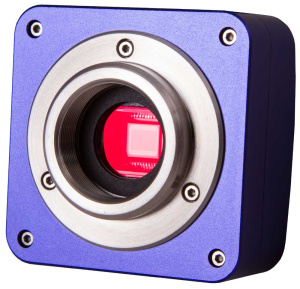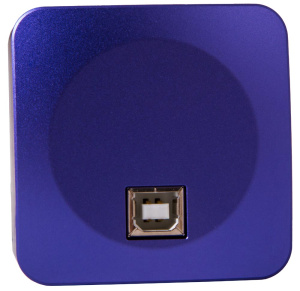 A modern microscope digital camera
The 10-megapixel Levenhuk M1000 PLUS Digital Camera is a powerful accessory for taking photos of the microworld. It allows you to take pictures with a resolution up to 3584x2748 pixels. You can also record smooth and colorful videos, share photos of interesting moments of the research with like-minded people, and broadcast videos of your studies. The camera is compatible with biological and stereoscopic microscopes of any brand.
The camera can be installed in an eyepiece tube of any diameter: the necessary adapters are included in the kit. To connect the device to a computer, a standard USB cable is used. To process received images, use the special Levenhuk software (CD is included).
The Levenhuk M1000 PLUS Digital Camera is suitable for introduction to microphotography and for professional work with samples.
The kit includes a CD with special software that allows you to edit previously saved images: zoom them, crop them, change the contrast, and so forth.
To ensure the best possible performance of your new camera, make sure your computer complies with the system requirements specified by the manufacturer. Compatible OS include Mac, Linux, and Windows. A USB 2.0 port is required to establish a connection. If the software does not run on your computer, please contact us and specify your operating system and its version (for Linux: platform and kernel version).
The latest version of Levenhuk Software for Windows supports eight languages: English, French, German, Polish, Russian, Simplified Chinese, Traditional Chinese, Turkish.
Levenhuk Digital Camera is compatible with microscopes of 23.2mm eyepiece tube diameter. The camera can also be mounted on eyepiece tubes of 30 and 30.5mm diameters using adapters, included in the kit.
The kit includes:
Levenhuk microscope digital camera
Adapter (23.2mm)
2 adapters for microscopes with different diameters of an eyepiece tube (23.2–30mm and 23.2–30.5mm)
USB cable for connection to PC or laptop and power supply
Installation CD with Levenhuk image editing software and the required drivers
User manual and lifetime warranty
Specifications
Maximum resolution
3584x2748
Megapixels
10
Sensor
1/2.3" CMOS
Pixel size
1.67x1.67
Sensitivity, v / lux.sec @ 550 nm
0.31
Exposure time, ms
0.4–2000
Video recording
yes
Frame rate, frames per second@resolution
1.9@3584x2748
8@1792x1374
27@896x684

Active range, dB
65.2
Application
eyepiece tube of 23.2mm diameter, instead of the actual eyepiece
Image format
*.jpg, *.bmp, *.png, *.tif
Video format
recording: *.wmv, *.avi, *.h264 (Win 8 or later), *h265 (Win 10 or later)
Spectral range
380–650 (built-in infrared filter)
Method of exposure
ERS (Electronic Rolling Shutter)
White balance
auto/manual
Exposure control
auto/manual
Software features
image size, brightness, exposure time
USB features
USB 2.0, 480 Mb/sec.
System requirements
Windows XP (32-bit), Windows Vista/7/8/10/11 (32-bit or 64-bit), Mac OS X, Linux, CPU 2.8GHz Intel Core 2 or higher, RAM not less then 2GB, USB port 2.0, CD-Rom
Software
Levenhuk
Casing
metal
Power supply
via USB 2.0 cable
Operating temperature range, °C, °F
–10... 50°C; 14... 122°F
Levenhuk M1000 PLUS Digital Camera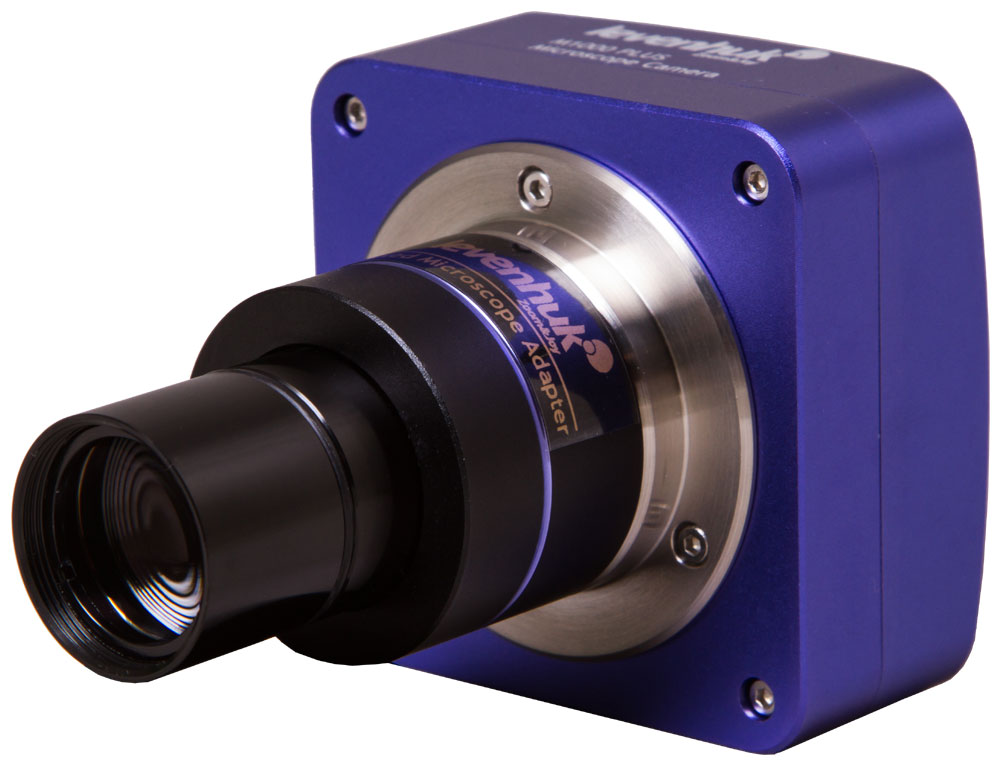 The 10-megapixel Levenhuk M1000 PLUS Digital Camera is a powerful accessory for taking photos of the microworld. It allows you to take pictures with a resolution up to 3584x2748 pixels. You can also record smooth and colorful videos, share photos of interesting moments of the research with like-minded people, and broadcast videos of your studies. The camera is compatible with biological and stereoscopic microscopes of any brand.The camera can be installed in an eyepiece tube of any diameter: the necessary adapters are included in the kit. To connect the device to a computer, a standard USB cable is used. To process received images, use the special Levenhuk software (CD is included).The Levenhuk M1000 PLUS Digital Camera is suitable for introduction to microphotography and for professional work with samples.The kit includes a CD with special software that allows you to edit previously saved images: zoom them, crop them, change the contrast, and so forth.To ensure the best possible performance of your new camera, make sure your computer complies with the system requirements specified by the manufacturer. Compatible OS include Mac, Linux, and Windows. A USB 2.0 port is required to establish a connection. If the software does not run on your computer, please contact us and specify your operating system and its version (for Linux: platform and kernel version).The latest version of Levenhuk Software for Windows supports eight languages: English, French, German, Polish, Russian, Simplified Chinese, Traditional Chinese, Turkish.Levenhuk Digital Camera is compatible with microscopes of 23.2mm eyepiece tube diameter. The camera can also be mounted on eyepiece tubes of 30 and 30.5mm diameters using adapters, included in the kit.The kit includes:Levenhuk microscope digital cameraAdapter (23.2mm)2 adapters for microscopes with different diameters of an eyepiece tube (23.2–30mm and 23.2–30.5mm)USB cable for connection to PC or laptop and power supplyInstallation CD with Levenhuk image editing software and the required driversUser manual and lifetime warranty SpecificationsMaximum resolution3584x2748Megapixels10Sensor1/2.3" CMOSPixel size1.67x1.67Sensitivity, v / lux.sec @ 550 nm0.31Exposure time, ms0.4–2000Video recordingyesFrame rate, frames per second@resolution 1.9@3584x27488@1792x137427@896x684Active range, dB65.2Applicationeyepiece tube of 23.2mm diameter, instead of the actual eyepieceImage format*.jpg, *.bmp, *.png, *.tifVideo formatrecording: *.wmv, *.avi, *.h264 (Win 8 or later), *h265 (Win 10 or later)Spectral range380–650 (built-in infrared filter) Method of exposureERS (Electronic Rolling Shutter)White balanceauto/manualExposure controlauto/manualSoftware featuresimage size, brightness, exposure timeUSB featuresUSB 2.0, 480 Mb/sec.System requirementsWindows XP (32-bit), Windows Vista/7/8/10/11 (32-bit or 64-bit), Mac OS X, Linux, CPU 2.8GHz Intel Core 2 or higher, RAM not less then 2GB, USB port 2.0, CD-RomSoftwareLevenhuk CasingmetalPower supplyvia USB 2.0 cableOperating temperature range, °C, °F–10... 50°C; 14... 122°F